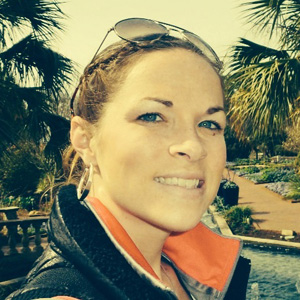 Nicole Gillikin has been working as a
traveling physical therapist
since October 2011. She was drawn to the idea of travel therapy because it was a way for her to see different parts of the country — to be near the ocean for one assignments, and near the mountains the next. "I just love the feeling of not knowing where I will be in the next three months," she says. But freedom isn't the only appealing factor about travel therapy work for Nicole. "I love meeting new people all over the country who do the same thing I do."
Many Favorite Locations
Nicole has worked in Michigan (her "home sweet home," where she enjoys doing at least one assignment per year so she can spend time with her family), Delaware, Virginia, Maryland, and
Rhode Island
. "I can't get enough of Newport, Rhode Island," she says. "The ocean is beautiful and the mansions are worth touring. I had my first sailing lesson there and had the time of my life!" However, her favorite assignment was in Aiken,
South Carolina
. "The people I worked with had great personalities, as did the patients," Nichole says. "The scenery is beautiful and there were plenty of attractions to keep me busy. I even had the courage to take some dance lessons."
The Secret to Traveling Alone
After so many assignments, Nicole's learned a thing or two about traveling. "When you travel alone, it's nice to pick up a hobby that makes it easy to meet new people, make friends, and experience the area as a local would. I still keep in contact with the friends I've made all around the country." She also advises other travelers to take advantage of the unique opportunities each assignment offers. "Try to get the most out of every assignment and ask fellow employees about main attractions or great places to find food in town," Nicole says. "Make a list and check off as many things as possible while you're there."
Using Travel Assignments to Grow Professionally
Nicole also believes it's important to use assignments to get to know other professionals. "Everyone has different knowledge and experience to draw from — it all helps you grow as a professional," she says. Relationships are also at the root of why Nicole chooses to work with CompHealth. "CompHealth drew me in because of the personality of my recruiter Katie Oakes," Nicole says. "She is pleasant, honest, and seems like someone I can trust with my career decisions. It's important to like who you are working for."
Click to see available physical therapy jobs
.