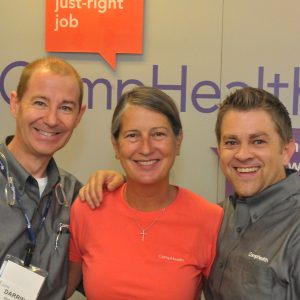 With the economy on the rebound, especially in the healthcare industry, employees have gone from worrying about hanging onto their jobs, to having the freedom to be picky about where they choose to work. Creating a great company culture is not only the best way to improve employee engagement and productivity but it also sets you apart from your competitors and increases your candidate pool. In a job seeker's market, it's important to ask yourself some tough questions. Why would a physician or staff member choose to work with your practice?  What makes you stand out from the competition? Why is your current team engaged? If you're doing things right, the answer to each of these questions will be the same: a strong company culture.
Cultivating a Great Culture
Making your practice a place where people want to work isn't easy. It takes consistent and concerted efforts. Here are some of the things that can help you create a strong culture:
1. Hire for cultural fit and train for skills
When it comes to hiring staff, strong skills and an impressive background are nice. But if you really want to hire the right candidate, focus on who they are as a person. Here are a few behavioral questions to ask during an interview:
Describe a time when you were wrong.
What is your typical way of dealing with conflict? Give me an example.
How have you handled a difficult situation with a supervisor?
Give me a specific example of a time when you had to conform to a policy with which you did not agree.
Remember, job candidates who are engaged not only make better employees, they're also much more likely to stick around. Check out more behavioral interview questions in this
post
.
2. Give your team a voice
People want to work for someone they can trust. One of the keys to building trust is to ask for regular feedback from your team, whether it's through formal channels like surveys or through informal meetings. But gathering feedback is just the first step. You also need to be willing to implement some of those ideas and be transparent about decisions affecting the practice. Our office administers an annual employee opinion survey, giving employees an opportunity to express their views about our company and what we can do to improve. The survey covers a variety of topics, including job satisfaction and growth opportunities, leadership, communication, HR and culture. Every year, we share all the survey results and comments and implement company-wide improvements based on employee input. Our executive team also discusses every score and suggestion to identify the areas that need improvement.
3. Take care of each other
One of the best parts of working in healthcare is the opportunity to make a difference in the lives of those you serve. But that service doesn't have to be constrained to the walls of the practice. Encourage your employees to give back to the greater community by offering them paid volunteer time off. This year, we ended our annual leadership summit with a Day of Caring event, giving each team $150 to pay it forward and help the community. Check out
this video
to see how the teams made a difference. Creating a strong culture won't happen overnight, but it will happen. Since implementing these practices at our office, we've seen retention improve and engagement increase. Not surprisingly, our success in building culture has resulted in success in building our business.