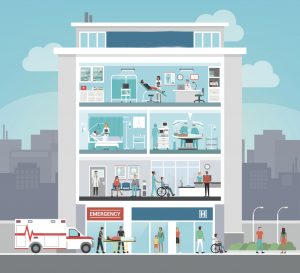 The job of an in-house physician recruiter is anything but easy. Making sure shifts are filled is more than just plugging a warm body into a position, you need to find the best possible candidates for your job openings and get them filled as quickly as possible. Sometimes that is easier said than done, so what can you do to make job seekers want to come work for you? The first step to marketing your facility to job seekers is thinking like a marketer. A lot can be accomplished by thinking through a simple marketing framework of who, what and how. Who are you talking to? What do you want to say? How do you make sure your message gets heard?
Who are you talking to?
It's important to understand who you're looking for. Marketers call it knowing your "target audience." For example, let's say you need to fill a position for a hospitalist. Keep in mind that your target audience will likely be in the 30-40 age range. Physicians in this age range look for different job features and search in different ways and places than physicians in the 60+ age group.
What do you want to say?
What is the message you want your potential provider to hear? What sets your facility apart from others? Marketers call this the "unique selling point." Every facility has one. Give it some thought. Knowing what makes your facility different from others will be important to providers. Is there something that's unique about your patient care philosophy, building design, community involvement, awards or other characteristics? A good way to find this out is to ask your current staff what they like best about working at your facility. Equally important, what message does your potential provider want to hear? Is she looking for state-of-the-art facilities, mentors, the right call schedule, more vacation time or leadership opportunities? Recreational activities in close proximity could be a plus. Quality of schools and community activities also matter. It's important to understand that these doctors have spent up to 12 years in college, so be straight with them. Don't oversell or overpromise. They'll be much happier on your staff if what you promise is what they get.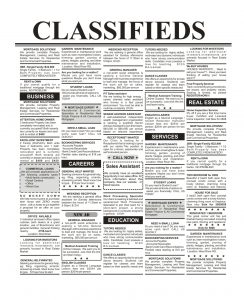 Now how do you share your message?
Gone are the days of sifting through newspaper ads to find a good job. The job market is competitive and providers expect more than just an email address and job description. If you truly intend to attract the best providers, you have to go beyond a simple About Us statement and a list of current vacancies. Many companies state people are at the heart of their business, but few take the time to demonstrate it on their website. In today's job market, a career blog is becoming an essential component for a company to promote its culture and entice potential job candidates. Job seekers are employing social and professional networks to evaluate a company as well. More than ever, providers want to learn about the culture of a facility and potential career paths. At the same time, they don't want to drown in information. They simply want an organization to show its know-how in more than an educational way. They're looking for answers to: Why should I work with you? Is this the right place for me? What will my workday really look like?
Give providers a glimpse of what they can expect if they work at your facility
Microsoft
, for example, provides potential candidates with insights into what they can expect when working for the technology giant. Their career blog shares stories of what employees enjoy about working there as well as career tips. Even though a person may not necessarily get a job at Microsoft, he or she will walk away with information to apply to future searches.
Consider adding a "Reasons to Join Us" section
List five to ten good reasons to work at your organization. Ask your current staff what they would say to someone if they were trying to persuade him or her to join your team. You might be surprised by what people find important. Don't be afraid to be creative, and remember that you are selling your facility to a provider as much as he or she is selling to you.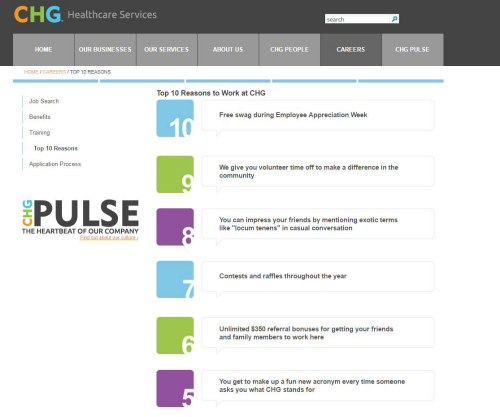 Share stories and pictures from the employees
Pictures of employees enjoying company events and team-building exercises are a must-have. Make sure you post some photos of the office environment, too. The more a provider can see what it's like to work at your facility, the more likely he or she is to apply. Include stories told directly by full-time providers. And stories about networking for success or essential career tips from leaders are nice extras that show you are willing to share information even if a provider doesn't pursue a position with you.
Related: How to write an effective job description
Use video to tell the story
A section titled something like "What it's like to work at…" can be a simple way to give potential providers straightforward information in a testimonial format. Instead of standard scripts by a few leaders stating your facility has a fun atmosphere, record a couple of short interviews with staff members who talk directly about what it's like. It gives your facility a human face and will sell your organization more than words on a page ever can. Our parent company CHG Healthcare Services features an employee profile series called
"Free to Be Me at CHG,"
which shares stories of what employees enjoy about working at CHG. The stories focus on the company's belief in celebrating diversity. Potential candidates can see how easy it would be for them to fit into the CHG environment. The site also includes a
"Making a Difference"
section where our providers talk about their experiences working
locum tenens
assignments.
Include links to social platforms
Make it easy for people who visit your website to share what they learn with their social connections on LinkedIn, Twitter, Facebook. Get your IT team to include these social options at the top of every blog page (don't worry, providers will know what to do with them). The growth of sites like YouTube, LinkedIn, Facebook, and Twitter goes hand-in-hand with the increasing expectations of job seekers. They expect companies to provide complementary content on all channels. The company website establishes itself as the main entrance to finding job opportunities, but job seekers identify Facebook and other social channels as the next places they go to find out about you. The more personalized and contact-friendly ways you provide information, the more likely a provider is to stay interested in pursuing a position with you.