The curriculum vitae (CV) of a healthcare provider is a critical component of the hiring decision-making process. More than the standard resume most job seekers use, a CV facilitates a quick review and assessment of skills and fit. It gives decision-makers the satisfaction and peace-of-mind that they're making the right hire for the well-being of the organization, the staff, and, most importantly, their patients.  As a result,
preparing your CV
requires more finesse, greater clarity, and an intuitive sense of how to make your CV easy to read and fast to act upon. Here are some pointers on how to write a CV that will get you that
all important interview
and hopefully the job you're looking for.
A quick snapshot
As an indispensable tool for listing your skills, education, training, and achievements, your CV is essentially the first snapshot potential employers have of you and how you may fit their needs. A clear, concise, up-to-date CV also helps speed up the credentialing process by allowing accurate and efficient pre-population of credentialing documents. Unfortunately, too many CVs are a chore to wade through: poorly organized and overly long. They often emphasize irrelevant information or are missing important data. Your CV needs to be the exception. A CV scores points if it is a pleasant surprise — light, breezy, and easy to read. When formatting your CV, use black type in a simple 10 to 12 point font and allow for ample white space. Your goal should be to present the information in an orderly, easy-to-follow layout. For an example of how to format your CV, download
this CV example
.
Smooth the path
Check your CV for misspellings and poor punctuation or grammar. The care you take in submitting a flawless CV will speak volumes about your meticulousness as a healthcare provider in entering data and keeping correct records. Spelling and punctuation errors will raise red flags that make it easy for a recruiter to reject your application. Besides spell-checking repeatedly, enlist a detail-oriented friend or family member to proofread your CV. An extra pair of eyes is a must-have — not a nice-to-have — that will help prevent costly errors.

Sections in your CV
Your CV should be divided into clear sections that represent the different aspects of your career and training. Several sections are required, while others are optional depending on the type of position you're seeking. You don't have to include everything, and don't get desperate! Leave off outdated or irrelevant information.
Required:
Name and contact information, along with your degree and credentials (like FACP or FAAP)
Education (presented in reverse order with the most recent first)
Work history (in reverse order)
Board certification and other accreditations (with dates of issue, recertification, and expiration)
States in which you hold licenses (include inactive licenses too)
Military service (if any, in reverse order)
Awards and honors (if any)
Optional:
Career skills
Community activity
Publications, research, and presentations
Reasons you may want to one or more of the optional three sections:
Do you have a skill set that makes you highly valuable to an organization, like being bi-lingual in Spanish or Russian? Are you a whiz with EHRs and can navigate half a dozen of them blindfolded? Which ones? List them all under a career skills section to boost your chances for hire.
Looking for a temp to perm job? If so, you may want to consider a community activities section listing your civic and volunteer involvement. Employers appreciate seeing how community-minded you are and how much of an asset you might prove to be for their town or hospital.
Are you seeking a full-time academic position? A publications, research, and presentations section might be appropriate. A word of caution, however. Ideally, your CV should be two to four pages in length. CVs longer than four pages tax readers' attention and patience. If a section like publications, research, and presentations stretches your CV by several pages, just list the most impressive items and write: "Partial list - full list available on request."
RELATED: Sample Curriculum Vitae
What's in a name
Our names are among our proudest possessions. They are a part of us, as much as our height or eye color. As a result, we sometimes have a hard time viewing them objectively.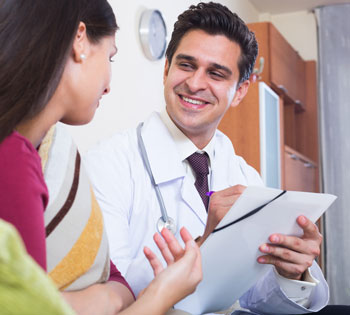 Does your name have an unusual spelling or pronunciation? If, so it could be a stumbling block that may cause a recruiter to hesitate to call you. Fear of embarrassment  shouldn't be underestimated. What will they do in that moment of hesitation? They may pick up the next CV, look it over, and call
that
provider instead! Adding your name's phonetical spelling in parentheses is a great way to ensure smooth sailing. For example:
Afulukwe (pronounced — ah FLEW kway).
Miłosz (said as — ME wash)
Some providers shorten their names to those they don't mind responding to professionally, knowing a simpler name often facilitates better communication, especially with patients:
Dr. Ahluwalia (I go by Dr. Alu)
Mind the gaps
Gaps in your schooling or employment can loom like the
Grand Canyon
, impossible to ignore or get around. Explain every gap between assignments if longer than a month. If you incurred gaps in your training or schooling, communicate as best you can why they happened, and how they have helped you navigate into the career you've chosen.
Locum Tenens Tip: Keep it current If you are working locum tenens, be sure to keep your CV up to date. A good habit is to refresh it after every job is complete. More vigilance will be required of you than of most job seekers.
What to avoid
Ever suffer a hospital reprimand, loss of hospital privileges, suspension of license, or have your DEA pulled? If so,
do not
include it on your CV. A cover letter is the vehicle for a more expansive explanation such events require. The CV is not. To protect against identity theft, your CV
should not
include your social security number, your license numbers, DEA number, tax ID number, or date of birth. Your CV will likely pass through the multiple hands as it is forwarded to staff for their consideration. And you don't know who might see it. Don't worry. You can divulge that information later upon request.
Your CV's the key
No job seeker, of course, has the background or qualifications every employer wants to see. However, by learning how to write your CV in a way that will make it appealing to most employers, you will heighten your chances of the thoughtful consideration you're due. Good luck! Need more help? Use this
CV template download
to get started or give us a call at
800.453.3030
.
How to write a CV resources:
Everything you need to know about writing a good CV
CV Sample Download
CV Template Download