Physicians at all career phases choose to work
locum tenens
 assignments for a variety of reasons but they all have these traits in common. View the full-size 
infographic
below: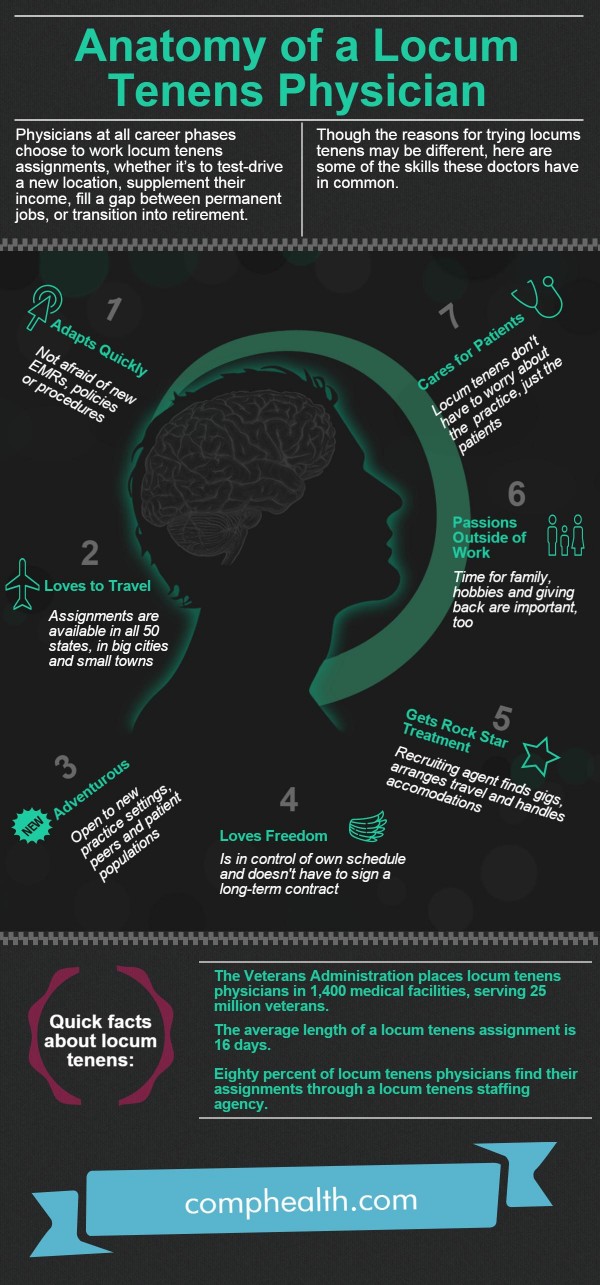 Examples of these traits can be seen in the following physician's stories:
Adapts Quickly - A group of physicians share tips on how best to handle locums.
Loves to Travel - Dr Ricker is certified to work in 10 states and loves to visit new places.
Adventurous - Dr. Anderson started his medical career in the U.S. Navy and since retirement has served as a doctor in the bottom of the Grand Canyon, an island in the middle of the Pacific and at a ranch in Wyoming.
Loves Freedom - Dr. 

Passalaris wanted more freedom from her life as a physician to be with her family, locum tenens allowed her to focus on her kids and still be a doctor.

Gets Rock Star Treatment - Dr. Shen loves having an "agent that gets him gigs" while he stays in control of when and where he works.
Passions Outside of Work - Dr. Williams loves to write and locum tenens allows him to practice medicine and do what he loves.
Cares for Patients - Dr. Anselmetti was getting burned out in a highly intensive OB/GYN practice. Locum tenens allowed her to balance her love of treating her patients while still having personal time.