Employee turnover costs can run as high as 150 percent of a team member's annual salary,
a recent Inc. magazine article found
. Among the hidden expenses employers might not consider:
Interviewing costs. Even if you don't pay for a candidate's travel, the time it takes to create a job description, gather and sort through resumes and interview job-seekers both over the phone and in person adds up quickly.
Overworked employees. When a person leaves your company, his coworkers must shoulder the burden of extra tasks while juggling their own jobs. Taking on more stress quickly becomes tiresome, and you face disgruntled employees who may start searching for a new position themselves.
Training expenses. The cost of teaching a new hire about your processes or having her attend a class to get up to speed is an additional expense, but the time lost when a coworker must teach her and double-check her work at the beginning may be even more costly.
Lost knowledge. You may have replaced your assistant, but you couldn't replace her years of knowledge about the company or knack for making clients or patients feel at home. Employees who quit sometimes inadvertently leave without telling others about passwords or the location for important documents, leaving other team members to pick up the pieces.
Lowered productivity. With everyone on the team taking on extra tasks, some things are sure to fall through the cracks or be put on hold, which makes it hard to achieve business goals on time and stay on track.
Fortunately, there are a few ways to slow employee turnover and keep your staff engaged at work. Check out our infographic below for a breakdown of turnover costs and five ways to improve retention.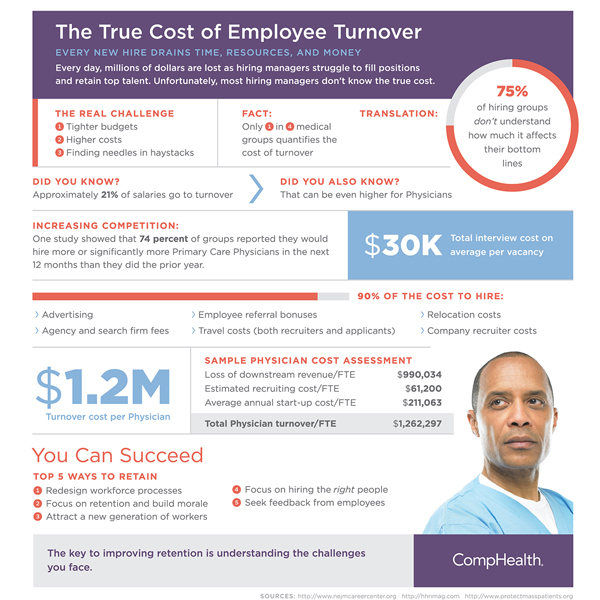 View larger version.