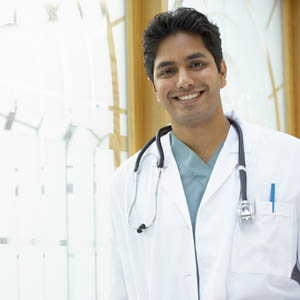 New international doctors often have questions about the caps for Conrad 30 waivers and H1B visas. Read on for answers and tips on applying.
Conrad 30 Waivers
Many international doctors enter the country on a J1 visa to complete a residency program. Doctors who enter the U.S. in J1 status (clinical training category) are required to return to their home country for two years when they complete their residency under the Immigration and Nationality Act (INA). A Conrad 30 waiver allows doctors to waive the two-year home country residency requirement so they can continue practicing in the U.S. As the name implies, each U.S. state can sponsor up to 30 waivers per year. This is sometimes referred to as the Conrad 30 cap, as the waivers are capped at 30 per state per year. To obtain a Conrad 30 waiver, doctors must work for three years (40 hours per week) in a medically underserved area (MUA) or in a health professional shortage area designated by the Department of Health and Human Services (HHS). Because they aim to address physician shortages, Conrad 30 waivers are usually granted to primary care physicians who have completed a U.S. residency training program in one of the following specialties: f
amily medicine
,
general obstetrics
, general pediatrics, general
internal medicine
, or general psychiatry. Each state has specific qualification requirements for their own J1 Conrad 30 waivers. Timing is very important when applying for a J1 Conrad 30 waiver as there are only 30 waivers available per state per year; the waivers are granted on a first-come, first-served basis.
H1B Visas
The H1B visa is a non-immigrant visa that allows doctors, among other foreign nationals, to work in the U.S. temporarily. Again, in practice, most doctors enter the U.S. on a J1 visa for their graduate medical training (residency). After completing their training, doctors must return home for two years. However, if they obtain a waiver of the two-year home country residency requirement, like the Conrad 30 waiver discussed above, they may apply for an H1B visa. Many J1 waivers, including the Conrad 30 waiver, require the doctor to work for three years at the designated facility under the terms specified. Consequently, the doctor must apply for an H1B visa (or other employment visa) to work lawfully for the three-year period. Only 65,000 H1B visas are available each fiscal year (which begins on October 1 of each calendar year); this is referred to as the H1B cap. United States Citizenship and Immigration Services (USCIS) begins accepting applications on April 1 each year. It is wise to apply on or as soon after April 1 as possible, because in recent years the cap has filled within months or even on the first day. Thankfully, if the doctor works for a nonprofit or public institution (or a VA facility), he or she is not subject the 65,000 cap. Entering on a J1 visa to complete residency and then switching to an H1B visa after a Conrad 30 waiver has been approved is very common. With the help of an experienced immigration attorney, caps are not as daunting as they sound.