Working as a
travel SLP
was something speech language pathologist Bridget T. imagined she'd really enjoy doing. In fact, she'd made it an item on her career bucket list. "I always wanted to travel," Bridget says.  She had spoken with lots of travel recruiters about their travel SLP jobs and listened to why she should work with them, but she never heard anything from them that jumped off the page for her.
Finding the right travel SLP jobs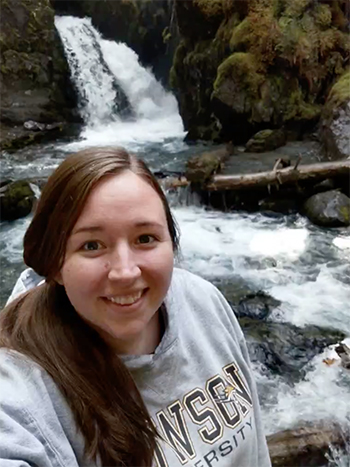 All that changed, "when Morgan from CompHealth gave me a call," Bridget says. "I told her my situation. I told her that I was happy where I was, but if the right opportunity came around, I would take it. After about 15 minutes of talking about what that right opportunity would be, she had four options that all sounded exciting and fun to me. She worked with what I was looking for instead of just telling me to keep in touch. I was sold." Since starting travel SLP, Bridget says she's never looked back. "Travel has taught me so much about myself and given me so much more confidence as a clinician and as a person. Travel allows me to stay flexible. It allows me to expand my clinical skills and knowledge. Most of all, travel gives me the opportunity to see new places, live in new towns, and explore the country in a different way."
Being the newbie
The idea of starting fresh in each new assignment doesn't faze her. "Being a traveler, you are always walking in as the 'newbie'," she explains. "I have loved meeting new educators and seeing new education systems. I enjoy adapting my training to their system as well using my experience to grow their system when I can. And being able to see new places and different ways of life has been incredible."

Every assignment, she says, offers a memorable takeaway or favorite moment. She especially enjoys working
ESY
(Extended School Year services) for the quick and creative responses required of her when working with students.
Baking, concerts, and volleyball
While on assignment, Bridget keeps busy in her off-hours. "I typically spend my spare time baking, going to concerts, and playing volleyball. I have done a lot of hiking in the past months in the locations I've been. ​When I'm able to find volleyball, it gives me an automatic way to meet people with a common interest. I also use
Meetup groups
and traveler Facebook groups to meet others in the area." Her advice to SLPs new to travel is simple: "​Always advocate for yourself. Trust your gut on what is right vs. wrong. Never be afraid to try new activities when in new areas. You never know what you might find you enjoy." ​Bridget praises her partner in travel, CompHealth. "CompHealth has made finding jobs that are good fits all over the country and getting my licensure ready for each state a breeze. So I can focus on my job and on exploring instead of worrying about what is next and what needs to be done."
If you would like to experience the benefits of working as a travel SLP, give us a call at 800.453.3030 or view today's travel SLP jobs.