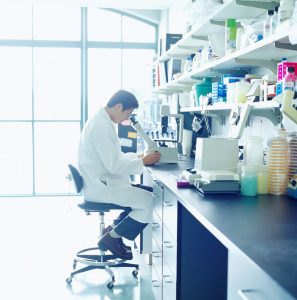 Good healthcare takes the hard work of many people. Though doctors, PAs, nurses and front desk staff spend the most face-to-face time with patients, there are many others working behind the scenes, providing an extremely valuable service that patients may not see. One important group of behind-the-scenes professionals are lab workers, including:
These positions require either an associate or bachelor degree as well as professional certifications. Patients may be used to having blood or other samples "sent to the lab" but what do those professionals really do?
What happens in the lab, doesn't stay in the lab
Lab professionals work behind the scenes to perform tests that detect the absence or presence of disease. Laboratory tests ordered for the patients are based on recommendations from doctors and other healthcare providers. They perform tests on human bodily fluids, tissue samples and cells to determine diagnoses and identify abnormalities. They work with microscopes, computers and other automated laboratory equipment, keeping detailed records of the data they compile. The duties can be general in nature or specialized in areas such as immunology, microbiology and clinical chemistry. Both specialized and general roles are important for the medical field as the results of their testing help physicians to accurately diagnose and treat cancer, heart disease, diabetes and other serious health conditions. These tests can also be used for the prevention and management of disease.
The lab field is growing
Lab jobs are available in wider locations than traditional healthcare settings. They are needed in hospital and other clinical settings but also in reference labs, pharmaceutical companies and dermatology offices.
RELATED: For an in-depth look at lab check out this video from The American Society for Clinical Laboratory Science
Why use a recruiter?
Recruiters have perfected the art of finding the right candidate. By matching the credentials requested, finding skills that complement the existing staff, and even drilling down to a provider's personal motivations, recruiters boast an impressive rate of successful placements. Not to mention high satisfaction rates from client facilities and providers for the stress-relieving service. Here are five things you should look for in a recruiter:
Delivers on what they say they are going to do
Clearly explains contracts and agency processes
Helps with credentialing and obtaining licenses
Listens to your needs
Understands your specialty
What benefits does a recruiter offer a lab job seeker?
Enlisting the services of a reputable search firm can dramatically improve the chances of finding a practice opportunity that truly matches their criteria. It's also a choice that can save the seeker considerable time and energy. Jeannine Lively, a lab worker who was looking to get back into the profession, found using a recruiter was key in finding her the perfect job.
"I was a woman in my sixties and did not want not trying to re-enter the lab field to be one of my regrets. However, I was the only one who believed this could happen…and Rebecca (her recruiter)," Lively said. "She facilitated my getting an interview and encouraged me at every step. I needed her optimism when everyone around me doubted that I could do it in spite of my experience and energy."
Recruiting services are usually completely free to job seekers, with costs picked up by the client group or facility. Search firms are staffed by motivated professionals, whose job it is to perform the legwork involved in securing new opportunities. It is in their best interest to make sure seekers are completely satisfied with their new practice. CompHealth fills hundreds of permanent and temporary lab jobs every year.
Check out open jobs now.