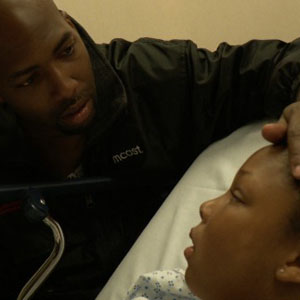 "The line starts over there," reads a sign at the front desk, the first indication of what's to come when you visit the emergency room (ER) at Highland Hospital in Oakland, California. In his documentary
The Waiting Room
, filmmaker Peter Nicks gives a behind-the-scenes look into a primary care facility that, unlike the neighboring private hospitals, can't turn away patients if they don't have health insurance. In an ideal world, a hospital ER would be set up to respond quickly to urgent medical needs such as cardiac arrest or a gunshot wound. But in our current healthcare system, the ER has become an entry point for patients without other access to medical care. The result is a constant backlog of desperate people in the waiting room. Watching this documentary gave me perspective on why
emergency medicine (EM) physicians are among the highest-paid doctors
. The staff physicians in the film are forced to wear many different hats, from performing life-saving surgeries to handling primary care procedures; from discharge management to grief counseling for families who lose a loved one on the operating table. Emergency medicine is also one of the
most in-demand physician specialties
for locum tenens staffing. I recall speaking to an ER director in southern California, who told me that his facility wouldn't be able to function properly without the help of locum tenens. Not only does his facility see locum tenens physicians as extra hands to help with fluctuating patient demand, but also as potential permanent employees. Seeing the doctors in action at Highland Hospital also made me think of the physicians who work assignments with CompHealth locum tenens. I once asked emergency physician Dr. Olabisi Jagun how she was making a difference as a locum tenens. She told me she helps patients who don't have anywhere else to go -- people who fall through the cracks.
RELATED: Locum Tenens Emergency Medicine Doctor Interview
It's apparent that public hospitals are doing everything they can'to fill these cracks, but as this documentary reveals, it still isn't enough. However, there is one bright spot in this film -- the team-based care involving physicians, nurses, social workers, and other members of the hospital staff. They work together to manage the long-term health of patients so they don't have to keep coming back to the ER. Until the United States can produce more EM doctors, locum tenens play a very important role in our healthcare delivery system because they further extend physician reach. The average
emergency medicine locum tenens
shift is three to five days. It's not unusual for physicians to work these shifts in addition to their permanent positions for extra income. It's also a great way for EM physicians nearing retirement to transition out of practice more slowly. If you are an EM physician interested in such an opportunity, visit the CompHealth job board to view the latest
emergency medicine jobs
.