Physical therapist assistant, Autumn W. isn't persuaded by hearsay. If she was, she might have passed up what has become for her a fabulous travel PTA career. Co-workers told her, "That traveling thing is a scam," or "Once you sign a contract, they lock you in, and you can't get out of it." Of course, not having worked travel themselves, they were speaking from their own fear of the unknown — or so Autumn guessed. When Autumn did meet someone who worked travel therapy, a speech therapist named Kristi, she found her to be fun and optimistic, with a carefree lifestyle and tons of enthusiasm about her travel career. Kristi recommended CompHealth as "one of the best companies she had ever worked for." Autumn wishes she had called CompHealth then and there instead of going a different route.
From rough beginning to happy outcome
For her first travel PTA assignment in
Abilene, Texas
, she worked with another staffing company. Unfortunately, it wasn't long before she felt like she'd been dumped there. She didn't feel supported, and she found herself questioning if her co-workers were right after all — that travel was a scam. "I felt defeated, humiliated, and completely taken advantage of," she admits. Then she called CompHealth. Her recruiter, Andy, was sincere, understanding, and "listened to my cry for help."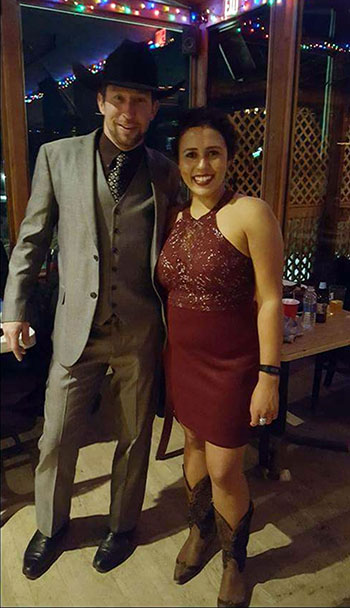 Within weeks, Autumn left Texas for
Connecticut
on her first assignment with CompHealth. She got such a kick out of exploring
New England's scenic beauty
and making so many friends . The place felt like home to her, and she extended her contract. The following February, practicing her line dancing skills at a fun Connecticut country bar, she met Joshua, "a blue-eyed, handsome Marine" whose dancefloor moves needed work. She was more than happy to help him out. Soon she knew she had found the love of her life and new traveling companion.
Discovering new places together
Besides Connecticut, their travels together have since included North Conway,
New Hampshire
; Chico,
California
; and most recently,
San Jose
, California. The latter served as their jumping off point to explore much of the state and enjoy "countless days of blue skies and sunshine with many trips to
Santa Cruz
,
Carmel
,
San Francisco
, and
Monterey
." They were treated like family by coworkers and staff at their assignment in Sunnyvale, reveling in one unforgettable feast of Cajun shrimp and sausage well-seasoned with laughter and high spirits. Autumn invites other
physical therapist assistants
to join her in the career she loves. "Life begins outside of your comfort zone," she maintains, so stepping outside one's box can lead to the life one was meant to embrace.
Advice for other travelers
She recommends that those considering travel PTA jobs research the area for housing options before taking an assignment. She and Josh live in a camper when they travel, and she highly recommends it for those planning to travel for extended periods. It's a good way to save thousands of dollars on housing. She also recommends mingling with the locals: patients and coworkers, she contends, reveal the best restaurants and places to visit — ones you won't find with a Google search. Autumn and Josh now call Connecticut home, and she attributes that move — along with much of her happiness — to CompHealth and her personal recruiter. "I tell the people I meet along the way that I continue to travel and enjoy traveling because of this amazing company and everything it has to offer," she says. "I owe a lot to my recruiter, Andrew, who has always had my back throughout these last few years and is one of the reasons that I am on this amazing journey."
To learn more about life as a travel PTA, give us a call at 800.453.3030 or view today's travel therapy opportunities.