If you had known it was going to rain, you could have taken your umbrella. You would have avoided getting wet, and you might have even enjoyed your walk. Lesson: checking the weather report is a good idea! This principle holds true for your locum tenens coverage planning. The calendar still says 2021, but already you should be thinking about Q1 of 2022. What does the forecast say? Will you be able to provide the coverage your facility needs? Here are five things to consider as you prepare for the year ahead.
1. Due to high demand, locum tenens supply will be tight
The holidays are a high-demand time of year for locum tenens providers with healthcare facilities planning to provide coverage for physicians and others who want time off. Yet as we get closer to Q1 of 2022, don't expect the winter months to be any easier than December.
According to Ben Gibbons, a senior client representative for the CompHealth Locum Tenens hospitalist team, the exact opposite will likely be true. "Everybody is planning on Q1 being just as heavy if not heavier because of winter and flu season," he says. This will likely mean beefing up your work teams, not trimming them down. "Everybody is staffing at the same level as the holidays," he says, "if not a little more."
Gibbons recommends planning your locum tenens coverage as far in advance as possible. This requires gathering everyone's paid time off and being prepared for it — "just having a really solid idea of what holes you're going to have so you know what you need to tackle," he says. But how far in advance is far enough? According to Gibbons, "If you want to optimize your chance at having the coverage you need, your schedules need to be out six months." He says that some of his clients even try to schedule for a full year, though that can be a challenge, considering all that can change in the course of 12 months.
2. Winter combined with COVID will add strain to the market
As winter progresses, the demand for locum tenens physicians is expected to increase. This will be true for a number or reasons:
Last year, the regular flu seemed to have taken a sabbatical. Across the United States, case numbers were dramatically down. Industry experts are expecting the flu to make a strong rebound this season.
Winter makes other illnesses worse. This is especially true for anyone with a lung or autoimmune disease. The cold weather exacerbates their condition and increases the need for care.
Winter inevitably means more slips, falls, and ice-related accidents, particularly among the elderly. Many of these accidents can be severe, requiring lengthy hospital stays.
Add to these factors the fact that COVID-19 is still here and doesn't seem to be going anywhere. We're still two or three months away from the apex of a typical flu season, and yet as of early November, roughly a third of the country's hospitals are already operating under "high" or "extreme" stress due to COVID. Where it's possible, many health facilities will be looking to increase coverage in Q1, but that's a solution you'll have to plan for in advance if you hope to pull it off.
3. Hospitalists, ER doctors, pulmonary intensivists, respiratory therapists, and nurses will be in high demand
Given the time of year and its predominant illnesses, you won't have to guess at which medical specialties will be in highest demand — doctors and professionals that help people breathe, to begin with. This includes pulmonary intensivists and respiratory therapists, among others.
Put hospitalists in this category, since, as Gibbons points out, "everybody who's in a bed has to be seen." Similarly, now that most lockdowns have ended, you can expect emergency rooms to be full and operating at maximum capacity. The exact opposite was true last year. If extra ER coverage fell off your list, be sure to consider it in your planning this time around.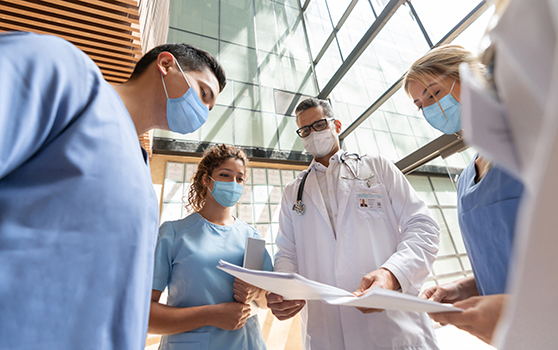 4. Burnout is a big issue, even for locum tenens
In the medical field, the risk of burnout is high, especially among permanent staff. These days, however, both permanent staff and locum tenens are feeling the stress — an unusual combination. "It's not very typical that you see a lot of burnout with locums," he says. "They work when they want to work, and they do locums for the flexibility." The pandemic seems to have changed all that, at least for the time being. Locums providers are just as vulnerable to the mental strain of caring for COVID patients as permanent staff.
Gibbons says that he is seeing more doctors seeking an early retirement. In the case of locums, some are deciding to take extended periods of time off to rest and recuperate. And some are even deciding to change careers. The result is increasing the shortage of locum tenens physicians across the board, but especially in high-shortage specialties like urology, oncology, and gastroenterology.
5. Create a bullpen of qualified locum tenens physicians
In baseball, a team can play only one pitcher at a time. The rest of the pitching staff waits in the "bullpen," a protected area to the side of the field where players warm up and prepare for when they are needed. Late in the game, when a new pitcher is needed, the manager chooses someone with the skills or experience that match the situation.
What baseball and schedulers have in common right now is the need for skilled, flexible, and ready-to-go talent — a bullpen of qualified candidates. "Things are going to happen," Gibbon says. "Right now, more than ever, I would suggest having a pool of credentialed locums that can pick up shifts on short notice."
The way Gibbons calculates, this pool should include three to four times the number of physicians you think you might need, since you only have a 30% chance or so that the doctor you call on will be available.
Get ready for Q1
As a healthcare facility physician recruiter or hospital scheduler, you play a critical role in our society. You keep our hospitals and other facilities not only staffed but running efficiently. Rarely do you get the thanks you deserve — but only because most people have no idea of the challenges you regularly confront and overcome.
At CompHealth, we want to make your job easier. We have the locum tenens physicians and advanced practice providers to help meet your staffing needs. Good planning now can help you get the locum tenens coverage you need in Q1. Let's work on it together.
Give us a call at 800.453.3030 or complete the form below to tell us about your staffing needs.