Locum tenens is a great option for family medicine physicians at any stage in their career, especially for those just out of training. Unfortunately, many early-career family medicine physicians don't know a lot about locum tenens. In fact, a 2021 study by Hanover Research and CHG Healthcare found that more than 30% of physicians hadn't even heard of locum tenens until after completing residency.
"It isn't until you mention it that people are like, 'Oh yeah, I used to do it,'" says Dr. Arthi Chawla, a family medicine physician who works locum tenens through CompHealth. "One of my attendings asked me what I was doing after fellowship, and when I told him locums he was like, 'That's a great gig! I did it before I became faculty here.' So, once I started talking about it more, more people opened up about their experiences."
We asked Dr. Chawla and several other family medicine physicians to share their thoughts on locum tenens as a career option for early-career physicians. Here's what they had to say.
1. More freedom and flexibility
Not only does locums offer early-career physicians more freedom and flexibility in their practice, it has the same benefit for their personal lives.
"Locum tenens is great because it provides me the freedom and autonomy to dictate the type of lifestyle and work/life balance that I seek personally," says Dr. Colin Zhu, osteopath and family practice physician. "With more time and freedom, I'm able to pursue other passions like my passion for culinary medicine. I'm able to do both side by side with enough energy."
For Dr. Chawla, it gives her the opportunity to learn new things and explore new areas without the limitation of asking for time off.
"It gives me the flexibility to learn and to pursue other interests that I wouldn't be able to do if I were in a permanent position because I don't know how much vacation time I'd have," she shares. "There's no obligation. If I want to up and go somewhere and stay there for a month or two, it's not that big of a deal."
2. Experience in different practice settings
Dr. Chawla also recommends locum tenens as a way to try out different locations before determining where to settle down.
"I still don't know where I want to settle down and get a permanent job," she says. "I feel like locums is a great way to try out different areas of the country and different work settings. I can see what is available, what I like, and what I don't like. I can get more clinical experience and then be able to make a smarter decision on whether I want to get a permanent job."
Dr. Tuan Vo has also used locum tenens to help him scope out different locations and better understand what he likes and doesn't like in a practice setting.
"One thing is for sure — I know what I like in a practice now because I've seen different areas and how places practice medicine," he shares. "The VA experience that I'm doing right now is completely different. Locums has definitely given me an idea of what I will and will not be okay with in my own practice, if I decide to settle down and start something someday."
3. More time to focus on practicing medicine
Having a recruiter to help you navigate the paperwork and licensing gives Dr. Chawla more time to focus on what's important to her — the practice of medicine.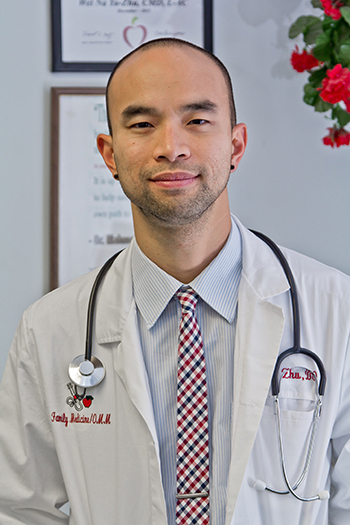 "I think the biggest selling point is having somebody else help me do the grunt work of the logistics of getting me to work, so I can spend more time focusing on medicine and practicing medicine," she says.
It's also a selling point for Dr. Zhu.
He adds, "My recruiter takes care of the day-to-day things like housing, travel, rental car, and malpractice as well as the things behind the scenes like licensing, credentialing, hospital privileges. I don't like to get into the nitty gritty details, but someone else can do it for me and that's more than priceless to me."
4. Opportunity to expand your horizons
Opening yourself up to new settings, people, and experiences not only helps you better understand what you want out of your career, it makes you a better physician.
Dr. Harshal Patel has enjoyed being able to experience family medicine in a variety of different settings. "I've worked inpatient, I've worked outpatient, and I've worked urgent care," he says. "Part of what I'm doing is trying to get experience in different settings both in geographical location, population density, and clinical setting as well. I may not have had that opportunity if I just said, 'OK, I'm just going to take this job and work here for 20 years.'"
Dr. Vo agrees. "With the training we get, you practice in the hospital or a specific type of clinic. So you really don't know what you like, what your style will be, and how you'll work with a certain group," he says. "A lot of people will take a job right out of training in the type of place they're familiar with and find that it's not really what they want to do and then change jobs. I wanted to get out of my comfort zone, learn some new things, and see new people."
But locum tenens isn't for everybody
Locum tenens is a great option for many early-career family medicine physicians, but that doesn't mean it's right for everyone. Less continuity of care with patients, living on the road while on assignment, and spending time away from family can be deterrents for some.
"There's probably no continuity of care. Patients often ask me to stay or say, 'I'll come wherever you're going,'" Dr. Patel says. "That's kind — and certainly flattering — but there's definitely no continuity like I want it to be. So I miss that part, but it's just not really possible in locums. Every time it's new. That's a different challenge in itself, developing rapport with people quickly."
"Some people just don't like the instability of locums," shares Dr. Vo. "I don't think they're aware that you can set your timeframe if you want to stay somewhere longer — like working three months or six months or a year."
So, before deciding if locums is right for you, make sure you weigh the pros and cons.
"I would say locum tenens is for people who are open to taking a risk or want more flexibility," Dr. Zhu says. "For someone who likes a more rigid schedule and wants to stay in one place, maybe locums isn't for you. Maybe being employed offers more stability and permanence, which is fine. Locums gives you the freedom to gain back that time, gain back that autonomy, and it allows you to have a better work/life experience. It allows you to improve patient care."
Interested in learning more about locum tenens for family medicine physicians? Give us a call at 800.453.3030 or view today's family medicine locum tenens job opportunities.