In celebration of
National Locum Tenens Week
(Aug. 12-16), CompHealth salutes the many
locum tenens
physicians, NPs, and PAs who make a difference in the world every day. Whether you're working in a small rural clinic or a large urban hospital, your efforts reduce the strain on overburdened colleagues, provide care to those in need, and improve people's lives. Here are the stories of two locum tenens physicians who have gone above and beyond to give back. Our 2019 locum tenens heroes are Dr. Donna Moro-Sutherland and Dr. Bob Sayson.
Helping out at home and in Africa
When Hurricane Irma hit Florida in September 2017, Dr. Donna Moro-Sutherland, a
pediatric emergency medicine physician
, was on a locum tenens assignment at a St. Petersburg hospital. Because of the storm, flooding, and no electricity, another locum was unable make his assignment so Dr. Moro-Sutherland just stayed to help. It was an unforgettable experience. [caption id="attachment_16779" align="alignright" width="450"]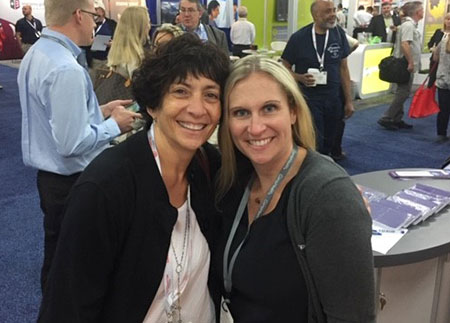 Dr. Donna Moro-Sutherland (left) and CompHealth Sr. Manager Kristina Roberts[/caption] "I was already at the hospital to do my cluster of shifts. Before we knew it, the hurricane was projected to hit," she recalls. "For 4-5 days, we worked 12-hour shifts and then found a place where we could sleep when we were off. I slept on a stretcher in a back ED room, and we all shared our universal showers in the ER between shifts." Though working in a crisis situation was stressful and exhausting, Dr. Moro-Sutherland says it was bearable because she knew she was safe. "I didn't have the same stressors other people had. I knew my family wasn't anywhere near this disaster, so I could cover people and work knowing there was no devastation for me once I left," Dr. Moro-Sutherland says. Being part of a crisis drew the entire team together. "I learned as a locum that I was not an outsider; I was part of the group. You're there for five days and in a situation where you have to make things work, and we got to know each other better." Dr. Moro-Sutherland has a long history of going above and beyond. She's taken advantage of the schedule flexibility working locums has given her to serve several medical missions to
Kampala, Uganda
. She's returned multiple times to the same hospital since 2010 and spends as many as four weeks a year volunteering in Africa. "I have helped fundraise and brought some basic things to the emergency room there, like piped-in oxygen. I love being able to do what I'm passionate about. To get down in the trenches reminds me of what real medicine is," Dr. Moro-Sutherland says. "We have so many bells and whistles here, and all you have there are your eyes, your ears, your hands. That's what you're using to practice medicine, with very few resources."
RELATED: How to serve a medical mission
Recognizing and filling a need in Portland, Oregon
Internal medicine physician
Dr. Bob Sayson has always been interested in serving those who had no access to medicine. While completing medical school in the Philippines in the 1970s, Dr. Sayson spent his summers with a surgeon mentor serving people in remote villages and tribes. [caption id="attachment_16780" align="alignright" width="450"]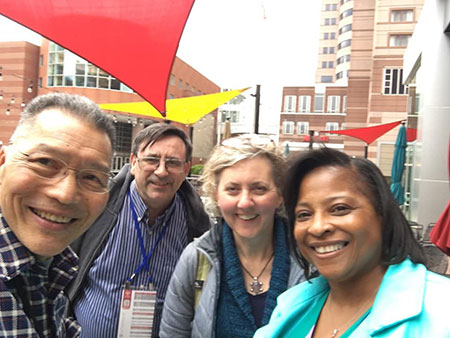 Dr. Bob Sayson (left) and colleagues[/caption] "We go into medicine to help the sick and needy, and that's been the most rewarding for me," Dr. Sayson says. "When patients can't afford the care and you make them feel like they're getting the very best care, they're very grateful because they realize that they're being shown grace. That's the joy that keeps me going, and it keeps me coming back every day to see more of what God's going to do in people's lives." After years of practice in Oregon, Dr. Sayson became discontented with the U.S. medical system and wanted to do more to help patients. He recalls a young diabetic who couldn't afford his insulin and was often in the ER as a result. When he learned the patient had died of hypothermia in a tent behind a shopping center, it was a wakeup call. "I'd been to Pakistan, India, Bangladesh, Kazakhstan, and the Philippines. I saw that we can accomplish so much over there with so little, but here we spend so much and we accomplish so little," he says. He had participated in a community health effort but was concerned that they only had the resources to provide healthcare to those in need one weekend a year. Dr. Sayson decided it was time make a true community health center a priority. A donor offered a run-down tanning salon, and Dr. Sayson and other volunteers converted it into the
Good News Clinic
, which opened in 2007. Today, the Good News Clinic serves those who have no health insurance, including undocumented immigrants, refugees, and displaced Portland residents. The costs of keeping the doors open continue to rise, however, so Dr. Sayson began taking locum tenens assignments a few times a year to supplement his contributions to the clinic. [caption id="attachment_16781" align="alignright" width="450"]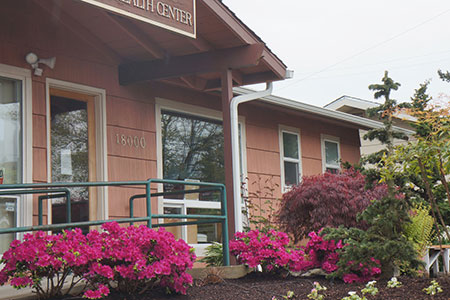 The Good News Clinic[/caption] "I was completely volunteer at the Good News Clinic for the past 11 years until I started doing locums work again and could pour a little bit more of what I earn into this place," Dr. Sayson recalls. "It helped bring on nurse practitioners and pay salaries for young providers who have young families. It gives them the means to serve the poor and do it with a living wage. All who serve here have the idea that it's not about what you have but how you help others." Currently Dr. Sayson works two days a week at Good News Clinic. He and the other staff members also visit a homeless shelter once a month to do foot care. Every two months or so, they bring a medical van to the homeless living under one of Portland's bridges, working with other physicians to bring needed medical care. "If you really want to do something that requires miraculous things, this is the best way to live. You can be so grateful that beyond your imagination things turned out this way," Dr. Sayson expresses. "It's such a privilege not to be constrained by the things we box ourselves into. So often we never look up and see the stars." He encourages doctors interested in giving back to contact the
Christian Community Health Fellowship
, a nonprofit that connects healthcare professionals with opportunities to provide care for the poor.
Celebrating locums everywhere
Dr. Sayson and Dr. Moro-Sutherland are just two of the amazing locums who have gone above and beyond to care for others. As we celebrate National Locum Tenens Week, CompHealth thanks you for the difference you make in the world every day.
Do you know a doctor who is a locum tenens hero? Tell your recruiter so that we can share their story!