Working locum tenens for Indian Health Service (IHS) is an opportunity that allows doctors to learn about new cultures and give back to an underrepresented community. However, the experience also comes with unique cultural and medical differences. We talked with three physicians who have worked multiple locum assignments for IHS to get their perspectives and insights on what to expect when working locum tenens for Indian Health Service.
Why locums are needed to work at IHS locations
Dr. Sonya Sloan, an orthopedic surgeon, says IHS facilities often face medical personnel shortages. She estimates as many as 40% of cases in an emergency room require orthopedics, but not all IHS facilities have an orthopedic surgeon on staff.
Dr. Christine Kramer, a family medicine physician, asserts that locum tenens physicians are often needed in order to bring care to patients where they are. "One of the really important functions is to provide healthcare in the tribal setting," says Dr. Kramer. "Sure, they can get in a helicopter and drive to get medical care, but the point is they deserve to have medical care near their home."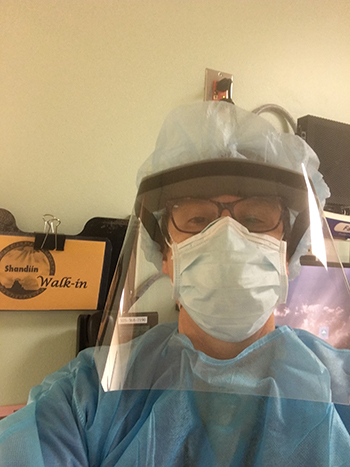 The need for locum tenens for IHS can also increase when healthcare crises like the pandemic occur. At the beginning of the COVID-19 outbreak, Dr. Wendy Carle, an internal medicine doctor, decided to go to work when she saw a friend from college on the news asking for help. Her friend had moved home to the Navajo Nation, which was facing one of the worst outbreaks in the country at the time.
"It really did speak to me," says Dr. Carle. "I looked around for opportunities and figured out CompHealth was the best situated for working with IHS."
Day-to-day medical issues
Dr. Carle's locum tenens work mostly involved walk-ins or helping people who hadn't seen a doctor in a while. For example, diabetes is prominent among Native Americans, so she helped patients with diabetes adjust medicines and monitor their blood pressure.
Dr. Kramer, who has worked multiple two-week locum tenens assignments at the clinic in Supai, Arizona, says the main health issues she saw were diabetes, hypertension, obesity, and acute illnesses like colds, flu, and sinus infections. She also helped with drug and alcohol problems.
Medical emergencies
Dr. Sonya Sloan works a repeating orthopedic surgery assignment in Gallup, New Mexico, where she sees the full gamut of emergency surgeries. She often sees car accident victims with serious injuries. "There's nothing out there but just wide-open space, and alcohol is definitely an issue there, so you get a lot of drunk drivers," Dr. Sloan says.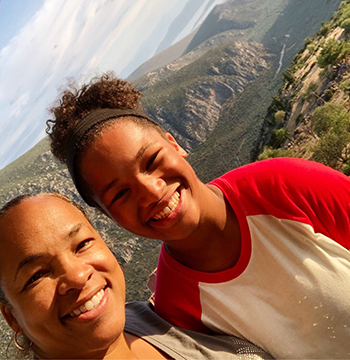 She also frequently works on injuries caused by the manual work on reservations. One patient broke his fingers when his sheep ran off during trimming. Another fell while loading barrels of water into his truck. A child dislocated his shoulder while roping a goat for school.
Unfortunately, Dr. Sloan also frequently sees blunt force injuries caused by domestic violence and fighting.
Overall, she finds the work there to be very rewarding.
"It's one thing to be an orthopedic surgeon and take care of a knee scope and fix an ankle fracture, but if I'm someplace where another minority group is sometimes even worse off than my own African American people, I feel like I'm doing a service that is impactful," says Dr. Sloan. "And they know that I care and that I'm not there just for the money."
The cultural aspects of medicine at IHS
Dr. Carle lists some of the cultural aspects that are important to know while working with Native Americans.
First, Native Americans are less likely to come to the doctor. "If they've pulled their back, they've already tried like five things before they come to you," says Dr. Carle.
Second, they're less reliant on medicines. Dr. Carle says she treats back injuries less with pain medication and more with tools like an elastic belt or topical creams.
Third, patients often see a medicine man before they come to a locum tenens doctor. Dr. Carle says patients are sometimes shy to admit this, because they feel it's looked down upon by Western medicine and because some of these treatments are secret. Dr. Carle navigates this by asking people to describe the physical, but not spiritual, aspects of their treatment.
Clinical conditions
Dr. Sloan says the facility she returns to regularly may not be state-of-the-art, but it does have the basics she needs to do her work.
"The building I'm in is older. They do with what they have, and they keep trying to fix and renovate small patches. But there are some places on the reservation that have brand new facilities, so it depends on where you're going," says Dr. Sloan.
She asserts that part of working locum tenens for IHS includes knowing when you can't handle something at your facilities.
"I am well trained to know when I cannot handle something because of my surroundings or because of my own inadequacies," she says. "So we do ship things out and they have a helicopter and/or a plane that sends cases to Arizona and into Albuquerque to take care of higher level things."
Why locum tenens doctors repeat IHS assignments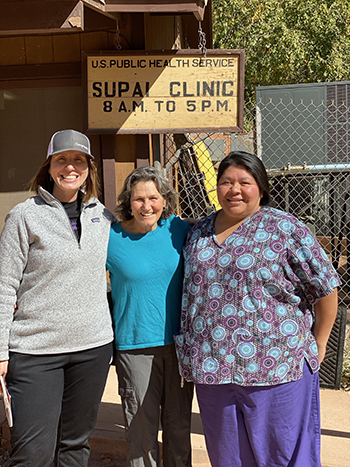 Dr. Christine Kramer says she has taken multiple assignments in Supai, Arizona, because serving the indigenous people is so rewarding.
"It's the privilege of being in the canyon and taking care of the Havasupai people — and just feeling the history of it," she says. "These people have occupied that village for more than a thousand years. They understand that they're the guardians of this incredibly beautiful place. You're the only physician on site, and you're halfway down the Grand Canyon. From the moment you arrive on the helicopter, you're a part of the community. It makes the experience really rewarding."
Advice to physicians interested in working locum tenens for Indian Health Service
Dr. Sloan's advice is: "Know what you're willing to do. If you are okay with doing trauma and clinic and ER, then it's a good place to be."
"Also understand that you have to be very respectful of the culture," she continues. "The culture trumps everything. People know your intentions as soon as you walk in. So, know your own intention, what you're willing to do, and what you're not willing to do."
Interested in learning more about locum tenens jobs with IHS? Give us a call at 800.453.3030.
Dr. Sloan on working locum tenens for Indian Health Service: