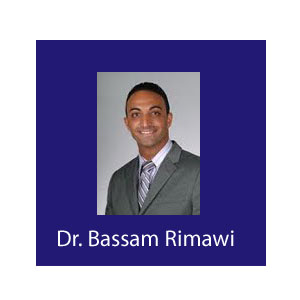 Positively one of my favorite people I've had the privilege to get to know through my work at CompHealth is a young, brilliant OB/GYN named Bassam Rimawi. I initially reached out to him after learning how he worked locum tenens jobs while still in residency. While this in itself is not remarkable, what the experience enabled him to achieve is. Dr. Rimawi's story is so special that I convinced him to share it with other physicians, which he did in this editorial titled "
How Locum Tenens Helped Me Land My Dream Fellowship
" for HealthNewsDigest. Apparently, I wasn't the only one who finds Dr. Rimawi interesting because his story was picked up by Locum Tenens Daily. Again, the gist is how his locums work with CompHealth helped pave a career path that might not have otherwise been possible. I recently caught up with the good doctor to find out how things are going, and here's what he told me:
"I started my fellowship in July of 2012, initially only in reproductive infectious diseases. As my fellowship progressed, I was offered a second fellowship in maternal fetal medicine, so currently I am doing two fellowships and it's going really well.
My experience in locum tenens surely helped me a lot because these fellowships require an individual to have a certain amount of experience with patient care and, to be honest, this experience is something that is not acquired just from residency alone.
Once residency is over and you are out in the real world alone, you learn how to build your own techniques and personal skills that really govern the majority of your work and life.
My locums experience really gave me that experience and I feel so comfortable going day to day in my fellowships. I was offered my second fellowships because they were so impressed with my experience and skills. I honestly would not have made it this far in my life without that extra experience that I acquired. I'm truly satisfied with all the work I do, because my experience with locum tenens built me to that point of my life.
At this time, while doing my fellowships, the department of obstetrics and gynecology at my institution is promoting all individuals to look into locums work as well, to gain that additional experience. I plan to continue locums work while completing my fellowships, something that is easily doable and fun."
Dr. Rimawi is now midway through his fellowship and, once again, leveraging
locum tenens jobs
to his advantage. His CompHealth recruiter, Zac Pew, found him a sweet gig at a nearby hospital that will allow Dr. Rimawi to work on call for one weekend a month. The part-time work won't interfere with his training and is a great way to supplement his income, as fellows typically earn less than staff physicians. Sounds like life is good for Dr. Rimawi. I love a good success story and would love to hear how others have used locum tenens during a transitional period to get to the next level. If you have an experience to share, please do so in the comments section below.