Sophia Khawly, ARNP, MSN, shares her tips on how to get started if you are a NP interested in working locum tenens.
Many people are familiar with the concept of travel nurses. However, traveling as a nurse practitioner is called locum tenens. "Locum Tenens" is a latin word for substitute. It applies to travel work opportunities for providers such as nurse practitioners, physician assistants, and physicians. The reason there is a difference in terminology is due to the length of service provided. For example, travel nurse assignments are typically a 13-week contract. Whereas locum tenens assignments can range from one day to one year.
State licensing for locum tenens NPs
In order to practice as a locums nurse practitioner, you would need to be licensed in the given state. Each state has its own licensing requirements and levels of autonomy. This can vary from needing 75 hours of pharmacology continuing education credits to needing a supervising physician. For instance, states like Washington and Maine allow nurse practitioners to work independently. On the other hand, Georgia and North Carolina require nurse practitioners to work under a supervising physician.
Related: What NPs and CRNAs need to know about the APRN compact
Demand for locum tenens NPs
Locum tenens opportunities for nurse practitioners are more prevalent in autonomous practice states and in rural communities. Primary care and behavioral health specialties are in the most demand, and acute care nurse practitioners have become increasingly popular with the recent pandemic.
Schedule flexibility
Compared to working as a permanent nurse practitioner, locum tenens allows more flexibility. If you only want to work 4 days a week — that's fine. If you do not want to work holidays — that works too. If you do not want to be on call — just let your recruiter know! Some nurse practitioners choose to work locum tenens in addition to their permanent job, to add extra skills or income.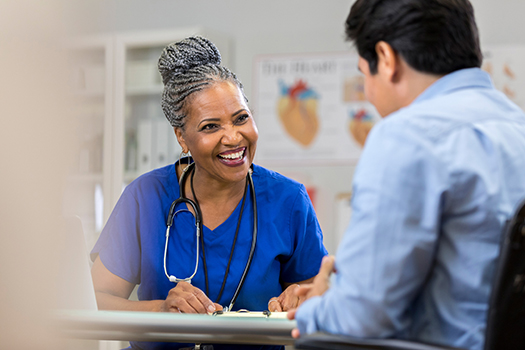 Pay for locum tenens NPs
The pay as a locum tenens nurse practitioner can be substantially higher than working in a permanent job. Since you are filling a need you are considered an expert in your field and are paid accordingly. If you are asked to extend, you can even negotiate a higher rate. You are paid overtime for hours worked beyond 40 hours a week. This is different from being an employee where you often have to work more than 40 hours a week, but since you are salaried, you are not paid for those additional hours. Not to mention that, as a locums, your housing, car, travel, and often your benefits are paid for.
Training and credentialing
Working in locum tenens, you would have to learn the different electronic health records that each facility uses. Orientation is usually provided and can range from several hours to several days. In addition, credentialing is done prior to starting an assignment, which is facilitated by your recruiter.
Care for patients and forming relationships
Patient interactions are similar for both a locums and permanent nurse practitioner. You can still utilize your skills obtaining a history, performing a physical exam, diagnosing and placing orders. Most patients cannot tell if you are there full-time or just helping out. If you are providing coverage for three months you may even see the same patient multiple times. The only difference is when it is time to leave, it may be difficult to say goodbye to your "favorite" patients. The patients are often disappointed to find out you will not be there permanently. However, it is still fulfilling being able to form patient bonds while on an assignment.
It is amazing how many relationships you can form in such a short period of time. Whether the assignment is one week or one year, the staff at work are often very welcoming and friendly. The permanent providers do not mind if you ask them for help.
Support staff
Since you are filling in, you may not have a designated medical assistant or nurse. So, you have to be flexible and open to the fact that you may be working with whomever is available that day. And depending on the assignment, you might even be the sole provider in the office.
Ultimately, over the last decade, the supply of nurse practitioners has almost tripled. This has led to an increase in demand for nurse practitioners in locum tenens. As stated above, there are countless benefits of being a locum tenens nurse practitioner.
Want to learn more? Call 800.453.3030 or view today's locum tenens job opportunities for nurse practitioners.