The prospect of working a locums assignment can be an exciting one, but with anything new, there's always a bit of uncertainty and some unknowns. However, there should be little left to chance when it comes to locum tenens onboarding, especially when you're working with a team that has your back. Here's everything you need to know about your first day on a new assignment.
How does locum tenens onboarding begin?
Long before you ever arrive at a healthcare facility, your CompHealth recruiter will gather everything necessary to ensure you have a good onboarding experience. They'll make sure you're prepared to walk through the door knowing who'll greet you, orient you to the facility, introduce you to the staff, and help familiarize you with how things are run.
Zac Pew, an experienced CompHealth OB/GYN recruiter, reviews the assignment details with his locum tenens physicians before they arrive in a kind of "verbal syllabus".
"I go over all the details of their assignment: where they are going, whether it's a hospital or clinic, the address and where to go to report in, what the dress code is, and how they enter their time," he says. "My doctors appreciate having something tangible they can rely on, and the verbal syllabus serves that function."
CompHealth recruiters are supported by an assignment coordinator who works with the hospital or facility to set up the orientation and training. "Our assignment coordinators work really hard to make sure we have all the details the physician needs to have a successful first day," Zac says. But your recruiter is always available and your first stop if you have any questions.
You will also receive a first-day letter before the start of an assignment. The letter documents all the assignment details: travel information (including flight itinerary, hotel reservation information or long-term housing details), orientation information (such as date, time, who to report to, where to get your ID badge), and a link for the time entry portal.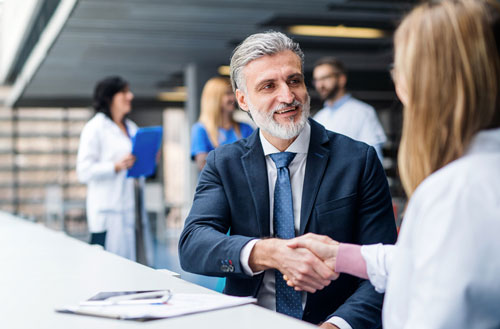 What should I expect from the facility?
Orientation at your new workplace can last a few hours to a couple of days, the length of which typically depends upon the size of the facility. It will cover everything from instructions on where to park, where to go in the facility, how to use the EMR system, who to call in an emergency, and who your backups are. Many facilities also provide a map of the floors or sections of the facility where you'll be working,
Organizations that use locum tenens frequently will have a standardized onboarding process to orient the locums to their new work environment. But even then, you may not always get all the information you need. It's important to ask questions, and not unreasonable to expect answers to them.
Urgent care recruiter Jenseena Cook tells her locums to ask how patients are triaged, what the protocol is when a patient needs to be transferred to the ER, and what specialists — like as an orthopedic surgeon — are available for a consult if needed. In an urgent care setting, they should also direct you to where the lab, X-ray, and other necessary equipment to treat a patient is located.
What if I'm not getting the help I need?
OB/GYN recruiter Kyle Sperry says that every locums should feel comfortable addressing any problems with their main point of contact at the facility (usually the first person you met when you arrived). However, you shouldn't hesitate to reach out to your CompHeatlh recruiter if you aren't getting what you need. "When in doubt or if you don't want to confront anyone at the facility, you can always reach out to your CompHealth recruiter, day or night," Kyle says. "A large part of our job is to be a liaison between the facility and the provider."
One of the most common issues is not getting enough EMR training, which can easily be the case when you haven't used a system before. Inadequate training is more common at facilities that are new to using locum tenens. So if you need more training and the facility's contact person isn't getting you the help you need, call your recruiter. "It's our job to help take care of any problems," Zac says. "Regardless of what happens, you should call your recruiter, and we'll get in touch with the client to resolve any problems."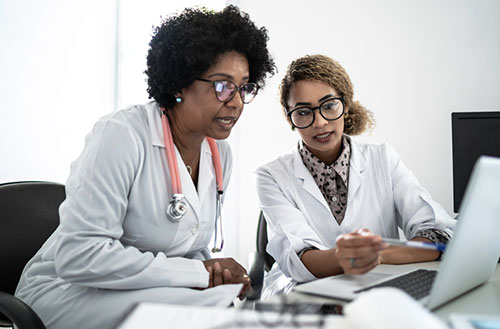 How has COVID-19 impacted locum tenens onboarding?
Because so many hospitals have had to lay off or furlough staff (sometimes as much as 50% of their administrative staff), this has affected onboarding at some facilities. "These are often the people responsible for onboarding and training," Zac says. "So that has affected the experience for some physicians because orientations haven't been as in-depth."
Zac recommends trying to be as adaptable, understanding, and compassionate as possible.
"A lot of hospitals have gone electronic with training videos and online tutorials for the EMR systems, so that's something you can learn before getting on site," he says. "Onboarding may be different than it used to be, but you can still get the training you need to be successful."
Another difference Kyle has observed is that PPE may be different from facility to facility — you may have to be pre-fitted for an N-95 mask, or you may be asked to wear different clothing.
Support from beginning to end
Whether it's your first assignment or your twentieth, it's important to approach each assignment as if it's your first. Make sure you're getting all your questions answered and that you feel comfortable with the policies and procedures of the facility. Most importantly, have confidence that your locums agency has got your back.
"Your representative will have great advice for each facility before your first day," Kyle says. "Rely on them as you begin your assignment. We are here to help you and ensure it's a great experience."
Are you ready to try locums? Give us a call at 800.453.3030 or view today's locum tenens job opportunities.