Blogging is all the rage these days, and companies are using employee stories to show job seekers the benefits of their culture. In today's job market, a career blog is becoming an essential component for companies to promote their brands and entice potential job candidates.
Candidates Need a Reason to Get Excited
Gone are the days of sifting through newspaper ads to find a good job. The job market is competitive and candidates expect more than just an email address and job description. Creating content for a career site helps keep job seekers engaged and get a feel for what the company has to offer. For example, Microsoft provides potential candidates a glimpse into what they can expect when working for the technology giant. Their
company job blog
shares stories of why employees enjoy working there as well as career tips for job seekers. It pays to be savvy, and even though you may not necessarily get a job at Microsoft, you'll walk away with information to apply to future searches. Each job blog is unique in its formatting, but they all have one thing in common — engaging content. Check out these three job blogs to see what they do best:
Pictures Tell More Than Words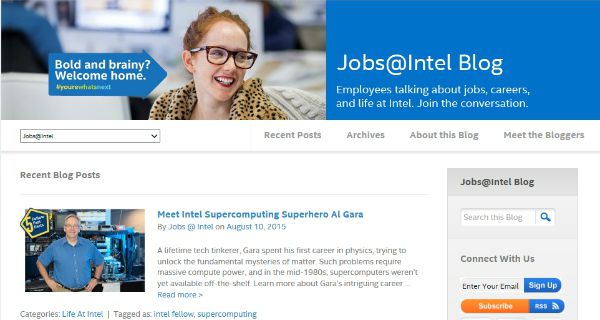 The
Jobs@Intel Blog
has great features for interested job seekers. A

Flickr photostream
[see left] on the site provides a nice touch with pictures of employees enjoying company events and team building exercises. Along with links to their career social platforms, they include an option to subscribe to the blog through email or RSS feed.

Another aspect of the site is a link to an
employee blog
called
Life at Intel
.  They have stories told directly from their employees across the globe. Xia Chengdu is an engineer group leader in China and loves working for a global company. "I'm very glad that I chose Intel to start my career," she says in her story. "I can see myself changing every day, learning new things and facing new challenges. Intel is a great place to be." The best part of the Intel job blog — is exactly that — the blog. With stories about networking for success or leaders' essential career tips, the blog contains a wealth of information.
Use Video to Tell the Story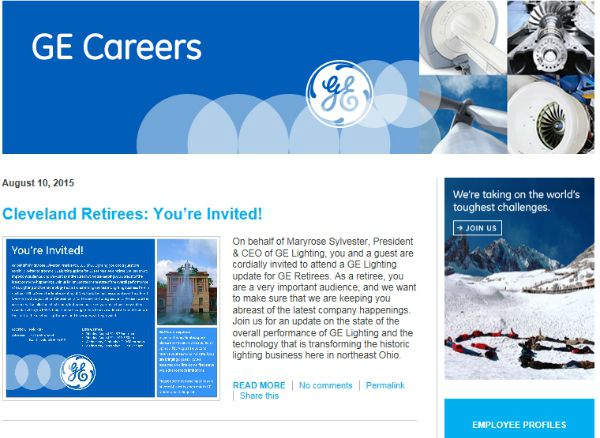 The
GE career site
features an
employee profile section
 that shares stories of employees' work and how it connects them to the rest of the world, and an
audio/video section
provides job seekers a quick view into working at GE.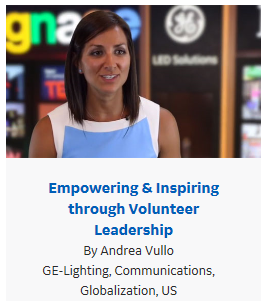 Running down the right side of the site is a section for
tags
[see left] that range from countries to specific topics dealing with GE's technology. When you click a tag, the site brings up all blog posts directly related to your selection. The blog itself contains posts on a wide variety of subjects, but mainly features stories to help job seekers learn about GE. Many of these stories are told through
video
from the perspective of GE's employees. For instance, Andrea Vullo shares her thoughts on the power of volunteer leadership.
Click here to watch her video
.
Make It Interactive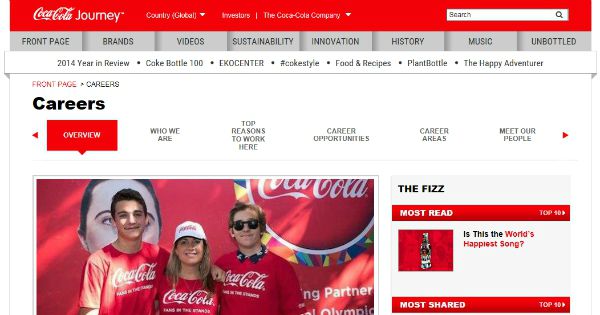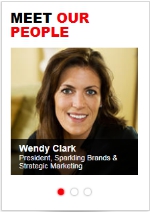 Last, but not least, is the most visually interactive of the bunch — The
Coca-Cola career site
. The menu bar at the top of the site contains links directly related to working for their company.
Simple navigation tabs
like
Who We Are
and
Top Reasons to Work Here
are aspects relevant to any job seeker. The blog shares stories of volunteer experiences, leadership-training exercises and internship successes. In the
Meet Our People
section, you'll find videos from their global leaders sharing what it's like to work for the company.