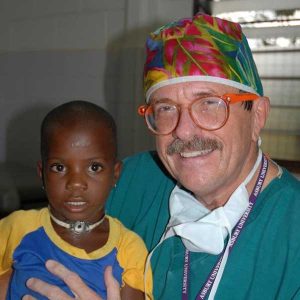 UPDATE: Dr. Williams and his wife, Liz, were recently presented the "In the Footsteps of the Great Physician" award for 25 years of service by the World Medical Mission. Since his retirement in 1990, Dr. Williams has served 25 short-term medical missions, and 16 of those trips were to the west African nation of Togo. 
The following story about Dr. Williams first appeared on the CompHealth blog in February 2015. 
When Dr. Samuel Williams, a general and vascular surgeon from Virginia, retired from his practice in 2000, he had no intention of leaving medicine entirely.
Providing Care to the Underserved
He began taking
locum tenens
assignments with CompHealth at facilities around the country — among them a native hospital in Sitka, Alaska, and a hospital in the Utah Navajo Health System in Blanding, Utah. He enjoys providing healthcare to those who might not otherwise receive it. "I have treated people from all different backgrounds," Dr. Williams says. "It is challenging and exciting to work in a resource-poor environment and be able to do some good." Dr. Williams also appreciates having an open schedule that allows him to take time off for other opportunities he's passionate about.
Medical Missions to Africa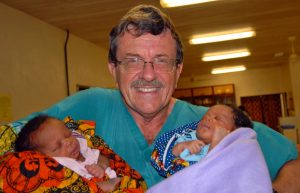 "Locum tenens gives me flexibility as well as a decent income to provide for my personal financial needs, but also makes it possible to be of service abroad doing surgical volunteerism," he says. Having served more than 20 medical missions in Africa, Dr. Williams is familiar with the outdated healthcare facilities, some comparable to U.S. hospitals in the 1940s, '50s and '60s. He frequently treats patients with typhoid fever, an illness all but eradicated in developed nations but common in West Africa. "By the time these people come to the hospital, they are very sick," he says. "They are often nearly dead." Dr. Williams has used his surgical expertise in repairing typhoid perforations (tears in the bowel that can be fatal) and aggressive use of antibiotics to help more than 60 patients recover from the illness. "It's really a matter of using common sense and just doing whatever you need to do to take care of the patient," Dr. Williams says. "It is possible to have terrific results in a humble little hospital in the middle of nowhere." But typhoid patients aren't the only ones who benefit from Dr. Williams'
medical missions
. He has treated women with breast cancer and even delivered twins in an emergency c-section.
Making a Difference
"I consider my work as a surgeon to be a ministry," Dr. Williams shares. "It is humbling to experience the gratitude of these people, even those who are in a hopeless situation." Dr. Williams says locum tenens assignments and medical missions allow him to put his skills to the best possible use — caring for people who have few other healthcare options. "I want to be as complete a surgeon as I can be, and it's more than just working with my hands and doing an operation," he says. "It's putting my hand on that patient, looking them in the eye and trying to put them at peace, knowing that I'll get them through this." Learn more about how Dr. Williams makes a difference in the video below! https://www.youtube.com/watch?v=F8k-lQfhYRo