In late 2019, prior to the arrival of coronavirus, CompHealth sponsored a group of physicians and other healthcare workers and volunteers on a medical mission trip to India. Funded by a grant from the Making a Difference Foundation and organized by the non-profit Me to We, the mission was a unique opportunity to provide medical and other assistance to impoverished individuals on the subcontinent. Here's the story of what the experience was like for two of the physicians who gave their time and talents to help make the mission a success.
An opportunity to give back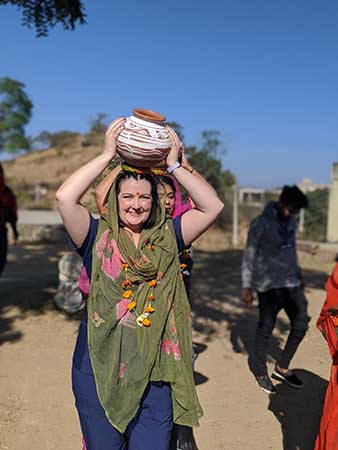 The idea of medical missions was intriguing to Dr. Carrie Frost from early on in her career. She's a pediatrician with a background in public health, and she has previously served on missions to Honduras and Kenya. She has also worked for the Indian Health Service. When she was nominated by her CompHealth recruiter to join the medical mission to India, Dr. Frost was excited to try something new.
"When I got the email saying she had nominated me, I felt like this huge gift had just been dropped in my lap," she recalls. "I was on cloud nine with the idea that I may be going to India and that it was a sponsored trip. Just an amazing opportunity."
Dr. Zoila Velastegui, an OB/GYN, was also nominated by her CompHealth recruiter to serve in India on the same medical mission. Dr. Velastegui says she was interested because of the one-on-one attention she would be able to offer the patients.
New culture, new challenges
Both doctors say they enjoyed the rare chance to spend time focusing on patient needs, even though 2,300 patients were seen in about four days. Even with the high volume of patients who needed care, Dr. Frost says it went smoothly, thanks to the positivity of the staff members.
"There wasn't a single person on the team who complained. Everybody was positive; everybody was engaged," she says. "It was just a great team."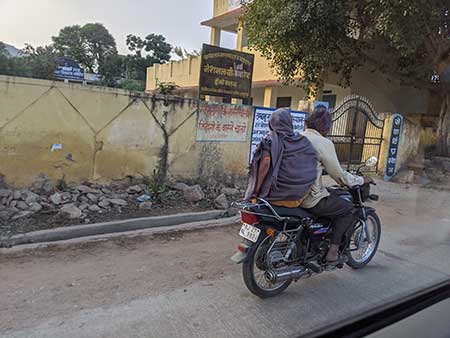 Positivity is key when grappling with the conditions in India. Dr. Frost recounts one appointment where she saw a four-month-old baby who was severely malnourished, without access to formula or bottles; a condition not uncommon in the area she was serving.
"To lack diapers or a bottle, it's just hard for me to get my head around. The level of poverty is pretty extreme," she says.
Dr. Velastegui says she relished in the opportunity to dive into a new culture with new challenges, and put aside the billing, insurance, and paperwork that often comes with the territory of her job at home.
"It's so refreshing to be in a completely different environment on the other side of the world," she shares. "What I do for them may change their day or their lives. It makes you remember how much you love medicine and the reason why you went to school."
Learning the ropes in India
Dr. Frost says the medical mission to India was by far her favorite so far. CompHealth and Me to We made every effort to include the physicians in the day-to-day life of the patients they were serving. The doctors spent time with the locals, observed how they cook their favorite foods, rode camels, and learned tie-dye and traditional dancing.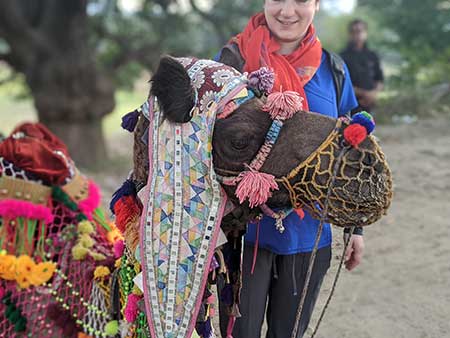 "It added a real flavor and a real appreciation for the culture," shares Dr. Frost. "All that was quite different than other trips I'd been on."
The cultural immersion and extensive planning that went into making the whole team feel welcome was a pleasant surprise for Dr. Velastegui. Highlights were spending the day with a local woman, learning to make the popular roti bread, and participating in tourist excursions.
"It was incredible the way they treated us," she says. "I'd never experienced anything like that. It was amazing."
Taking home a new perspective
Awareness of the level of poverty in India was a big takeaway for Dr. Frost, who finds it astounding that more visible efforts aren't being made. She says the level of need in India is so deep that it doesn't compare to what she's used to seeing in the United States. "It's mind blowing when you're there and you're seeing it up front," she recalls. She hopes other physicians will learn about taking similar opportunities to serve those in need.
Although seeing the struggles was surreal, Dr. Frost says her time in India was very satisfying. "Each day we had some experience that was a blessing," she recounts.
Dr Velastegui also found satisfaction in being present with each patient, even if it was just to lend an ear.
"We really focused only on patient care, on making sure we listened to them and that they got what they needed from us," she recalls. "The difference that I can make at that moment and how grateful they are, that's a very full feeling."
Have you served a medical mission? Tell us about your experience in the comments below.