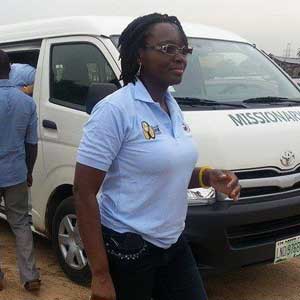 For Dr. Olujoke Jones, a hospitalist who has worked with CompHealth since 2011, locum tenens assignments make charitable work in Africa possible. A native of Nigeria, Dr. Jones dreamed for years of serving her home country. "I have always had the desire to give back to humanity. Living in the United States for close to 20 years, I am familiar with the major obstacles we are yet to overcome in less-developed countries," Dr. Jones says."Doing locums exclusively gives me flexibility. I can plan for when I need to travel." As a result of her accommodating schedule, Dr. Jones was finally able to make a dream she hatched years ago with her late husband a reality: She recently formed
Labors of Love
, an organization that facilitates mission trips to underserved African nations. Labors of Love volunteers work with medical training facilities around the world to educate the local people about basic preventive care. The organization's mission is a result of Dr. Jones' first mission trip with another organization in 2007. "You're able to help people with immediate needs like antibiotics or antiparasitic medications on a medical mission. Then you get people with long-term needs like surgery and chronic diseases. As a missionary, you can't effectively solve those problems." Dr. Jones says. "My goal is to form a liaison with medical schools and residency-training facilities. They see a lot of problems we don't in the U.S., and we can help them better manage the problems we have more exposure to." Labors of Love just completed its first trip to Lagos, Nigeria, setting up a community clinic for the needy that offers preventive health screenings. Dr. Jones also has contacts there who will partner with residents and medical students to exchange medical information when missionaries are not available to help.
Facebook page
. Find out how locum tenens can give you the flexibility to serve medical missions!
Check out our open physician jobs now
.