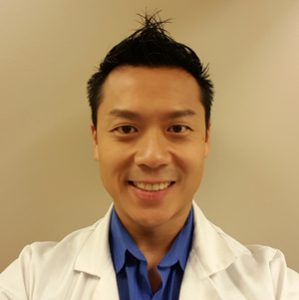 The typical path to becoming a physician consists of going to medical school, finishing a residency or fellowship program and then finding a permanent position at a hospital or private practice. But Dr. Johnny Shen is not typical. After completing his family practice training, he took a different course. "My program really did not emphasize other alternate routes for careers once you are out of residency," Dr. Shen shares. "I didn't want to just come out from residency, sign with some company and just remain there for who knows how many years and then have all my vacation days set and all that." "I started searching for alternative job opportunities in family medicine when I was in the first year of residency. I talked to a couple of doctors on student/doctor forums and one of them, who actually works for CompHealth, was the one who told me about this thing called
locum tenens
and got me really excited about it — the flexibility, the benefits and just being able to have a really good work/life balance."
RELATED: 5 Reasons to Try Locum Tenens Jobs
Enjoy a Work/Life Balance
With more and more physicians seeking opportunities to balance their work and personal lives, the flexibility of working locum tenens assignments has become an appealing alternative to the traditional full-time job route. "A lot of physicians are aiming for the perfect work/life balance. I think locums definitely affords that flexibility, because I basically get to work as much as I want," Dr. Shen says. "I have time to spend with my family, my girlfriend and my hobbies outside of work." Because Dr. Shen splits his time between Texas and Colorado, he also enjoys the freedom locum tenens provides him to create his own schedule. "If I knew I was going to need to make a little more, I'd work straight for a couple of days or weeks, and then afterward I'd have a few weeks off or even a whole month off," he shares. "Most jobs you can't just say, 'I'm going to take these two months off and then I'll come back.' But with locums, I can."
Take Control of Your Career
Working locum tenens assignments provides Dr. Shen the chance to be his own boss, something he thoroughly enjoys. In fact, when his peers ask him about locum tenens, he compares it to being a movie star with a personal agent who takes care of all the necessities.
"I glamorize it sometimes and tell them, 'You know what? There's something called locum tenens. You're an independent contractor. You get to pick your dates to work. You get to travel and they pay for most of your travel expenses and lodgings,'" he says. "It makes me feel like I'm an athlete or some sort of movie actor because I have an agent who finds shifts and gigs for me and I get to travel. That to me makes me feel like I'm in control of my own career and then I get to find out who wants to pay me more. Who can provide me the better reward for the work that I do."
RELATED: Locums Tenens for New Physicians, Mid-Career Docs, and Retirees
Gain Valuable Experience
In addition to enjoying a flexible schedule and being his own boss, Dr. Shen has also gained valuable experience working locum tenens assignments, making him a better physician. "I've been exposed to all different types of facilities and different populations, underserved populations and very healthy affluent populations," he says. "That kind of training where you are put in a different place and have to adapt is underestimated. For every single new job I take, I take a little piece from my last one and try to use it as a learning point and then apply it every single time I go to a new place." The numerous benefits of working locum tenens assignments has allowed Dr. Shen to enjoy a full-time career without sacrificing his personal life, and he doesn't see himself going the traditional route any time soon. "I do locum tenens because I was made for it," he says. "I love the flexibility. I'm not stuck in one place, and I can make my own schedule. You can't really put a price on that."
Click here for open locum tenens assignments.