Andrew Wilner, MD, FACP, FAAN, tells the story of his career and why he decided to become a locums.
I worked my first locum tenens job in 1982. Since then, locums has shaped my career and led me to the perfect permanent position. For those new to locum tenens (or "locums"), it isn't a medical subspecialty, it's a clinical practice consisting of temporary assignments at different clinics and hospitals. Locum tenens physicians choose when and where they want to work, eschewing long-term contracts. This schedule flexibility underlies the great attraction of locums. It's a fast-growing practice embraced by approximately 50,000 U.S. physicians. No special license is required.
Quest for the perfect job
After completing an epilepsy fellowship in 1989, my primary career choice was private practice or academics. I wasn't sure which path to take, and I have bounced between the two for the last thirty years. Along the way, a series of locum tenens assignments helped me find the practice style that best suited my interests and skills.
From clinical practice to academics
I began my professional career in a traditional 5-person neurology group. It was my role to build an epilepsy center, which translated into seeing as many clinic patients as possible. Because our group covered several hospitals, I also did inpatient consults every fifth week. In my "spare time," I conducted clinical trials for epilepsy drugs and published the occasional academic paper.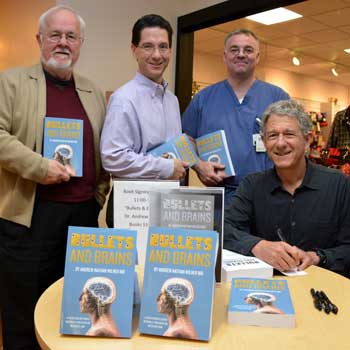 After eight years, the grueling routine had worn me down. When I was a resident, I relished the intellectual inquiry that accompanied each clinical case. In private practice, such cerebral pursuits were a rare indulgence. With aspirations for a more stimulating environment, I left private practice for academia. Unfortunately, the new position left much to be desired. When my attempts to improve the department proved futile, I reluctantly resigned.
For the next ten years, I earned a living as a medical journalist, writing about neurology for numerous online publications, including Medscape and Neurology Times. I wrote regularly and published a book, Bullets and Brains. When I decided it was time to resume clinical practice, I wasn't sure where to start.
Returning to clinical practice
By the time I re-entered clinical practice, a new subspecialty of neurology had been born, the neurohospitalist. In fact, it wasn't new at all — as neurologists had always done inpatient consults — but it was the exclusive practice of inpatient neurology as well as an employed model that were new. The other unique feature was the schedule, 7 days on/7 days off, 24/7. I signed up. The every-other-week break allowed me to attend many conferences and continue to write.
As a neurohospitalist in a busy community hospital, productivity was still the goal, which led to exhausting days and nights. The only academic window was a sparsely attended Grand Rounds one evening a week. Although a bitter taste still lingered from my prior dip into academia, I hungered for scholarly opportunities.
Academic locums
After my neurohospitalist year, I enjoyed a series of locum tenens assignments. I worked in a busy outpatient clinic outside Boston, MA, and at three academic institutions in the Midwest. In the academic centers, I resumed my neurohospitalist role with a bonus—a team of enthusiastic residents and medical students. In the clinic, I followed up with hospital patients. I loved it!
A bridge to a permanent position
Now that I had identified the ideal practice style, I searched for a similar full-time spot. Over the next two years, I interviewed at several institutions. Finally, I found the perfect job. My negotiating position was strong because I had locums to fall back on. The result? An appealing 7 on/7 off schedule and a respectable salary.
In this journey, I learned that not only can locum tenens become a career, but it can be a bridge to a desirable permanent clinical position. Locum tenens helped me discover my niche and negotiate a permanent contract. I've never been happier!
More from Dr. Wilner on this topic: