The latest
report on APRN compensation
suggests several ways NPs and CRNAs can increase their earning potential. Findings in the report suggest that the type of work, specialty, and the region you work in can all have a positive impact on your salary.
CRNA and NP salaries remain flat
The 2019 report, released by
Medscape
, is based on a survey of APRNs nationwide and includes NPs, CNSs, CRNAs, and NMs who reported their income and the type of work they do. The report finds that compensation for all APRN professions either stayed the same or went down a little compared to 2017. It also shows that CRNAs earned the most with an average compensation of $188k in 2018. The average gross income for NPs was $108k, while nurse midwives (NM) made $107k. The lowest earners were the clinical nurse specialists (CNS) at $102K. But these findings don't tell the full story.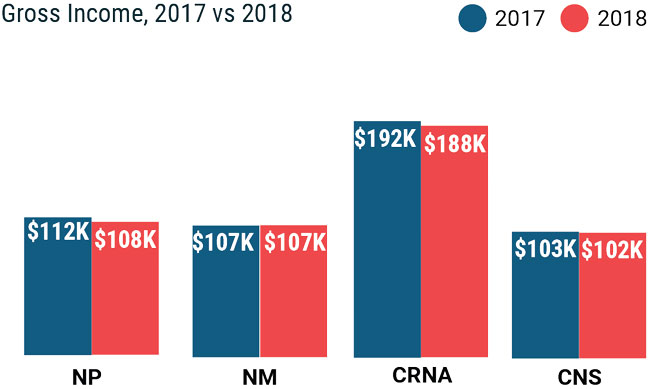 Image credit medscape.com
While wages may have stayed about the same in 2018, over half of the APRNs surveyed reported that their income was higher in 2018 than in 2017. In fact, fewer than 10% reported earning less in 2018. This may seem puzzling at first glance, but the report also points out that the difference is probably due to cost-of-living increases — to keep up with inflation — which are not considered actual wage growth for this study. While cost-of-living increases are appreciated, they don't help you earn more in the long run. The good news is that the new report offers several insights for CRNAs and NPs looking to bump up their pay.
Hourly and contract work pay more
In a change from the past, all APRN hourly wages were higher for part-time and independent contractors, which includes locum tenens work. In fact, part-time CRNAs earned $19 more per hour than their full-time counterparts. Not only that, but NPs and CRNAs who were paid hourly actually earned more all year than those who worked at salaried jobs.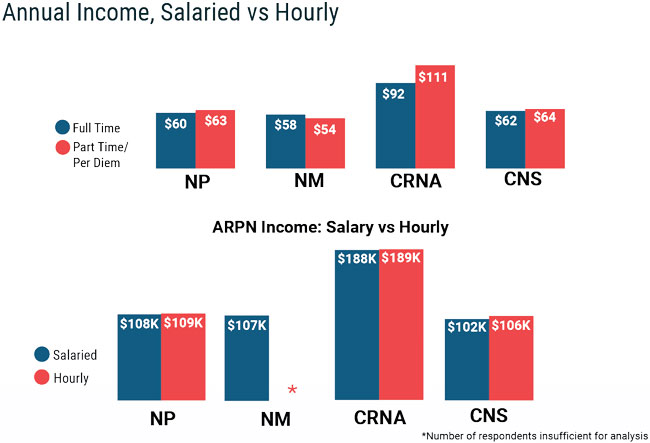 Image credit medscape.com
APRNs who were self-employed or independent contractors in 2018 did especially well. They earned an average of $6k more than working full-time for a medical group or hospital. And they earned $21k more than working for a private practice!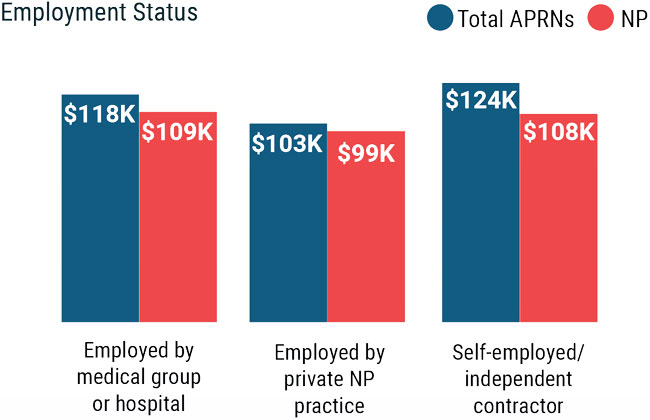 Image credit medscape.com
If you're a CRNA or NP who wants to increase their pay, these numbers suggest that working locum tenens as an independent contractor may give your career, and your pay, a positive boost.
Higher education and certain specialties earn more
According to the report, both your education and chosen specialty can affect your pay. For example, it found that NPs and CRNAs with doctoral degrees earned 5% more than their peers in 2018. Additionally, when looking at pay rates among certain specialties, NPs who worked in
adult gerontology
and
psychiatric mental health
earned the most compared to other NPs. Also, NPs who worked in a hospital or in in-patient care setting were paid more than NPs working in out-patient, public health, academics, private offices, or urgent care clinics.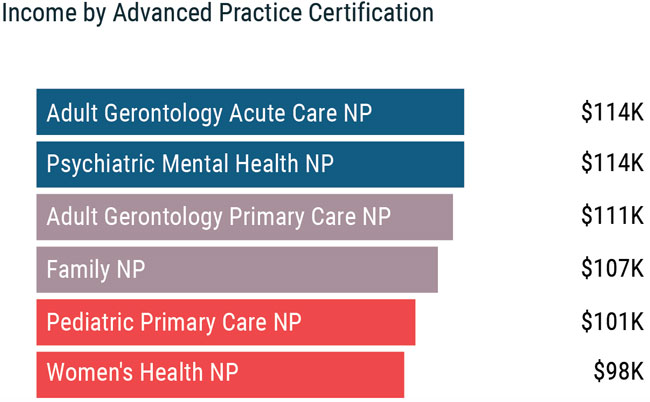 Image credit medscape.com
For CRNAs and NPs looking to increase their salaries, obtaining higher education or switching your specialty could help you earn more. SEE ALSO:
4 ways being adaptable can help you be a better NP
Some regions pay more than others
The report also offers information on regions of the country that offer the highest pay for CRNAs and NPs. Specifically, it shows that the Pacific Coast states (California, Oregon, and Washington) offer the highest pay in the country. Pay in these states is an average of $130k per year for APRN professions. New England and the West South Central states (Texas, Oklahoma, Arkansas, and Louisiana) also offer high wages. New England boasts an average of $121k per year, and the West South Central region was only a little behind at $119k per year. The West North Central region offered the lowest pay in the country.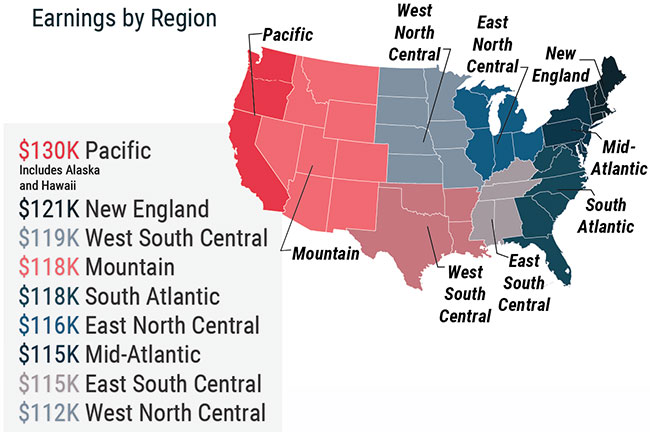 Image credit medscape.com
For CRNAs and NPs looking for a change in scenery (or those thinking about taking locum tenens work in these regions), these trends may help you decide where to get the highest wages for your work. For example, the West South Central states offer relatively high wages but also a lower cost-of-living, which means you could gain the most financially in that region compared to other parts of the country. Overall, the latest salary report offers helpful insights for CRNAs and NPs who want to earn more. Although yearly pay stayed much the same across the country, if you're looking for ways to make more money in 2020 and beyond, you may consider furthering your education, focusing on a higher paying specialty, or becoming your own boss. RELATED:
Finding the perfect CRNA job
Interested in increasing your earning potential as an NP or CRNA? Give us a call today at 800.453.3030 or view today's APRN job opportunities.