According to the most recent Medscape APRN Compensation Report, nurse practitioner salaries are still on the rise. Based on responses from more than 2,000 nurse practitioners, the report reveals how the average NP salary changed from 2018 to 2019 and how the coronavirus pandemic affected their work. While most nurses continued working through 2020, many worked less than in prior years due to furloughs or layoffs. However, the overall compensation trend continues to show positive growth for nurse practitioners.
Some NPs worked less because of the pandemic
About 20% of advanced practice registered nurses (APRNs) said they worked less in 2020 due to COVID-19. Twelve percent said they retired earlier than originally planned due to the pandemic, while 5% were laid off or fired in the past year. While 3% were furloughed due to the pandemic, a HealthLeaders report found that most APRNs had their jobs back by the end of the summer.
An increase in income in 2019
NPs surveyed had a 5% increase in annual gross income in 2019. The annual NP salary in 2018 was $108,000 while the average 2019 salary went up to $113,000. It's important to note that these data do not yet reflect how COVID-19 impacted NP salaries in 2020.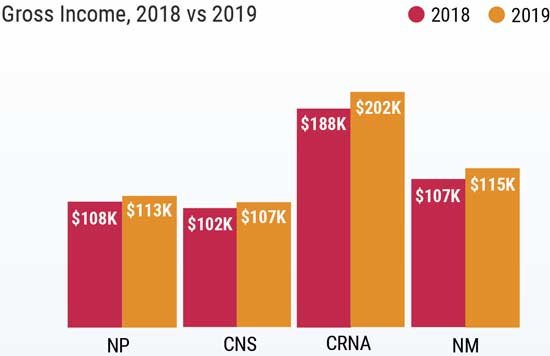 Nurse practitioners who work in hospital in-patient care earned the highest salary ($122,000 on average), followed by hospital outpatient or clinics ($115,000). Those who work in public health, medical offices or urgent care clinics, and academic settings earned the lowest salary, between $107,000 - $110,000 on average.
For NPs wanting to grow their salaries, the report found that NPs who'd earned a doctoral degree earned an average annual salary of $117,000, compared to $112,000 with a master's degree.
Finally, years of experience also contribute to salary increases. NPs with 11-20 years of experience reported an annual average salary of $128,000. NPs with 1-5 years of experience earned an average of $109,000, while those with 6-10 years of experience earned an average of $119,000.
Self-employed NPs may earn more
While NPs employed by a hospital or medical group earned the highest salaries, the report shows that self-employed NPs earned an annual average of $110,000 in 2019. This salary is comparable to what NPs working in medical offices or urgent care clinics earn.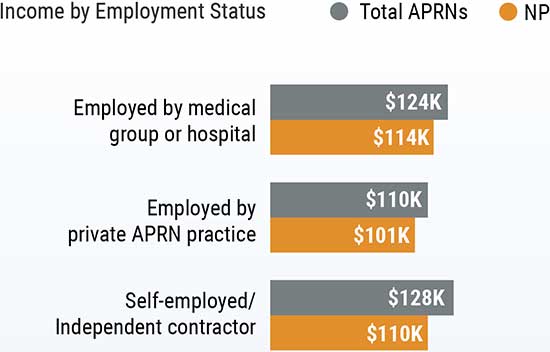 NPs looking for more independence and higher earning potential may want to consider locum tenens. NPs who work as locums for CompHealth enjoy the advantages of independence as W-2 employees with full benefits, while getting reimbursed for travel and housing expenses as well.
NP salaries vary widely between regions
Nurse practitioners who worked in the Pacific region, which includes Alaska, Hawaii, Washington, Oregon, and California, were the highest paid, reporting an annual average salary of $128,000 in 2019. Salaries in the Mid-Atlantic, West South Central, and Mountain regions were similar, ranging from $113,000 to $115,000 annually.
Participants reported the lowest NP salary in the East South Central region (Kentucky, Tennessee, Mississippi, and Alabama), an annual average of $98,000.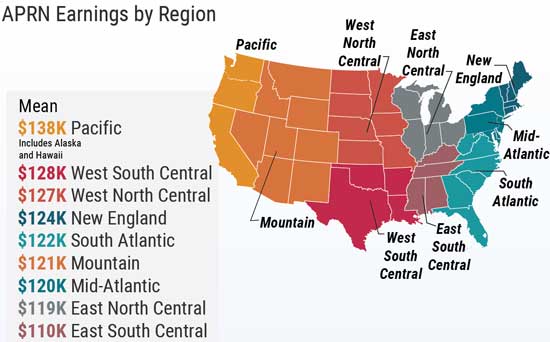 However, it's important to note that these salaries do not factor in the cost of living, which can be lower in rural and southern states than in coastal areas. It may be helpful to use a cost of living calculator when determining the buying power of NP salaries in these areas.
Most NPs feel fairly compensated
Sixty-one percent of nurse practitioners Medscape surveyed said they felt fairly compensated. However, the report does show a gender pay gap, as male NPs earned 8% more than female NPs in 2019.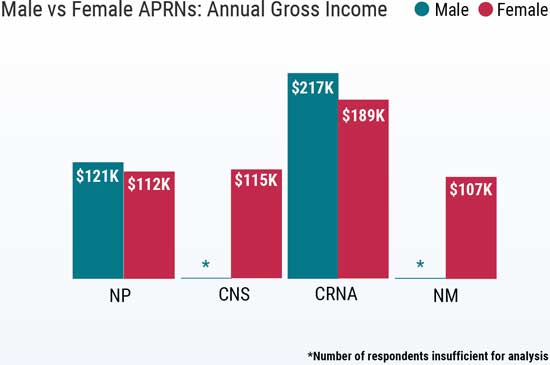 However, this pay disparity may stem from work settings as well. Medscape found that 63% of male NPs surveyed worked in acute-care hospital roles (the highest-paid settings), while 45% of female NPs did. Male NPs are also more likely to own practices and to supplement their incomes.
In summary, nurse practitioners interested in increasing their income may want to consider continuing their education, working in a hospital, or pursuing work as a self-employed or locum tenens NP.
RELATED: How to negotiate a higher salary
CompHealth can help you advance in your NP career. Give us a call at 800.453.3030 or view today's NP job openings.