The past two years have been a rollercoaster for nurse practitioners — with layoffs, furloughs, and reduced hours for some, while others have been worked to the point of burnout. The latest APRN Compensation Report 2021 from Medscape reveals how the COVID pandemic affected the average NP salary in 2020.
NPs made more in 2020 than 2019
Overall, NP compensation grew. However, the challenges of the pandemic did have an adverse effect on some practitioners' salaries. Average gross income for NPs went from $113,000 in 2019 to $116,000 in 2020 — a 2.6% increase.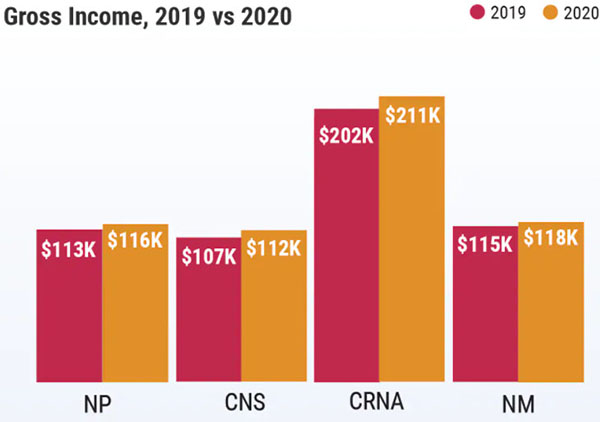 Some NPs reported fewer working opportunities in 2020
For some NPs, the pandemic had a negative effect on employment, especially in the first half of 2020. Reduced patient consumption of in-person care, especially in family practice and urgent care, resulted in reduced hours for some NPs and furloughs or layoffs for others.
And many hospitals, faced with the additional costs associated with caring for COVID patients, made employment decisions that affected many advanced practitioners. 26% of NPs surveyed reported they did not receive their normal raises, 15% had a reduction in hours, 9% were furloughed part of the time, and 4% had to move from full-time work to part-time work for part of the time.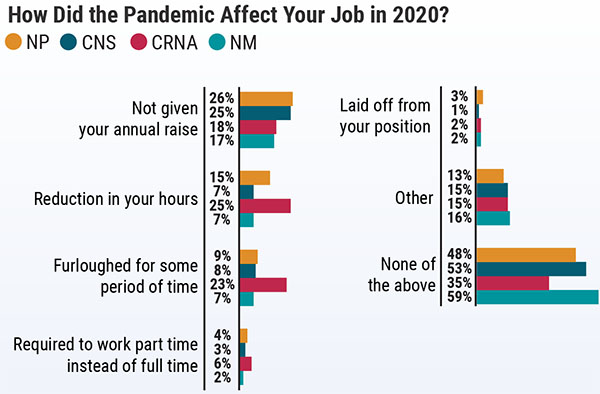 Inpatient NPs earned the most
Hospital inpatient care paid NPs the most at an average of $125,000, followed by hospital-based outpatient care at $117,000. Non-hospital office or urgent care came in at $114,000, and NPs who worked in a community health setting earned an average of $111,000.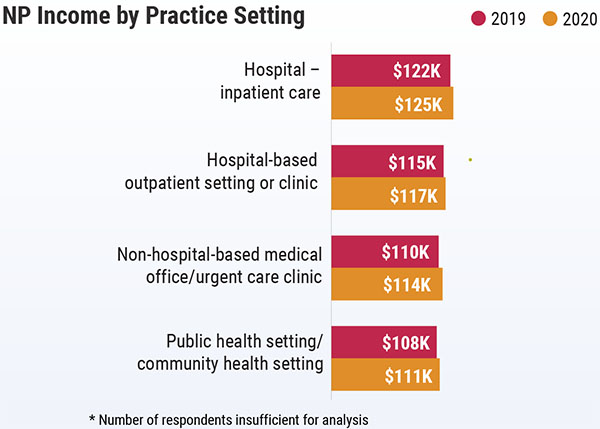 The best paid specialties were those in the psychiatric/mental health field with average income at $128,000. Adult gerontology NPs earned $116,000, and family NPs made an average of $114,000.
Self-employed NPs vs. employed NPs
The report also found that self-employed NPs made slightly more on average than NPs employed by a medical group or hospital, a finding that is consistent with prior years. Self-employed NPs, including locum tenens nurse practitioners, earned an average $117,000 annually. In comparison, NPs employed by a medical group or hospital earned an average of $116,000.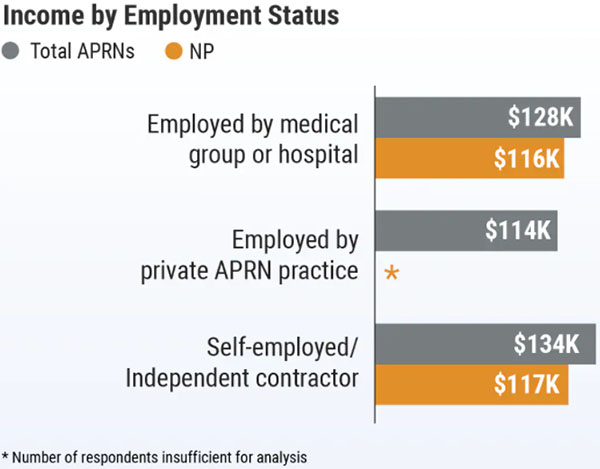 Education level's effect on NP compensation
NPs with a doctorate degree had a bump in income compared to those with a master's degree — $121,000 and $115,000 respectively.
NP salary by practice location
As expected, urban environments paid more than rural environments for NPs. The average is $119,000 in the former vs. $109,000 for the latter.
Region of the country also affected NP pay. The highest paying region for NPs was the Pacific region at $136,000 on average. This region includes Alaska, Hawaii, Oregon, Washington, and California (which has the highest average NP pay at $145,970).
The East South Central region, which includes Alabama, Kentucky, Mississippi and Tennessee, paid the lowest average salary at $105,000. Tennessee was the lowest paying state for NPs at $99,370.
The Mid-Atlantic, West South Central, and Mountain regions were mid-range, paying from $109,000 to $116,000 annually.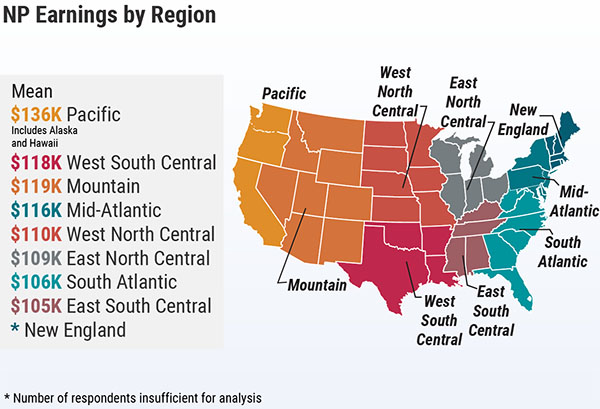 However, when making employment decisions based on these trends, it's important to consider the cost of living. Regular living expenses are generally lower in rural and southern states than in coastal areas, so a cost of living calculator may be helpful when determining the buying power of NP salaries in different regions.
Pay disparities still exist
Unfortunately, pay for male vs. female NPs still shows an unfortunate pay gap. Male NPs earn on average $127,000 vs. $114,000 for female NPs. Although the reasons for the disparity are inconclusive, it's important to note that male APRNs who participated in the survey were more likely to work in higher paying settings, own a private practice, or supplement their income than their female counterparts.
Most NPs feel fairly compensated
53 percent of NPs surveyed said they feel they are fairly compensated. However, 47% of those surveyed said they're not fairly compensated, which is down over the last two years.
NP salaries are trending upward
Overall, the good news is that despite the pandemic, the average NP salary is on the rise. NPs looking to grow their earning potential may want to further their education, consider self-employment opportunities such as locum tenens work, or look at relocating to regions with higher earning potential.
RELATED: How to negotiate a higher salary
CompHealth can help you advance in your NP career. Give us a call at 800.453.3030 or view today's NP job openings.