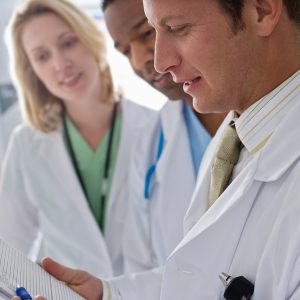 It's spring again, time for taxes and, of course,
Office of the Inspector General (OIG) audits for providers
. Meeting quality measures and meaningful use metrics should be familiar to many, but as busy clinicians, we are often so overloaded meeting patients' needs that we don't have much more than a cursory awareness of these requirements.
How Quality Scores Affect Medicare Reimbursement
New financial incentives, called the
physician value-based modifier (VBM)
,  allow the federal government to boost or lower the amount it reimburses physicians and eligible providers — including physician assistants (PAs) and nurse practitioners (NPs) — based on how they score on quality measures and how much their patients cost Medicare. The scores providers receive this year will determine payments for more than 900,000 clinicians by 2017. Medicare is easing providers into the program, applying it this year only to medical groups with at least 100 health professionals, including physicians, PAs, NPs, speech-language pathologists and occupational therapists. Next year, the program will expand to groups of 10 or more health professionals. In 2017, all remaining providers who accept Medicare — along with about 360,000 other health professionals — will be included.
Achieving High Scores on Quality Metrics
How can PAs and NPs assure a prospective employer that their quality of care is high? Here are a few ideas:
Encouraging team-based care.
PAs and NPs are estimated to do about 85 percent of the work a physician would otherwise provide in the primary care setting. Today's patients are sicker and have more complex health issues than have been seen in the past. Nationwide, hospitals and health systems are moving toward using more PAs and NPs, and there is a much greater emphasis on team-based care. Increasing capacity of the health system to meet the growing numbers of patients seeking care is critical and necessary. Engaging all members of the team to enter quality data into the electronic health record improves overall reporting.
Working as locum tenens providers
. One solution to expansion of health delivery teams is to employ more
locum tenens
providers. In 2014, more than 90 percent of hospitals used locum tenens at their facility, including a rising number of NPs and PAs. In locum tenens capacity, these practitioners are able to demonstrate their ability to care for a large volume of patients and add value to any hospital or facility.
Team collaboration
. While some physicians celebrate the autonomy granted PAs and NPs, others are quick to point out their limitations in practicing medicine that result from fewer years of education. PAs and NPs who enjoy a collaborative relationship with doctors in which they consult them appropriately on cases are more likely to gain trust and achieve better clinical outcomes.
Understand the meaningful use clinical measures.
In 2014, quality measure reporting for eligible professionals (including PAs and NPs) must cover three of the six National Quality Strategy Domains which include:
Patient and Family Engagement
Patient Safety
Care Coordination
Population/Public Health
Efficient Use of Healthcare Resources
Clinical Process/Effectiveness
Just as there are a number of ways for NPs and PAs to add value when serving patients and participating on the care team, there are many different ways to ensure the highest quality care. What ways have you seen PAs and NPs demonstrate improved care? Please share your comments below!