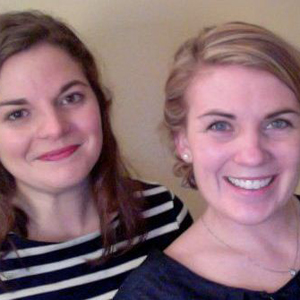 April is National OT Month, and we are celebrating the role of
occupational therapists
by spotlighting several OTs throughout the month. From a variety of backgrounds and experience, they all share the love of helping their patients live a better quality of life.
Caitlin and Andreana: Traveling occupational therapists and friends
According to Caitlin (at right in the photo) and Andreana, traveling with someone you know is great for a lot of reasons. For one thing, things rarely get boring because you have a "built-in, 24/7 friend," Caitlyn says. Andreana and Caitlin first met in 2007 while boarding a bus to their first day of undergraduate classes at Western Michigan University. They were in every class together over the next five years and graduated with their master of science degrees in occupational therapy in 2011. The following year, the two friends chose to begin traveling with CompHealth because they were impressed by the customer service and professionalism. They love working in diverse facilities across the country because it allows them to learn new skills and perspectives. "By acquiring a larger and more dynamic perspective in these areas," Caitlin says, "I am able to narrow in on my own long-term goals and find what area and setting fits." Andreana enjoys her assignments with CompHealth as well. "Being able to expand my professional experiences and learn as an
occupational therapist
is truly my favorite part about any assignment," she expresses. Caitlin and Andreana say that 13-week assignments go by quickly and recommend buying a guidebook for each new area. Other ways to get involved in your area include volunteering, participating in local events, finding walking tours and joining a gym. By taking an active approach, you can make new friends and lifelong memories with each assignment.