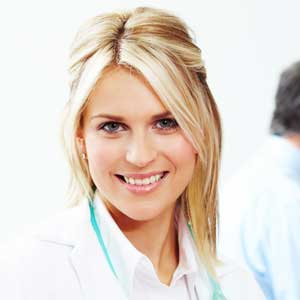 April is OT Month, and we're recognizing the occupational therapists who take travel assignments with us each year. Here are a few things you should know about this crucial — and exciting — healthcare career.
Occupational therapists can treat patients of every age.
While they typically work with those who are injured or disabled, occupational therapists have the flexibility to choose the setting in which they work. Some work solely with children and toddlers in schools and preschools, while others work with elderly patients in hospitals or visit them at their homes to provide support. The range of patient age and the ability to choose which settings to practice in are appealing to many occupational therapists.
Occupational therapists help patients learn or recover skills for everyday activities.
Though their job duties are similar to those of a physical therapist, occupational therapists focus more on helping patients develop or redevelop basic abilities, such as walking or eating, while physical therapists help patients to manage pain and regain mobility following an illness or accident.
Occupational therapists are in demand — and the career outlook is bright.
The Bureau of Labor Statistics estimates that occupational therapy will grow 29 percent through 2022 as baby boomers continue to age and more hospitals need therapists to treat those with chronic diseases and conditions like asthma and strokes. Schools are also requiring occupational therapists to help children with autism, and hospitals, rehabilitation centers and orthopedic offices will all need occupational therapists going forward.
Occupational therapists can expect a fair salary.
These healthcare professionals, who must have a master's degree and certification from the National Board for Certification in Occupational Therapists (NBCOT) to practice, enjoy a median annual salary of $75,400. Those who work in nursing care facilities or for home health services earn slightly more than those employed by hospitals or schools. Learn more about occupational therapy by visiting the
Bureau of Labor Statistics
— and find out why these 
occupational therapists
travel with us.
Search open OT jobs
, or contact a recruiter today at 800.634.1077!