Sophia Khawly, ARNP, MSN, shares her thoughts on how NPs can challenge themselves professionally and personally in the new year.
2022 has just begun and that means considering new challenges. As healthcare demand continues to grow, new opportunities emerge for NPs. Here are the top five things nurse practitioners should try this year.
1. Work locum tenens
It's no secret that the majority of healthcare workers are burned out after working like crazy over the past two years of the pandemic. This is the perfect time to dip your toes in the locum tenens world. It will provide both the flexibility and excitement you are looking for.
Perhaps you are tired of working in acute care and want to work in a more laid-back setting. Pick up some locum tenens shifts working outpatient on the side. This allows you to try it out before quitting cold turkey. If you want a schedule where you only work weekdays and don't have to take call, you can find such opportunities working in locums.
Working in locum tenens gives you options. You get to decide how much you want to work and how much time off you need to do other things. As a locums nurse practitioner, you are always valued since you are helping a facility during their time of need. Gone are the days of feeling unappreciated.
2. Go remote with telemedicine
The pandemic forced a lot of people to work remotely from home. Meanwhile, most healthcare providers had to show up to work in person every day. Even so, plenty of healthcare facilities had to shut down or cut back on on-site care services for safety reasons.
Fortunately, this encouraged the rapid growth of telemedicine. Previous state laws that restricted the practice of telemedicine became more flexible to meet the need during the pandemic. As a result, there have been a surplus of telemedicine openings for nurse practitioners.
Telemedicine is a great and convenient option for urgent care and behavioral health-related visits. It provides easy and affordable access to primary care. In return, this helps to decrease the overflow of patients to the emergency room.
This is a wonderful year to try telemedicine. It is flexible and straightforward. It gives you the opportunity to work in something that revolves around your life instead of the other way around.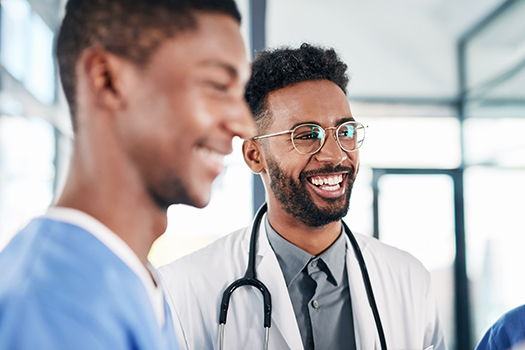 3. Focus on wellness
Health and fitness are something that clinicians preach to their patients all the time. NPs should go back to their roots — holistic nursing. This means integrating physical, mental, spiritual, cultural, and emotional health.
2020 and 2021 were difficult years — the average person gained 40 pounds during that time period. Nurse practitioners need to set an example for their patients and make sure they are in their best shape. 2022 is the year that you can try eating a more plant-based diet, exercise three to five times per week, and practice meditation. Prioritize spending time doing things that you enjoy such as taking a morning bike ride or spending time with friends. Work will always be there waiting for you.
4. Take a trip
Traveling during the time of COVID has been challenging. But travel isn't something that should be given up easily, especially when it brings people together and increases your happiness. Fortunately, the Unites States is a large and diverse place, and there is plenty of opportunity to travel domestically. There is something for all types of travelers.
If you are looking for a tropical beach vacation, Florida and Hawaii beaches are perfect year-round. Those wanting to go hiking and spend time outdoors can consider places like Utah and Colorado. For a new cultural experience, New Orleans, Louisiana, and Santa Fe, New Mexico are ideal. If you want to ski or be in the mountains, Vermont and Montana are waiting for you. For a short getaway, consider national parks such as Yellowstone or Yosemite.
5. Improve your work/life balance
Sadly, almost everyone knows someone who passed away from COVID-19 in the past two years. This has reminded us that life is short and can be taken away at any moment. Nurse practitioners should practice daily gratitude at the workplace for the opportunity to take care of others.
On the other hand, NPs need to have a separate life outside of work. Take the time to explore other passions such as fishing, gardening, playing an instrument, or volunteering. Catch up with family and friends so you can destress. All of the opportunities above can facilitate this work/life balance and help you live your best life now!
Looking to advance in your NP career? Check out today's NP job opportunities or give us a call at 800.453.3030.