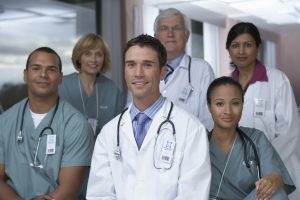 Physicians in America -- men and women; black, white and Asian; young and old -- all admit to bias of one stripe or another in treating patients, the
2017 Medscape Lifestyle Report: Race and Ethnicity, Bias and Burnout
 revealed.
Bias Can Be Positive Or Negative
Some of the biases are described as being positive towards certain patients, others are described as negative. The spectrum of biases is broad, encompassing race and ethnicity as well as educational attainment, income level and even whether a patient is overweight, the report said.
Physician Ethnicity Varies But Most Identified As White/Caucasian
According to Medscape, an estimated 14,000 physicians from over 30 specialties responded to the group's survey. Of the respondents, 68.6 percent identified as white/Caucasian; 17 percent as Asian, including those from India and those of Chinese origin. Hispanic physicians accounted for 5.2 percent of the respondents, while African-Americans made up 3.6 percent, the group reported.
Half Of Physicians Admit To Patient Bias
Half of all physicians surveyed said they were biased towards patients. Physicians who identified as Korean, at 63 percent, and Vietnamese, at 60 percent, were at the top of the list of those saying they held biases, followed by physicians who said they were Japanese at 57 percent. Some 56 percent of African-American physicians said they were biased, versus 53 percent of white/Caucasian doctors. Among Asian-Indian practitioners, only 34 percent reported being biased.
Read more: Medscape 2017 Lifestyle Report on burnout
Overweight Patients And Those With Emotional Problems Elicit The Most Bias
Patients who had emotional problems were most likely to elicit physician bias: 51 percent of male and female doctors said that was an issue. Next highest were overweight patients, with 42 percent of female and 51 percent of male doctors citing this. Patients exhibiting "low intelligence," however that might be defined, were disdained by 38 percent of female physicians and 40 percent of male physicians, the report stated.
Bias Largely Does Not Influence Patient Care
But do these biases have an influence on treating patients? According to the survey, 14 percent of Korean physicians and 12 percent each of Chinese and Filipino physicians said yes. But only 8 percent of white/Caucasian, African-American or Hispanic/Latino doctors said this was the case. Those who admitted bias affected their decisions said that only the older age of a patient elicited a positive bias, i.e., more time treating the individual. In other cases, the bias had a negative effect, evoking less time and effort: 61 percent of physicians said this was an issue when language differences came into play; 58 percent for those with emotional issues; 50 percent for overweight patients and 49 percent for patients they perceived as manifesting low intelligence. Surprisingly perhaps, physicians under the age of 45 were as likely or more likely to report bias in the categories surveyed than those over 45. Both cohorts were equally likely to be biased against the overweight, but in almost every other category except for age, the younger physicians were more likely to report bias. In the areas of overweight and low intelligence, the tendency of younger physicians to be biased outpaced the over-45 group by eight to 12 percentage points. To find the full breakdown of bias statistics, view the
complete 2017 Medscape Lifestyle Report
.