When Brad Hopkin and his wife, Courtnie, left for a weeklong medical mission to Kenya funded by a grant from the
Making a Difference Foundation
in July, they had no idea what to expect. "We didn't know exactly where we were going, since the hospital isn't in an actual town. We did know we needed a half dozen vaccinations and that we'd have an armed guard with us all the time," Brad recalls. "In hindsight, I'm glad I had no expectations. They would have been wrong anyway. What we saw and experienced will last a lifetime." [caption id="attachment_17006" align="alignright" width="525"]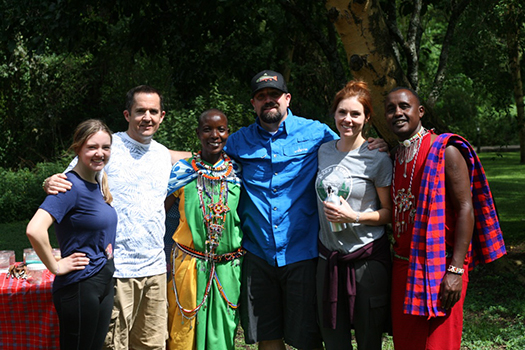 Brad and Courtnie Hopkin (center) with friends in Kenya[/caption] Courtnie and Brad, the operations and sales director for CompHealth's advanced practice division, joined four physician assistants, one nurse practitioner, and others in western Kenya's rural
Nakuru county
, serving the Kipsigis and Maasai tribes. "We witnessed women walking for hours multiple times a day to retrieve fresh water to drink and river water for irrigation. We saw schools and houses, made by hand, housing students and families in rooms the size of one of our small meeting rooms," Brad says. "We spoke to students who walked hours, every morning and night, just to get an education their parents would try and keep them from."
Happiness even with medical challenges
While doing hospital admissions for a couple days, Brad recalls seeing patients suffering from tuberculosis and HIV and admitting dozens of patients with ear infections, who couldn't be properly diagnosed because clinics there didn't have basic hospital equipment. "We met pregnant teens walking for hours to be able to deliver in a hospital. We saw patients suffering from all walks of illness — renal failure, pneumonia, meningitis, derm disorders, broken bones, preeclampsia. All the patients walked miles to be seen by a medical provider in a hospital," he says. "What struck us most and has truly stayed with us was the genuine happiness of the people we met: the gratitude on their faces and in their words just to be seen and treated, and the joy of the students just to receive an education. They were just so happy." Kathleen Debiak, a PA from Arizona, had experience helping underserved people in Guatemala, Brazil, and Thailand, but she recognized this happiness during the medical mission to Kenya as well. "When we walked into the school compound, we were immediately engulfed by parents hugging and kissing [caption id="attachment_17007" align="alignright" width="467"]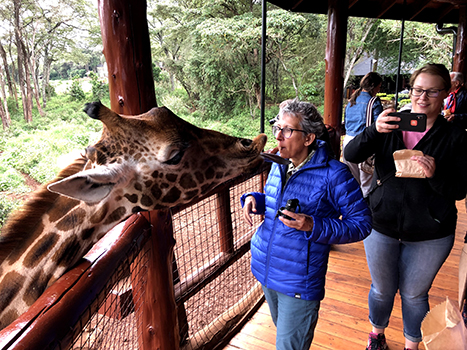 PA Kathleen Debiak meets a giraffe[/caption] us and saying 'thank you, thank you!'" Kathleen said in an
Ahwatukee Foothills News
article. "This is a group of people who live so far out they rarely have anyone come see them. Some of those people had rarely seen a white person, others maybe only one in their lifetime." Kathleen worked with the other PAs and NP to assess and treat 325 students at a rural school with dirt floors, holes in the ceiling, and no doors. About 50 of the students needed extra care, and some visited a local clinic for treatment. Kathleen also noticed many back and neck problems among the adults, caused by long trips to fetch water. ""They carry 25- and 50-pound containers of water and sometimes walk to the river five to seven times a day," Kathleen shares in the article. "Some of their houses are built of mud, and that requires much more water and even more trips to the river."
"We are all one people"
One of the aspects Kathleen loves most about medical missions and working as a traveling physician assistant is becoming immersed in the culture and sharing best practices and education. "Meeting people as a service provider, you get an unfiltered version of different cultures, something most people never experience. When you work on a person-to-person basis, you soon learn we are all one people," Kathleen says. "By working with the underserved in underdeveloped areas, I receive a real appreciation of what healthcare is about. This is real clinical medicine, provided to people who truly appreciate your efforts."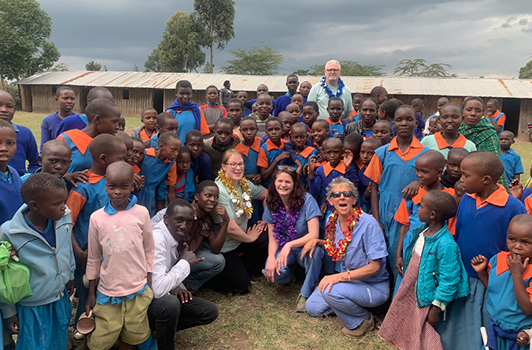 Brad says the medical mission to Kenya and his conversations with the providers there made it clear that they love serving others. "It's important to our providers to make a difference. As Kathleen points out, we were able to provide an avenue for these five providers to make a difference in Kenya, but we also provide that same avenue every day for them here in the U.S.," he says.
 Medical missions
like this one give both CompHealth employees and the healthcare providers we work with the chance for life-changing experiences. They also help us gain new perspectives and help many people who otherwise wouldn't have healthcare. Interested in learning more about serving a medical mission? Contact the Making a Difference Foundation at
866.608.1322
or 
information@makingadifferencefdn.org
.
For more information about CompHealth and working locum tenens, give us a call at 800.453.3030 or view today's
advanced practice job opportunities
.