Physician Assistants (PAs) and Nurse Practitioners (NPs) are skilled medical professionals who play an integral part in healthcare delivery. Especially in primary care, PAs and NPs attract and manage a significant following of patients.  Redesigning teams to include increased numbers of primary care providers, not just physicians but also PAs and NPs, is a significant part of the solution to alleviate the well-known shortage in primary care.  Now with even greater added financial incentives for quality care delivery, improved utilization of PAs and NPs will be an integral part of the primary care delivery solution. As there is a continued
shift away from fee-for-service models toward population health management
, there is a needed emphasis on working together as a team instead of setting up an "either/or" where NPs and PAs are viewed as replacing physicians.
A New Focus On Team Based Care
Today's patients have many complex health issues. Nationwide, hospitals and health systems are moving toward using more PAs and NPs, and there is a much greater emphasis on team-based care across all specialties and settings. Increasing capacity of the health system to meet the growing numbers of patients seeking care is critical and necessary.
Under-utilizing PAs And NPs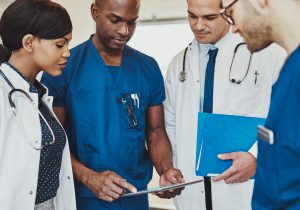 It always hurts my PA heart to hear that a colleague is not being used to their full potential – or that their employer has little understanding of how to use a PA or NP. One colleague shared that her employer uses her to cover a nurse in clinic and another shared that he often cannot get referring colleagues to even answer a page when he is working at the hospital.  These unfortunate practice environments and attitudes resulting from a lack of understanding of the value a PA brings to the team, will cost those employers in retention and even more importantly, will cause patients to lose access to a valued clinician.
More Physicians Are Working With NPs, PAs And CMNs
Many have already embraced this model. The number of family physicians routinely working with NPs, PAs, and clinical nurse midwives (CMNs) continues to increase and according to a policy brief in the
Journal of the American Board of Family Medicine
, 60% of survey respondents reported working with NPs, PAs or CMNs in their daily practice. As a PA or NP, Finding the right cultural fit to honor your scope of practice as well as finding a practice environment that honors your skills and training is essential to ensure that you remain a valued member of that healthcare team.