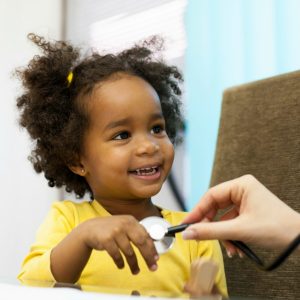 For the more than 91,000 pediatricians currently practicing in the United States, gratitude and relationships with their patients offer the most satisfaction at work, despite receiving a smaller salary than most other physicians.
Medscape's Pediatrician Compensation Report 2014 has all the facts on pediatricians' salaries — and we've provided highlights below.
Salaries are Up
Pediatricians earned an average of $181,000 annually in 2013, an increase of 4.9 percent over 2012. These doctors are on the low end of the pay scale, only earning more than family medicine and HIV/ID physicians.
Highest-Paying Regions
In the South-central area of the United States, pediatricians earn the most — an average of $199,000 — followed by the Southeast ($186,000) and North Central ($185,000) regions. Pediatricians in the West earn the least, just $172,000 annually.
More Pay in Private Practice
Self-employed pediatricians make significantly more than those employed at outpatient clinics and hospitals, with an average salary of $203,000 versus $172,000. However, the report notes that the majority of open positions available were at hospitals in 2013, and most physicians said they were satisfied with their salaries (despite earning less than their counterparts in private practice).
SEE ALSO: 6 Things Hospitals Look for in a New Physician
Time Spent with patients
The majority of pediatricians (62 percent) spent an average of 16 minutes or less with each patient. In contrast, nearly half of adult primary care physicians spent more than 16 minutes with their patients.
Patient visits
Pediatricians spent 40 or fewer hours per week seeing patients. The majority (39 percent) averaged between 76 and 124 patient visits each week, followed by a third who averaged 25 to 75 patient visits.
Healthcare Reform and the E
ffects of the Accountable Care Act
Twenty-eight percent of pediatricians said they are already participating in an accountable care organization (ACO) and 9 percent plan to join one in the next year. Additionally, the majority of pediatricians (61 percent of self-employed and 81 percent of employed) said they will continue taking new and current Medicare patients; 47 percent said they would not drop insurers who paid poorly.
Male and Female Pediatrician Salaries
Male pediatricians earn significantly more (an average salary of $198,000) than female pediatricians (an average salary of $165,000). However, both male and female pediatricians said they were generally satisfied with their income (57 percent of men and 51 percent of women).
Job Satisfaction
Fifty-two percent of pediatricians said they would choose their specialty again, and 63 percent said they would choose medicine as a career. Only a third of pediatricians would choose the same practice setting, though, which is probably reflected by the pay discrepancy between self-employed and employed physicians. Overall, 56 percent of pediatricians are satisfied with their careers, and they are among the most-satisfied physicians (following only dermatologists and psychiatrists).
RELATED: 
Is Locum Tenens the Answer to Physician Burnout?
CompHealth places thousands of physicians in locum tenens and permanent positions around the country each year. Check out our open pediatrician jobs now.