Physical therapist Patrick Tino shares the story of his career as a PTA and PT and how his journey has helped him become a better caregiver.
As physical therapists, much of what we do for our patients is done in collaboration with others. It truly is a big mash-up of several individuals from several professions co-existing for the greater good of delivering high-quality clinical patient care. One thing I have learned in my 30 years of practice as a PTA and PT is that no matter where you work, you can learn and grow in your career. Here are just a few of my experiences over the years and how they've helped me become a better clinician.
From PTA to PT
I got my first physical therapy job in 1993, after I graduated as a PTA. I left my hometown of Binghamton in upstate New York, for bluer, sunnier skies and warmer weather. Landing in Tampa, Florida, I was hired by an urban, level 1 trauma center. It took me a full year to rotate through all the units and floors before I felt like I knew enough to genuinely help patients. I made two complete rotations before deciding I was ready to continue my education and go on to physical therapy school.
In the late 90s only three "bridge" programs existed for PTAs to become trained and educated as PTs. One was in California, one was in New York, and the last one was in Miami. The first two were full-time daytime programs that didn't appeal to those of us who needed to work full-time. The Miami-based program was an intensive, every-other weekend program, which was perfect for me. Unfortunately, the program lost its accreditation from CAPTE (the accrediting body for the American Physical Therapy Association). Close to a third of my class made their way out to Loma Linda, California, while the rest were taken in by a newer program in Fort Lauderdale where I completed my training.
Down the track of sports therapy
When I graduated as a freshly minted PT in 1999, I donned my new lab coat and hit the pavement looking for a new job. With hefty student loans looming on the horizon, I packed my car and migrated back north to my hometown to move back in with my mom and dad. I landed a job at a small community-based Catholic hospital. I also started down the track of sports therapy.
Back then, it was possible for PTs to attain an Athletic Training Certification by volunteering to work alongside an ATC who would sign off on your hours. After working literally hundreds of hours (for free I might add), on the sidelines of football games, soccer games, dance and cheerleading competitions, baseball games, and track meets, the National Athletic Trainers' Association discontinued this program. I ended up 500 hours short of the required 1,500. The title 'Patrick A. Tino, PT, ATC' wasn't meant to be. What's a PT to do who is well versed in taping ankles and assessing for concussions? Go to work for a private practice specializing in sports medicine, what else?
It felt good to trade in my scrubs and lab coat for a pair of khakis and a polo. It also felt good to get away from the smell of urine-soaked linen when getting a patient out of bed and ambulating a few steps to a bedside chair while navigating the minefield of loose stool. Working with TheraBand, ankle weights, and dumbbells felt more natural than handling a gait belt, a pair of crutches, and a walker. What didn't feel good was juggling three patients at once. What felt even worse was knowing that you were generating hundreds of thousands of dollars of revenue for the owners and being kicked back 20% as your salary. Was it a livable wage? Sure. Was it fair? Hardly. Was it something that I could continue to do long-term? Definitely not. Only after two years working as a PT and seven years as a PTA, I began to take stock. Excellent orthopedic and sports med knowledge and skills. Check. Plentiful exposure to varied medical diagnoses with successful outcome in a couple hospitals. Check. Acquired knowledge, skills, and certification in vestibular rehab. Check. But there had to be more. What was next?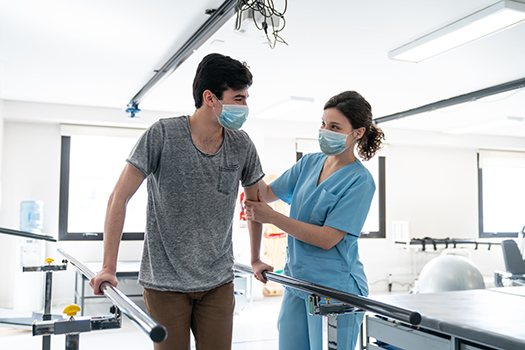 Hitting the road as a travel PT
I knew that once I got married, the chance of being able to travel might not be possible, so I decided now was the time to try travel therapy. I called recruiters from three large travel companies and found that as a traveler I would have tons of PT jobs to choose from: hospital, SNFs, outpatient, etc. I chose a fantastic hospital system in Lansing, Michigan, where the local medical school had a thriving orthopedic residency program. Their surgical schedule was heavy on Thursday and Friday, and they needed someone who could come in and 'hit the ground running' with respect to minimal need for orientation and agreeable to working every weekend. Guaranteed 40-hour paycheck, at a traveler's rate, in a very busy college town with four days during the week to travel and see the sights. Sign me up!
There would be golfing trips up the middle of the state. Several trips to the shores of Lake Michigan in the Dutch-themed city of Holland. Of course, winding up the coast to Traverse City to taste cherry wine was a must. Driving across the long Mackinac suspension bridge just to feel your car swaying was worth stepping your foot on the other side to say that you've been to the upper peninsula. And no trip is complete without taking the ferry across Lake Huron to Mackinac Island for their world-famous fudge!
It was at a mid-size hospital in a rural county in northeastern Pennsylvania that I had one of my most eye-opening experiences as a travel PT. There are many things that cannot be taught out of a textbook. One has to see it with their own eyes, feel it with their own hands, and interact with he, she, or them to really form an indelible mental image that becomes imprinted deep within the hippocampus. Decorticate and decerebrate posturing comes to mind. Locked-in syndrome and Stevens-Johnson syndrome are a couple more. But when one sees one side of the abdominal cavity become higher and more discolored compared to the opposite side in real-time, it's unforgettable. And to be hunted down by the attending cardiothoracic surgeon so he could talk to the physical therapist who was the last clinician to see his patient was one of the most career-changing experiences I've ever experienced.
Still more to learn
Since then, I've gone on to complete a transitional doctorate (t-DPT) degree. I'm still very busy in clinical practice today, but I've added part-time academician and part-time continuing education instructor to my credentials as well. I wouldn't trade my travels and experiences over the years for anything. There were good times and there were hard times, but I came away with a new appreciation for the profession and a renewed hope for my career.
Looking to take your PT career to the next level? Give us a call at 800.453.3030 or view today's PT job opportunities.