The American Academy of PAs (AAPA) 2021 report on physician assistant (PA) compensation shows that despite COVID-19's global healthcare impact, PA compensation remained relatively stable, with only a modest dip in median compensation.
AAPA surveyed 14,000 PAs in February 2021 to learn how COVID-19 affected their employment and compensation over the prior year. We spoke to report author Tim McCall, associate director of surveys and analysis at AAPA, to discuss the report's findings.
Median compensation
Although median PA compensation has grown annually over the past few years, it dropped from $111,000 in 2019 to $110,000 in 2020.
Median Compensation Over Time from Primary employer by Major Specialty Area

The average hourly wage decreased from $62.73 in 2019 to $61 in 2020. In addition, productivity-based compensation went from an average of $145,000 in 2019 to $144,000 in 2020. Bonuses also decreased; fewer full-time PAs received a bonus and the average bonus decreased by $1,000.
McCall says the AAPA expected a dip in compensation, but the impact was actually less than he feared. "Part of the reason that we think compensation dipped was that hourly wages decreased from 2019 to 2020," he says. "And when you couple that with a third of the PAs whose hours were impacted, we believe that's what's driving a lot of this dip in compensation. The good news is that the four out of five PAs who say that they're paid a base salary as their compensation, the median salary did not change from year to year."
About two-thirds of full-time PAs reported a change in their hours worked, salary, merit increases, or other benefits such as PTO and retirement due to the pandemic.
Employment Impacts in 2020 Due Specifically to COVID-19

Telehealth care
Telehealth care delivered by PAs skyrocketed in popularity in 2020. Nearly 63% of respondents reported providing virtual care last year. By contrast, in 2019, just 10% of respondents worked in telehealth.
In 2019, emergency PAs used telehealth the most, with 18.8% usage in 2019. But in 2020, more than 80% of primary care PAs, 60% of internal medicine PAs, and 43% of PAs in surgical subspecialties used telehealth. Interestingly, emergency PAs went from using telehealth the most to using it the least; just 13.5% of PAs used telehealth last year.
That means the majority of respondents continue to use telehealth. "It looks like telehealth is here to stay," McCall says.
Highest-paying work settings and employer types for PAs
The highest-paid PAs worked at occupational medicine worksites, with an average compensation of $124,000. Following that, PAs working in critical access hospitals earned an average of $121,875 and PAs working in ICUs earned $120,000. PAs working in all hospitals continued to be some of the highest-paid PAs in 2020, but their average pay was more than $2,000 lower than it was in 2019.
Median Compensation from Primary Employer by Primary Work Setting: 3 Highest-Paying Settings

The lowest-paid PAs last year worked in clinics for schools, colleges, or universities. They had an average pay of $98,000. PAs working in ambulatory surgical centers made $107,600 while PAs working at nursing homes or in physicians' offices were tied, both making an average of $108,000.
Median Compensation from Primary Employer by Primary Work Setting: 3 Lowest-Paying Settings

Self-employed and independent contractor PAs
Self-employed PAs or locum tenens PAs made an average of $135,000 last year. However, some had a difficult time getting work. Prior to COVID-19, self-employed PAs were the highest-paid employer type, but in 2020, they fell to fifth. McCall says the data suggests that where medical facilities had to cut costs, the first budget they often cut may have been self-employed or independent contractor PAs.
Across employer types, the highest-paid PAs worked for the pharmaceutical industry, with an average salary of $170,000, and the lowest-paid PAs worked at solo physician practices, with an average salary of $100,000.
Median Compensation from Primary Employer by Employer Type: 5 Highest-Paying Employer Types

Highest and lowest paying states for PAs
Alaska, California and Washington offered the top three highest base salaries, while California, Maine, and New Mexico offered the top hourly wages. However, this doesn't account for the cost of living.
Adjusted for cost of living, the top three states for salaries were Oklahoma, Michigan, and Texas, while the top for hourly wages were Kentucky, Oklahoma, and Kansas.
Cost-of-Living Adjusted Salary by State Rankings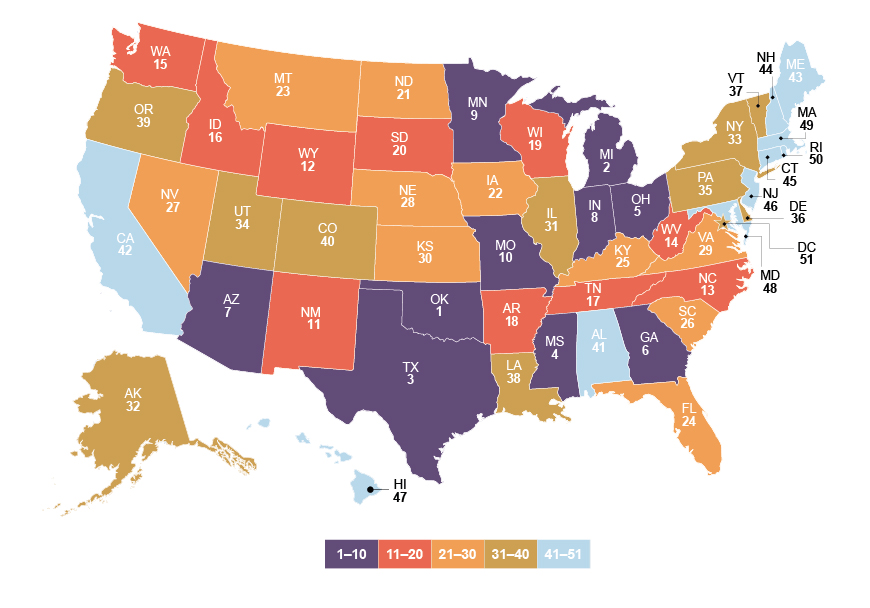 Compensation resources for PAs
The full, downloadable, digital report on PA compensation is available online to all AAPA members, and the national summary is available for free to all PAs who completed the survey. The digital report allows PAs to compare compensation across the country based on specialty, location, and experience level. Comparing earning potential can help PAs know their worth and negotiate opportunities as they pursue their career goals.
CompHealth can help you find your next physician assistant job. Give us a call at 800.453.3030 or view today's PA job opportunities.