A multi-specialty group in Florida is facing a doubly difficult recruitment challenge: it not only needs to hire physicians during a national
physician shortage
, it also has to staff for rapid expansion.
The Villages Health
(TVH) operates eight care centers in a central Florida adult-living community of 130,000 residents that is growing so rapidly that it's expected to double in population over the next 15 to 20 years. As a result, The Villages Health has crafted some winning strategies for physician hiring and retention. "I'm working aggressively to build the infrastructure to scale a business and to keep up with the growth," says Bob Trinh, CEO of The Villages Health. Meeting demand has forced the healthcare company to do things differently from other medical groups from the very start and to also rethink a lot of things, from its care delivery model to compensation and approach to physician retention.
A different model
[caption id="attachment_17465" align="alignright" width="350"]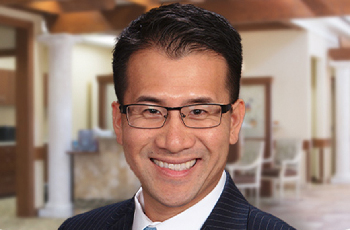 Bob Trinh, CEO of The Villages Health[/caption] While The Villages Health is running at full speed to keep up with growth, one thing the healthcare organization didn't do is overload its primary care physicians with large patient panels. In fact, it reduced the patient panel size for each physician by about half to 1,250 age-adjusted patients. Additionally, every primary care physician has two clinical assistants on his/her team, and two PCPs share an Advanced Practice Practitioner (APP), which is either a PA or an APRN. However, when a PCP reaches a certain panel size, he/she is given a full-time APP to provide additional support, thus improving patient access. Each APP has his/her own clinical assistant. "Physicians receive a lot of resources to take care of their patients," says Trinh. "So smaller practice size, more time with the patients, more support to deliver high quality care — and that's been the way we've been able to attract them." Along with reduced patient panel sizes and
more supporting APPs
, The Villages Health provides a 30/60-minute timeslot schedule. "We give our PCPs more time to spend with their patients. We think that's the bigger draw and it makes TVH a more attractive place to work," says Trinh. Despite the reduced patient panel and longer visits with more support, the primary care compensation model has been competitive. The Villages Health offers a base salary with a bonus that's dependent on quality and patient health outcomes, instead of fee for service volume. "Without the design of the delivery model, it would be much more difficult to attract primary care physicians." says Trinh. "If we were just fee for service, we'd be like everyone else without the draw of a major metropolitan city."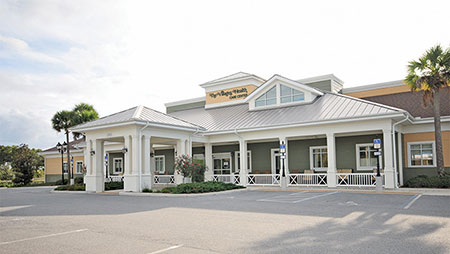 Finally, given the growth of The Villages Health, TVH is able to offer future opportunities for professional development for physicians who seek leadership opportunities as another way to attract physicians.  "Physicians enjoy taking care of patients, which is why they entered this field. Some are interested in taking on new challenges, including medical leadership roles, and TVH is supportive and provides the training," says Trinh.
Establishing a vision
"I don't want to be an employer who just sources our candidates from physician job websites. I want to be a place where people actively want to work because they love what they do!" Trinh says. To that end, Trinh sees his role as setting an overall vision for the organization, while his Chief Medical Officer and Executive Director of HR develop physician hiring and retention strategies. "I share what my vision is, hear their vision, and together we create a winning strategy to meet the needs of The Villages Health patients long-term."
Planning ahead
The Villages Health is planning to build new primary care centers in the near future, which will require hiring even more physicians. With that in mind, Trinh says the organization is looking to partner with nearby residency programs. "In doing so, TVH can provide a great opportunity for these residents to practice and raise a family in the community where they trained." "It's also about hiring proactively to ensure that we are able to meet demand," says Trinh. "We want to assure we are always able to serve the community. The lead time it takes to hire a physician is probably four to six months. In addition, care teams are needed to support our new physicians; therefore, we are proactive about all hiring needs."
A focus on retention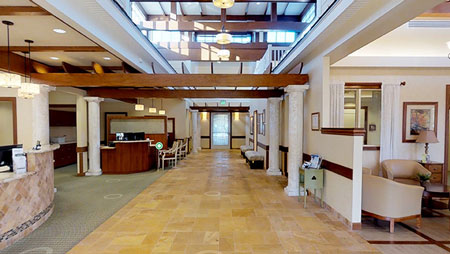 Hiring is just one side of the physician staffing coin. Retaining experienced physicians is the other. For Trinh, the secret to retention is
actively seeking to hear the concerns
and ideas of physicians — and implementing changes that make sense. "Some things you can't do anything about, but many things you can," he says. When he first joined The Villages Health, Trinh visited every center to get to know all the clinicians — and give them an opportunity to bring up any issues or concerns they have. "I take prolific notes," says Trinh. And he always follows up with the physicians to let them know the outcome of the discussion. "I enjoy meeting and getting to know people. If any clinician wants to meet with me, I am thrilled," he says, "and I've had several clinicians take me up on that to voice ideas for improvement. I think that goes a long way in terms of building trust between myself and that individual." The severe physician shortage is making it tough for healthcare organizations of all kinds
to attract top talent
. The Villages Health is one success story of embracing innovative physician hiring and retention strategies in order to thrive in a period of high growth. The results show: in 2019, The Villages Health hired 18 new physicians and 27 new APPs for a total of 45 new clinicians.
CompHealth can help you recruit the physicians you need for your organization. Give us a call at 800.453.3030 or complete the form below.