Physician burnout has long plagued the profession. But many fear the COVID-19 pandemic is putting even greater pressure on physician mental health — and the crushing strain is not limited to those working on the frontlines of the pandemic.
Medicine is already a high-stress profession. About 65% of emergency physicians will experience burnout at some point in their careers. And the rate of physician suicides is more than double the rate for the general population — in fact, it's the highest suicide rate of any profession.
The COVID factor
The COVID-19 pandemic emerged against this backdrop of high burnout and a shattering suicide rate. It has drastically increased the workload of frontline physicians. But even more devastating is the sheer amount of disease and death many physicians are witnessing.
"Everybody who's been involved in the carnage is traumatized. There will be PTSD in the wake of this," says Dr. Dike Drummond, a family doctor, professional coach, author, and speaker. "Then there's the economic impacts on you and your finances, on the shellacking the healthcare industry has taken."
Those economic impacts are causing shockwaves throughout the industry. "Everybody has suffered a financial crunch and so many places have cut back on faculty. They've stopped all of their PRN doctors; they've had to modify their shifts and sort of squeeze them down," explains Dr. Rita Manfredi, emergency medicine physician and associate clinical professor for the Department of Emergency Medicine at George Washington University School of Medicine.
Dr. Arlene Chung, emergency medicine physician and residency program director at Maimonides Medical Center, says the COVID-19 pandemic "will have effects probably reaching several years going forward," including burnout and PTSD. In addition to these impacts on physician mental health, she fears the pandemic will discourage others from choosing the medical profession in the future.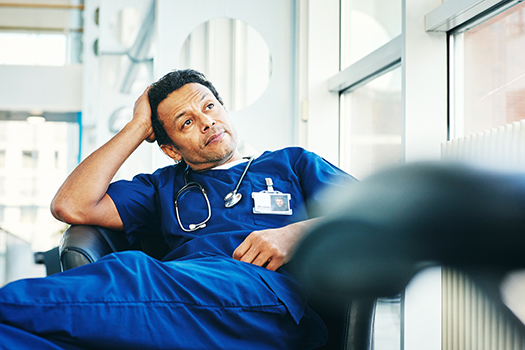 Diagnosing burnout
Physician burnout is often compared to having low batteries — your energy stores are nearing zero. But Dr. Drummond says it's more accurate to compare it to a bank account, with burned-out physicians having overdrawn their energy stores. They're operating below zero and paying penalties for it.
"We know from studies of burnout that burned out doctors have lower care quality, lower patient satisfaction rate, more errors. They turn over, they have disrupted behavior, they get depressed, they commit suicide. There's all sorts of negative effects of a negative energy level," Dr. Drummond says. "It's very simple. You can't give what you ain't got."
Dr. Drummond says there are three "cardinal symptoms" of burnout. The first is exhaustion — both physical and emotional. It's such a bone-deep exhaustion that many physicians think, "I'm not sure how much longer I can keep going like that."
"The second symptom of burnout is cynical sarcastic venting. Another word for this is compassion fatigue," he says.
The third symptom is when "you begin to doubt the purpose and the meaning in what you do." Dr. Drummond sums it up as a feeling of "What's the use?"
In addition to monitoring yourself for signs of burnout, Dr. Drummond calls on physicians to keep an eye on colleagues. "We cannot prevent all physician suicides, but we can reach out to all the people we're concerned about," he says. "Be persistent as long as you're concerned. Reach out now and then and ask them how they're doing."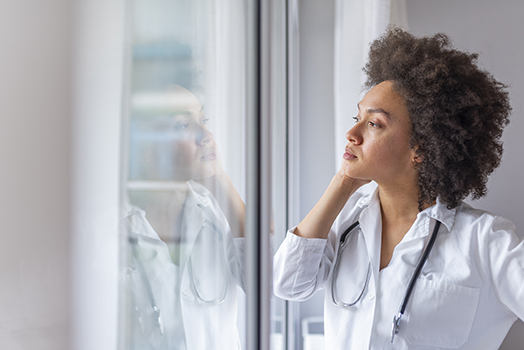 Coping with burnout
If you are struggling under the weight of burnout and stress, there are some practical steps you can take to refill your energy stores.
1. Take time to decompress
Take some time away from work if that is possible for you. This will allow you to decompress and gain wider perspective on the issues that are most troubling.
2. Go outside and exercise
"It can help relieve a lot of stress," says psychiatrist Dr. Amish Karia. "Don't try to ruminate or think the worst is going to happen. Just take more time for yourself to try and relax."
3. Connect with colleagues
"Just reaching out to peers and colleagues and sharing experiences and being willing to engage in those discussions, even on a routine, day-to-day level will help to offload some of that stress, rather than keeping it all inside and then having a major spill over later," says Dr. Chung.
"It could just be your monthly get together with your department for lunch, or the hour at lunch that you have your staff meeting," Dr. Drummond says. It's always therapeutic when you can bring together physician colleagues in a setting outside of work, he adds.
4. Seek professional help
"A therapist can be very, very helpful in maneuvering through these issues with you and discussing how you can deal with things in a better way," Dr. Karia says.
Dr. Chung advises physicians to access any help provided by their employer. "Most institutions will have some form of employee assistance program, access to mental health services," she says. "And to varying degrees they'll have things like wellness champions or chief wellness officers."
Implementing long-term strategies
Dr. Drummond offers specific strategies for combating burnout and establishing healthy work-life balance for the long run.
One strategy is a daily or even twice-daily team huddle to ensure each day flows smoothly. "You can call a timeout at any time of the day and huddle up again if things get hairy. Your whole team," he says. "Run your schedule, bring it back, look at all the patients, look at all the vacant slots, tell them how you want to book. Make sure the patients have everything they need before they get there and make sure you know who's sick out in the waiting room. You're preventing fires in the first place, and ideally this is a stand-up meeting where you go to them."
Other strategies from Dr. Drummond, such as a weekly scheduling process and work-life boundary setting, are available at thehappymd.com/balance. You can also watch a physician wellness webinar featuring Dr. Drummond at Locumstory.com.
If you're suffering from burnout, the Physician Support Line provides free and confidential mental health services to physicians at 1.888.409.0141 or by visiting www.physiciansupportline.com. If you or someone you know is considering suicide, call the National Suicide Prevention Hotline at 1.800.273.8255.