Motherhood is both rewarding and challenging, especially when you're also juggling a career in medicine. While each situation is different and each parent approaches family life in a different way, physician mothers throughout the country are building their practices while continuing to cultivate relationships with their families. We asked four doctor moms about their experiences balancing family and career and what advice they would share with other physician mothers.
Learning to leave work at work
Family practice physician
Bonnie Davis has an 11-year-old daughter and 9-year-old son with her husband, Jonathan. While she has worked in both permanent and locum tenens jobs, Dr. Davis just began a six-month locum tenens job in Maui — and her family plans to join her Memorial Day weekend. "I've used locums a lot as I've been in transition points in my career, so we've been able to stay on our financial feet with that. It's not the easiest being apart from your kids, but at the same time it pays the bills," Dr. Davis expresses. Since her children are in school most of the year and participating in sports and theater, Dr. Davis says it's important to regularly communicate with each other, especially while she's away. "We made a careful plan, before I went, to call at a certain time every day and talk. We tried talking on Skype and the kids were just running around and not paying attention," Dr. Davis recalls. "Now each kid gets a turn to talk on the phone with me. You have to reevaluate the plan when things aren't working." While it's challenging to create balance as a working parent, Dr. Davis follows a routine as much as possible. She swims laps every morning, going to a local pool when working locum tenens, and finds a local church to attend. She also tries to be present when she's home. "I leave my work at work. I finish what I'm doing there, and I don't bring my paperwork home with me," she says. "I am pretty efficient with the work I do."
Listening to what your child needs
[caption id="attachment_16399" align="alignright" width="350"]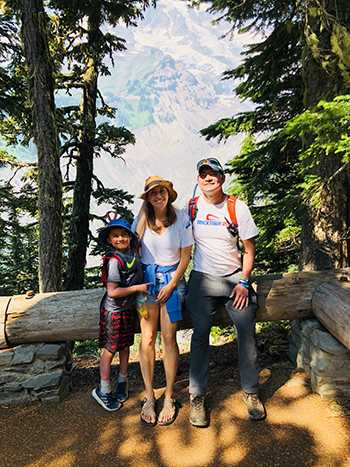 Dr. Mitchell-Sanchez and her family on vacation[/caption] When Dr. Lexi Mitchell-Sanchez's son was small, she was the sole physician in a clinic and also on-call in the ER and the nursing home. Even if she did have time off, she couldn't be out of cell phone coverage and still found herself working several hours a day. Once she began working locum tenens, she could enjoy more time at home with her family. "When I'm off, I'm off. With this current contract, I have a half-day off on Fridays, so I get to pick up my son from school and we usually do something fun when I pick him up," she says. "I work 8-5 the other day. Maybe 8-5 sounds boring for a lot of people, but for a physician who has to work more, it's been a really great schedule." While Dr. Mitchell-Sanchez and her husband enjoy traveling together with their son and taking bigger chunks of time off for vacations, they also make it a point to give their son stability during locum tenens assignments. "Before I started doing locums, I took a month-and-a-half off and we camped. We were having a really great time. At the time my son was four, and toward the end of our trip he said, 'Mama, Papa. I would really like to be around other kids,'" Dr. Mitchell-Sanchez recalls. "I don't think he was telling us he wasn't having a good time, but he was right. At the time, we weren't making a big effort. I have been in the same area for the last two years working locums, which allowed him to go to the same school for kindergarten and first grade. His life has felt stable, but I also think all the times we spent away, like when we're off camping and traveling, have been very beneficial for him. He needs to be learning from us and not just from friends and teachers." Dr. Mitchell-Sanchez says it's important to limit distractions so you can spend quality time with your family. She plans hiking and outdoor activities for the weekends she isn't working and is grateful for a company-provided apartment so she doesn't have to spend time working on and updating her home like she used to. "Find the balance and return to your priorities, because your child needs time with you, not money or things or toys," she says. "I left my other job because I wasn't giving my son the time he deserved. Now I feel like I can."
Making your family a priority
Organization is the key to success for
emergency medicine physician
Tamara Howard, who travels with and homeschools her 11-year-old son. "You just have to make a to-do list for you and your child. You do have to write a lot of things down, and you have to hold yourself to doing them so they happen," she says. "As a homeschooler, you get to say, 'My child has expressed interest in this. Is there a museum we can go to?' Once you know what you want to do for the month, you start breaking it into smaller steps and lay it out for yourself by the month, week, and day." This level of organization makes it possible for Dr. Howard to work locum tenens full-time, a choice she made because of her son's medical problems at birth. Since the specialists needed to see him weekly, Dr. Howard struggled to find a part-time or full-time job that accommodated her schedule. "I began working locum tenens to set my work schedule around his various medical appointments," she recalls. "He has outgrown those issues, but I discovered it really is nice to know if my child wants to do something the same day every week, I'm going to have a good chance at making that happen as a locum. We get to see places we might be reading about in the social studies textbook and get to know more about what the rest of the country is like." Dr. Howard says there will always be another month or year of medicine, but your children will only be children once. She planned to have an academic career but says the time isn't right while her son is young. "I could probably have a lot of publications right now, but what would I have missed? I heard the baby laugh the first time, I saw him smile for the first time, I saw him walk for the first time," Dr. Howard says. "At a certain point in time there will be no more little people running around, and I'm not going to mind working 60 hours a week doing research and revising papers. If I did it right now, there are things I would miss that I can't get back, and I don't want to miss them."
Letting go of guilt
[caption id="attachment_16397" align="alignright" width="350"]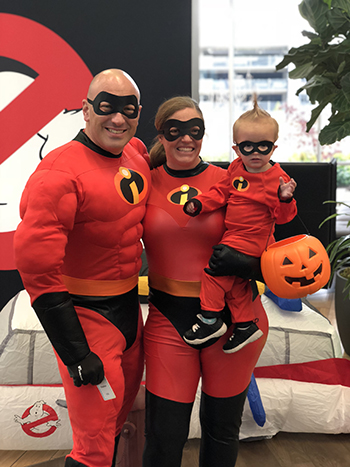 Dr. Williams and family[/caption] Dr. Holly Williams' career is up in the air — literally. The emergency medicine physician loves working on a helicopter on a locum tenens assignment in Michigan. "Every single patient we pick up in the helicopter, with few exceptions, is going to be really sick or really broken, so I'm really getting to bring my skills to the table and do what I've been trained to do," Dr. Williams says. "You get to do that in the ER sometimes, but on the helicopter you get to use those advanced skills with every call." When she's not saving lives in the air, Dr. Williams is flying to assignments across the country, often with her nearly-two-year-old in tow. Her husband, who works as a nurse, travels with them whenever he can or cares for their daughter while Dr. Williams is gone. "They say it takes a village, and that is the truth for sure in our situation. When I work in Maine, she stays with my sister. A really good friend has flown with me and watched my daughter while I'm working. We have just gotten really creative," Dr. Williams says. "When she stays home with her dad, we do a lot of FaceTime. We also use
Marco Polo
and she'll watch the little videos over and over." Though their daughter is young, Dr. Williams and her husband have worked to make sure she's aware of the schedule and has a routine. "We got her a calendar, and we have color-coded the days so she can see that mama's at work on these days. I was kind of surprised because I thought she'd be too little, but she gets it and gets excited when she knows mama's coming home," she expresses. Dr. Williams says it's easy as a mom to feel guilty about working really hard at your job — but you shouldn't. "Be kind to yourself and understand that both the work and the parenting are really important things. What you're doing absolutely matters in both sides of your life. There's always this guilt, 'Am I spending enough time with my family? Am I being a good enough mom?'" she says. "Know that we are all doing the best that we can. When your child gets older, they can be really proud of you. You're making a difference in other people's lives."
What advice do you have for other physician mothers? Share it in the comments below!