Physicians aren't the only ones experiencing
burnout
. A recent survey conducted by CompHealth found that physician recruiters are also feeling burned out — not surprising, considering the
demand for physicians continues to grow
faster than the supply of physicians. As a result, finding qualified doctors to fill open positions has become exceedingly difficult for recruiters.
In the graph below
, the recruiters surveyed ranked the different hindrances they've experienced when recruiting doctors to their facility. Though shortage of doctors in a specific specialty tops the list, the location of the facility is a close second.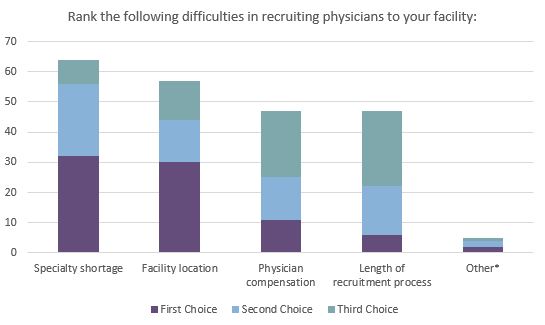 The physician shortage won't be resolved anytime soon. In fact, recruiters acknowledged in the survey that physician shortage will be their biggest recruiting challenge in 2016, followed by more physician jobs to fill, budgets, and a lack of internal resources. (
See graph below.
)

What's Causing Recruiter Burnout?
According to the survey, 74 percent of recruiters who've been in their jobs three or more years said they had experienced burnout. So, what's the cause? The survey found that feeling overworked and a lack of staff top the list.
In the graph below
, recruiters surveyed ranked the source of their burnout: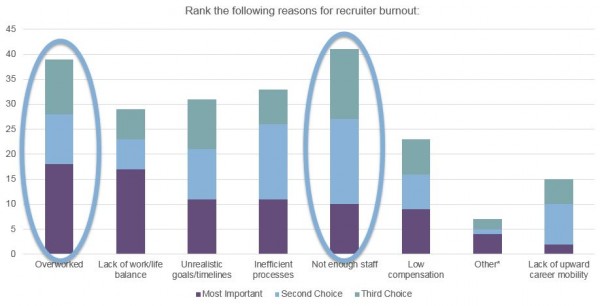 What's the Solution?
Recognizing the signs of burnout is your first step in battling its effects. Here are a few signs to watch out for:
You're exhausted. If you're constantly feeling emotionally, physically or mentally tired, you may be burned out. Fatigue can be a key indicator of a variety of health concerns, including depression and a thyroid disorder, so it's important to take the symptoms seriously.
You've become cynical and negative. If you're experiencing conflict at work and home more than usual, you might want take a moment and do some soul searching. Are you quick to get into an argument? Do you lack patience? Are you acting like a jerk? More than likely, you're experiencing burnout. (Or you might have Early Onset Grumpiness.)
[su_youtube url="https://www.youtube.com/watch?v=bewKPi9gdT4&feature=youtu.be"]
You obsess over your job. It's natural to think about work, even when you're not in the office. But it becomes a problem when work is all you ever think about. If you're losing sleep, feeling disconnected from your personal relationships, or having trouble relaxing, it's time to leave your work at the office.
Your job performance has faltered. Burnout can have a huge impact on your job satisfaction. Take a look at how well you're doing your job now versus a few years ago. If you find that you're not seeing the quality results you're used to, burnout may be the cause.
You feel stagnant in your career. If you start to feel like your work has become mundane and you've lost your enthusiasm for you job, burnout might be the culprit. It's important to be able to see the next opportunity or milestone in your career. If you can't, you'll quickly lose motivation and become disengaged.
Feelings of burnout can become overwhelming, but there is a light at the end of the tunnel. Here are some tips to help you fight the symptoms:
Designate time for relaxation.
Cultivate a hobby or interest outside of work.
Make time to unplug from tech devices every day.
Make sure to get at least 7 – 8 hours of sleep each night.
Incorporate regular physical activity into your daily schedule.
Rediscover enjoyable aspects of your job.
Evaluate your job options.
If you think you're experiencing burnout, don't ignore your symptoms.
Disregarding burnout can lead to significant health consequences
, including heart disease, high cholesterol, depression, and anxiety.