This year's results from
Medscape's Physician Compensation Report
were collected before the COVID-19 pandemic swept the nation and left its indelible mark on physicians. And for the first time in their careers, many physicians have since reported being
laid off or furloughed
. However, the overall trend for 2020 prior to COVID-19 was that physician salaries were increasing.
The COVID-19 effect: layoffs, furloughs, and salary cuts
Some of the most startling statistics the survey uncovered were that 43,000 healthcare workers were laid off in March 2020. This trend has continued as hospitals and physician groups nationwide have laid off or furloughed healthcare workers and cut salaries to stay afloat, a result of a reported
55% decrease in revenue and 60% decrease in patient volume
. The physicians hardest hit have been the specialists who routinely perform "elective" procedures — put on hold to ensure sufficient beds and PPE equipment would be available for COVID-19-positive patients. Some of the specialties hardest hit were those who are typically among the highest earners: orthopedic surgeons, dermatologists, plastic surgeons, cardiologists, and ophthalmologists. Primary care physicians, however, have been able to take advantage of telehealth technology, which has been embraced by patients during the pandemic. "Specialists are currently having more troubles than PCPs because they're dependent on elective cases, which can't be directly addressed by telemedicine,"
observes Joel Greenwald MD
, CEO of Greenwald Wealth Management, St. Louis Park, Minnesota.
Annual and overall salary: On the rise before the pandemic
Because this survey was performed before the full impact of COVID-19 pandemic was felt, its effect on physician salaries has yet to be fully realized. However, at the time of the survey, the results revealed that physician salaries were growing — specialists noting a 1.5% increase in annual salary, and primary care physicians reporting an average increase of 2.5%. Orthopedics and cardiology have been among the specialties with the highest compensation for the past six years; otolaryngology, plastic surgery, and radiology are also top earners, all reporting salaries over $427,000 per year. Family medicine and pediatrics report the lowest incomes, earning under $232,000 per year.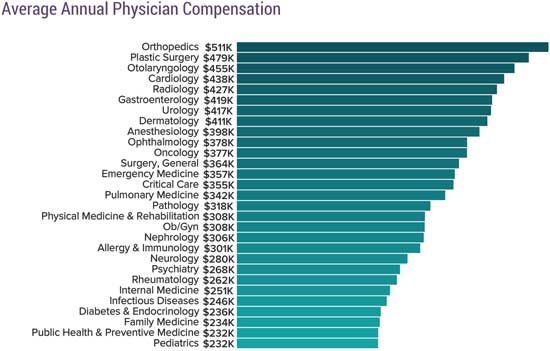 Most specialties saw physician salary increases in 2020
Many specialists reported they were on track to earn more in 2020 than they earned the prior year. Physicians practicing public health and preventive medicine saw double-digit (11%) growth in salary, closely followed by allergy and immunologists, who noted a 9% increase in income. Only two specialties' salaries — otolaryngology and dermatology — had reported a drop, of 1% and 2% respectively.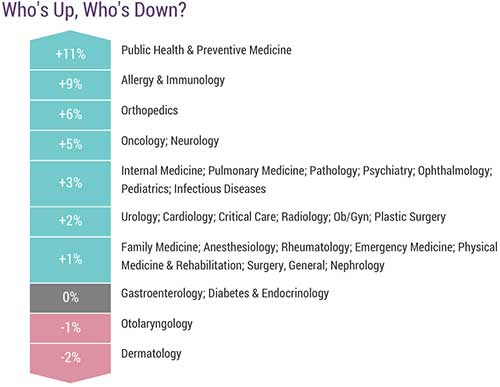 "Heartland" physicians earn the most
Medscape's Physician Compensation Survey reveals that doctors working in the
Heartland
of the United States typically make the most money. However, this year saw the addition of some new states: Utah, Ohio, and North Carolina bumped Connecticut, Arkansas, and Nevada to make the top 10 states. Kentucky topped the list, with an average salary of $346,000. Georgia rounded out the 10 highest paying states with an average annual salary of $323,000.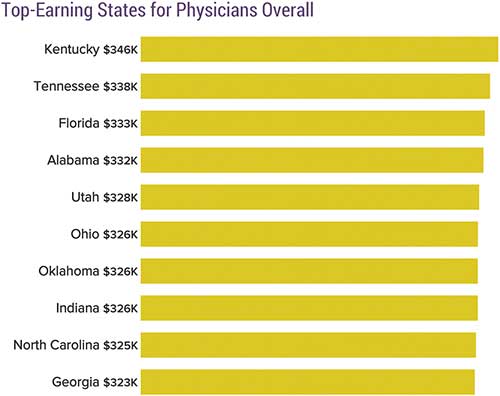 Self-employed vs. employed physicians
Physicians who reported being self-employed earned 20% more than their employed counterparts ($357,000 vs $279,000). This has remained fairly consistent year over year. One possible reason for this, Medscape postulates, is that a greater percentage of self-employed physicians (41%) are 45 years or older, compared with just 21% of physicians younger than 45 reporting they are self-employed.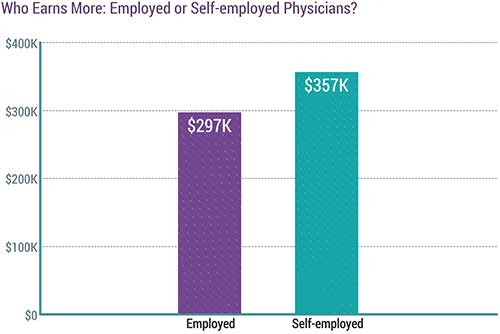 Incentive bonuses
More than half of physicians surveyed (56%) reported having
incentive bonuses
, whether it's a
relative value bonus
(RVU) or a collections bonus. Incentive bonuses are tied to performance with the intention of motivating physicians to work more or be more productive. However, the survey found that only one-third of PCPs and specialists say the prospect of a bonus encouraged them to work longer hours.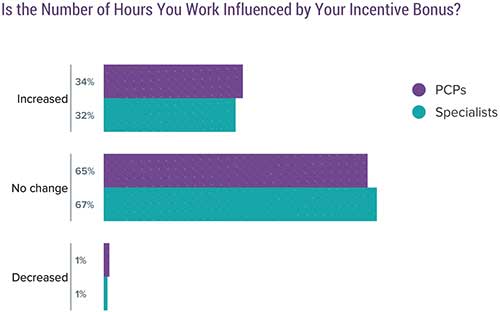 Are physicians being fairly compensated?
This year, oncologists, emergency medicine physicians, and radiologists (67%) reported feeling they are fairly compensated. Nephrologists (44%) feel they are the least fairly compensated, a consistent trend for the past several years.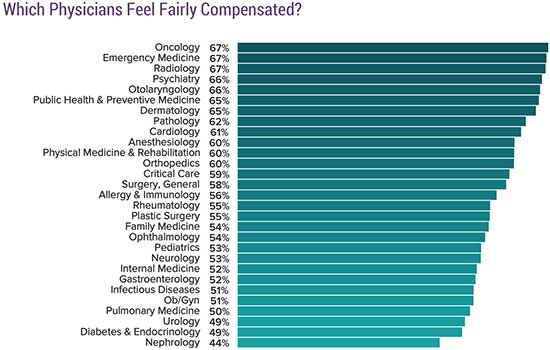 Although the results of the survey reveal specialists typically earn more than PCPs and family practice physicians, the full impact of the pandemic has yet to be fully understood. Regardless of the differences in income among specialists, COVID-19 has made it clear that the first concern of all physicians is the care and safety of their patients and their families. For more findings, view the full
physician salary 2020 report
.
CompHealth can help you take the next step forward in your career. View today's physician job opportunities or give us a call at 800.453.3030.
Chart images from Medscape.com