The pandemic affected nearly every industry and profession, but none so directly or deeply as healthcare. Whether it's the emotional, mental, and physical fatigue or a loss of income, COVID-19 left an undeniable impact on physicians nationwide. However, despite the enormity of the impact, findings from the annual Medscape Physician Compensation Report signal recovery in physician salary and income. Medscape surveyed nearly 18,000 physicians across nearly 30 specialties between October 2020 and February 2021 for insight into compensation, hours, job satisfaction, work challenges, and of course, the extent of COVID-19's impact on these important indicators.
The COVID effect
Despite the challenges of 2020, most physicians — including both primary care providers and specialists — reported income similar to their previous year's earnings. However, while physician salaries in general remained steady, the survey uncovered fluctuations within specialties. For example, many elective and non-emergent procedures were canceled or deferred, while cancer care for individuals already diagnosed continued without interruption throughout the year.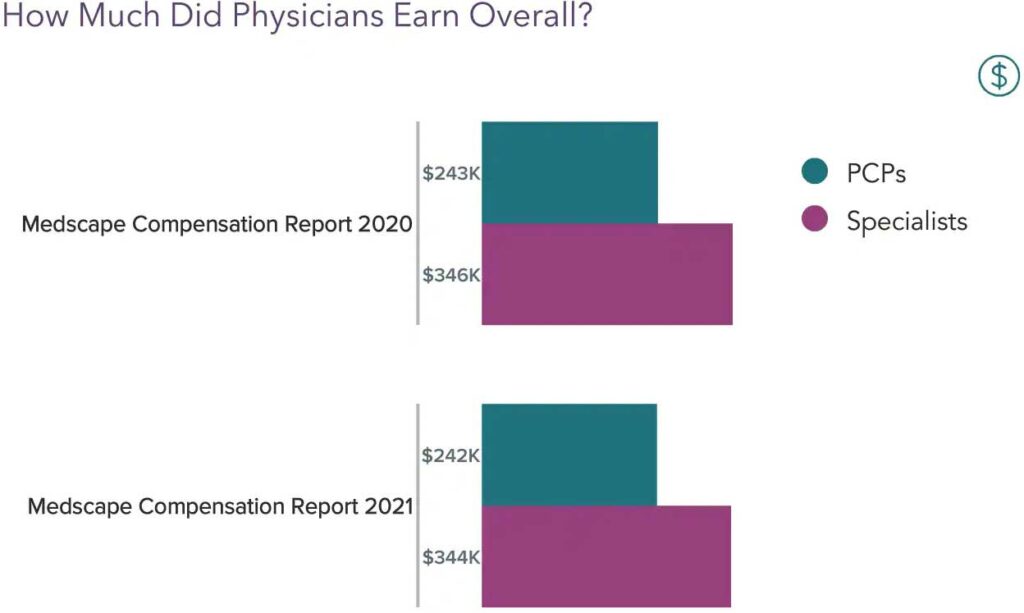 While nearly half of respondents (45%) said they did not suffer financial or practice-related effects of the pandemic, 22% reported a reduction in hours and 15% reported not receiving an annual raise. Where loss of income was reported, an overwhelming majority (92%) cited COVID-19-related factors, including reduction in hours and reduction in patient volume.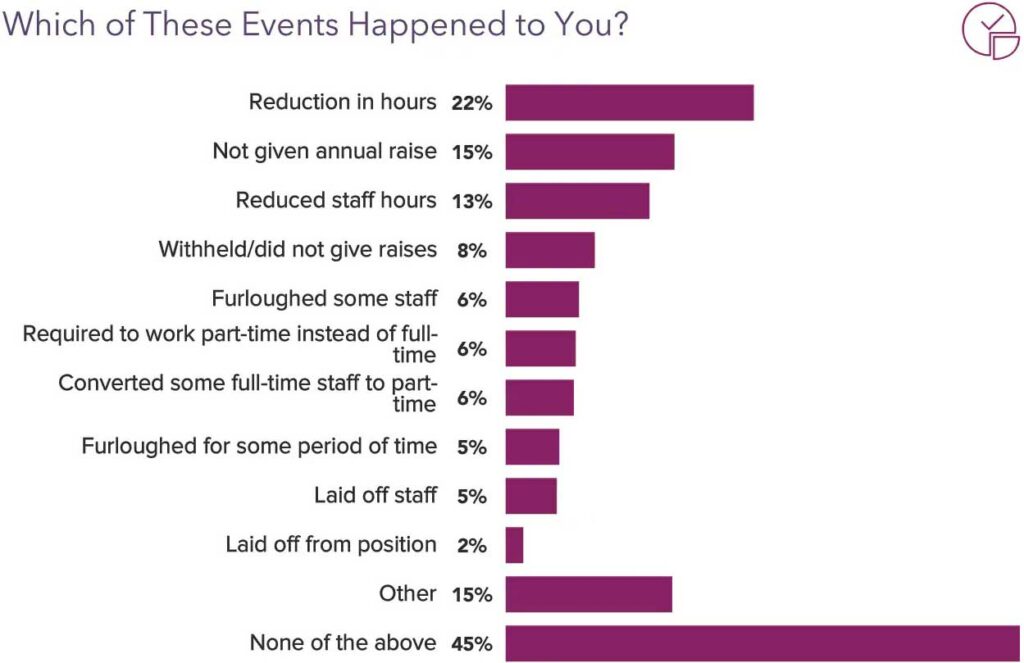 Encouragingly, more than a third of respondents (both PCPs and specialists) expect their income to return to pre-pandemic levels this year, and the majority expect to return to normal within the next several years. And nearly half (46%) believe they haven't/won't experience a permanent reduction in patient volume.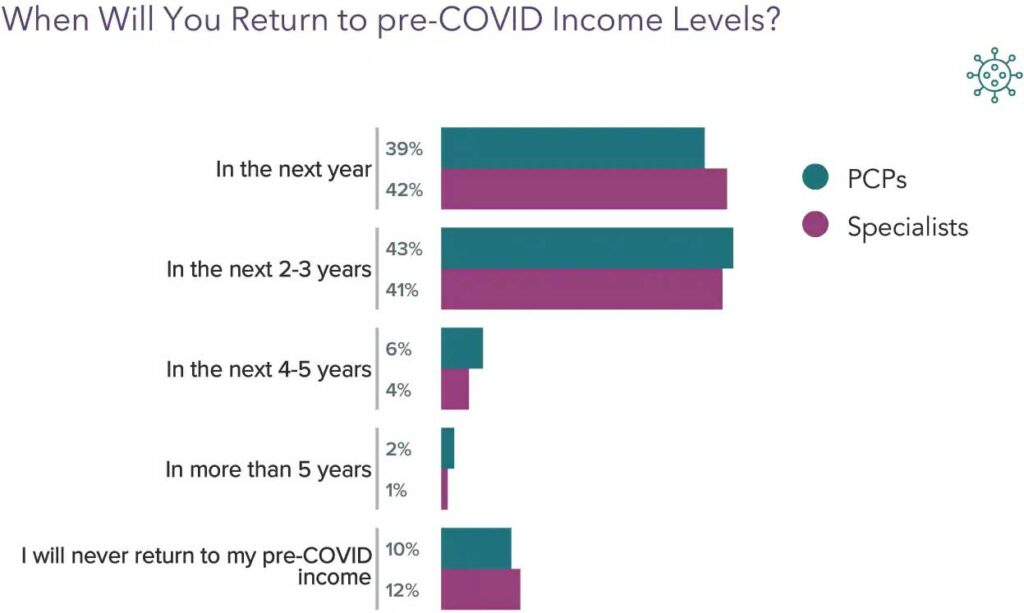 The pandemic also equated to greater overhead expenses related to personal protective equipment, or PPE. Ninety percent of physicians who are owners or partners spent money on PPE in 2020.
Top earners and perspective on pay
The specialties that topped the earning chart in 2020 include plastic surgery, orthopedics/orthopedic surgery, cardiology, urology and otolaryngology. These top earners are consistent with the prior year's results, with the addition of one newcomer — urology.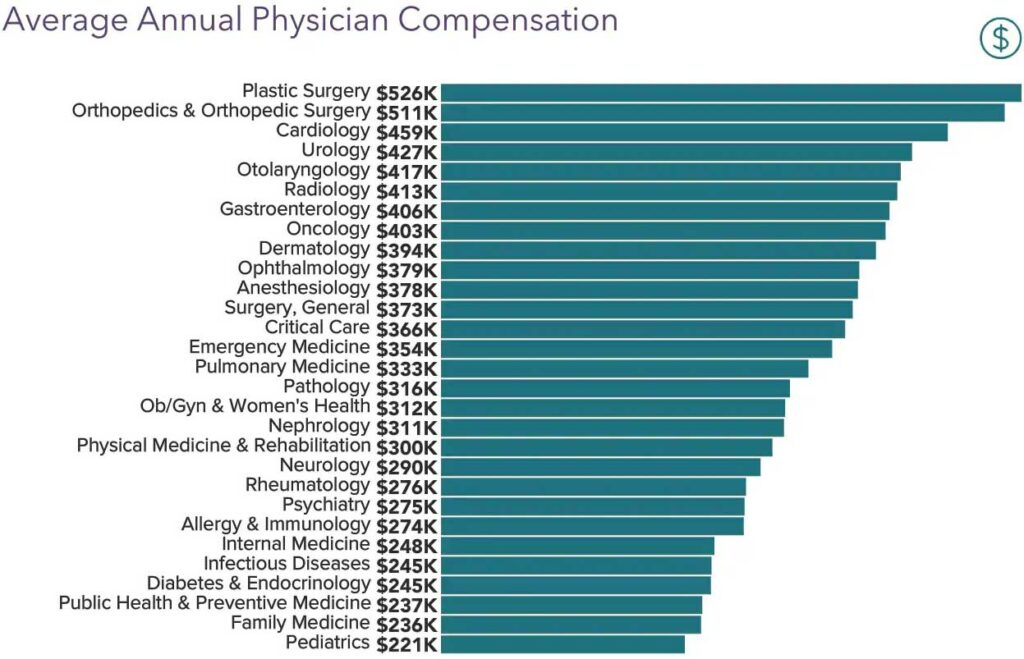 Interestingly, oncologists (79%), psychiatrists (69%) and plastic surgeons (68%) feel the most fairly compensated, while physicians specializing in infectious diseases and diabetes/endocrinology feel the least fairly compensated.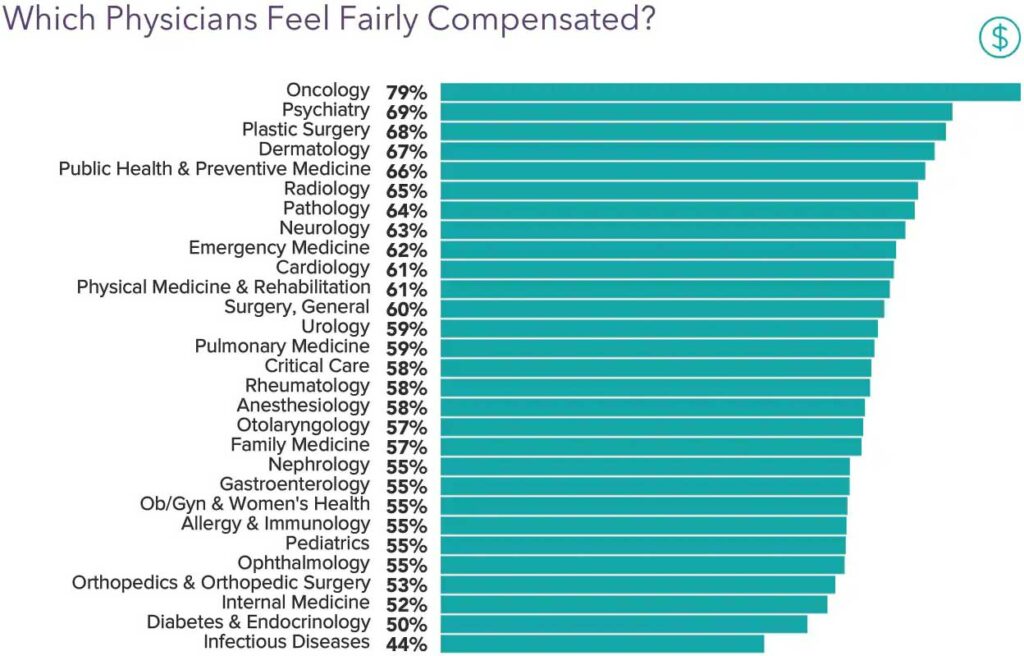 More than three-quarters of physicians said they would pursue medicine again as their career. And consistent with previous years, dermatologists top the list of physicians who would choose their same specialty again (96%), tied this year with orthopedists/orthopedic surgeons and oncologists.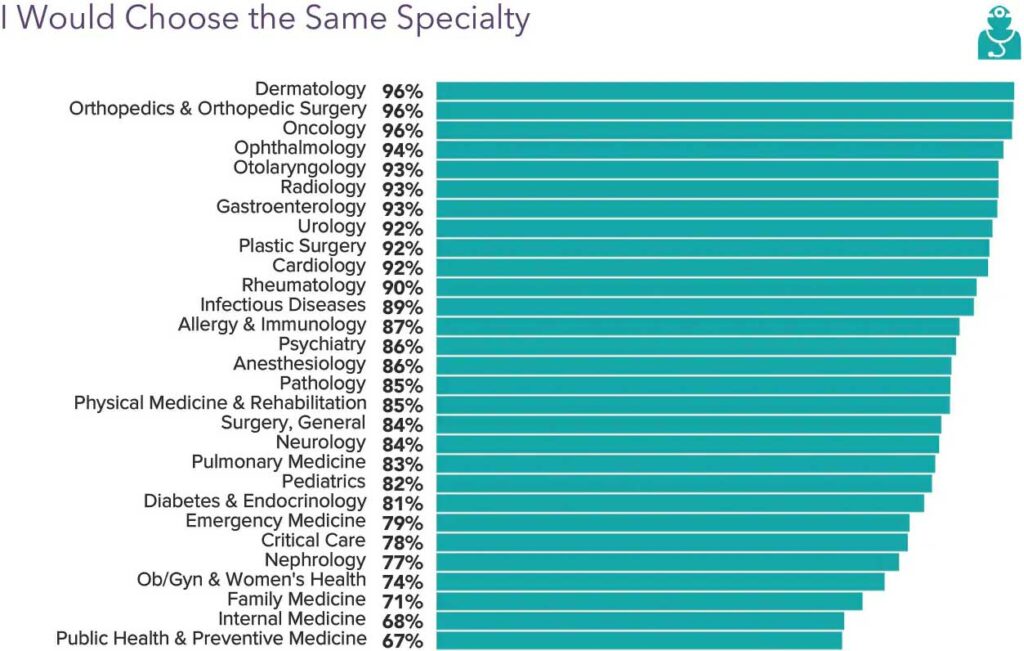 Self-employed vs. employed
Self-employed physicians, including locum tenens, reported higher overall income ($352k per year, on average) than their counterparts ($300k per year, on average). And while there has been a decline in the percentage of physicians who are self-employed, a separate survey of medical residents found one-fifth of respondents are considering self-employment in the future.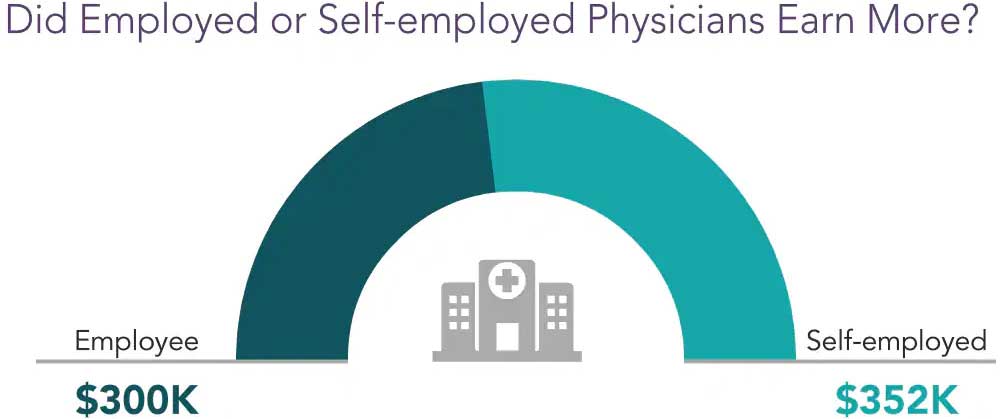 Gender pay disparity
The survey also reported on the physician salary disparity between men and women. Present in many industries, the pay gap exists among physicians in both primary care and specialists. Among specialists, some male-dominated specialties such as emergency medicine and pulmonology were less likely to experience reduction in patient or procedure volumes in 2020. And in general, female physicians are less likely to pursue higher-paying specialties, citing work-life balance among their top concerns.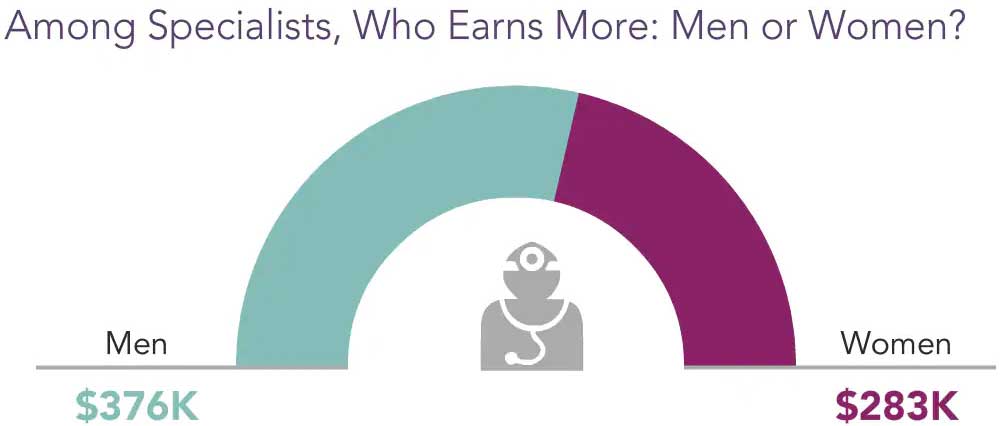 Earnings across the map
With an average physician income of $338-348k, southern states of Alabama, Kentucky, and Oklahoma topped the list of this year's top paying states. Alabama and Kentucky held onto their top spots, while Tennessee, Florida and Utah dropped out of the top five.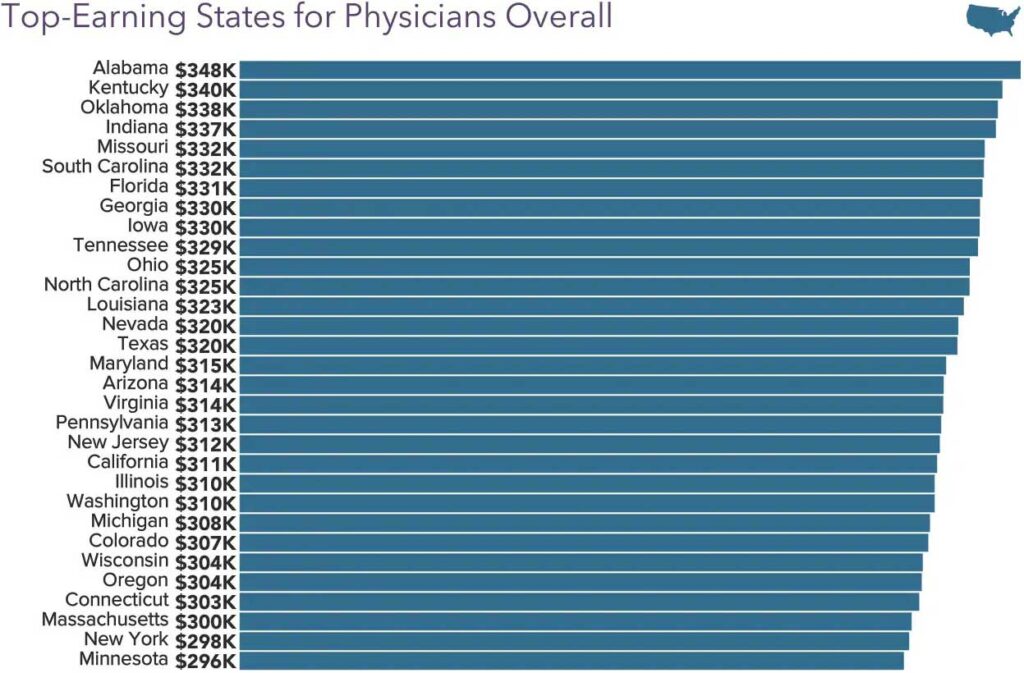 Most rewarding and challenging aspects of healthcare
Despite the challenges faced this past year, many physicians continue to find fulfillment and satisfaction in the life-preserving work they do. More than three-quarters of respondents cited a desire to help others, gratitude for patient relationships, and the yearning to help find answers as their primary motivators and most rewarding aspects of their work.
When asked about the challenges of practicing medicine, nearly one-quarter pointed to cumbersome rules and regulations, which make their daily work difficult. As one family physician remarked, "virtually all aspects of care are dictated by outside entities including insurance, board regulations, quality improvement, malpractice risks, that prevent you from enjoying taking care of patients."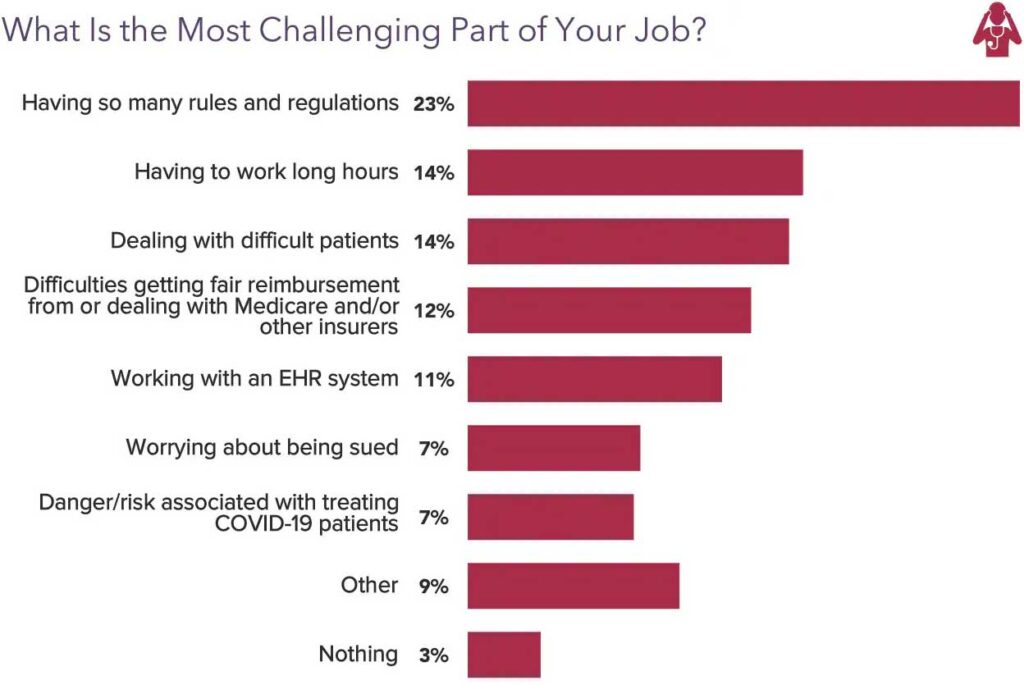 Road to recovery
While the full extent of COVID-19's effects may yet to be realized, the insights uncovered by Medscape's Physician Compensation Report speak to the resilience, dedication, and devotion of the healthcare community.
For more findings, view the full 2021 report.
CompHealth can help you take the next step forward in your career. View today's physician job opportunities or give us a call at 800.453.3030.
Chart images from Medscape.com