Physician recruiters have a lot on their plates — from finding candidates to screening them to sealing the deal. What you don't have is time to waste on candidates who aren't the right fit or not really interested in the opportunity. However, there are physician search strategies that can help you quickly narrow the candidate pool to just those physicians who are most likely to move forward.
Here are nine physician search strategies straight from the desks of four experienced physician recruiters.
1. Understand what the medical director is looking for
Avoid traveling too far down the hiring path with an unsuitable candidate by first getting a full picture of what the medical director's needs are.
Kim Collins, lead physician recruiter for Anne Arundel Medical Center, likes to ask the medical director, "If the perfect candidate walks through the door today, can you tell me what that would look like?"
"Are they looking for someone that's just out of their residency? Are they willing to look for someone that is foreign trained? Do they need a special language themselves? I try to narrow the search that way, making sure that I get from the service line director the exact fit," she says.
2. Ask current physicians what attracted them to your facility
It's one thing to know what the organization is looking for — it's another thing to understand what will draw stellar candidates to the organization.
"You have to find out what's motivating your buyers," says Paul Olzak, physician recruiter for Lake Health. "I go out and interview every physician that's actually been recruited and ask them the same questions. First of all, why did you decide to come to this particular geographic area? Secondly, why did you choose this organization?"
This information can help you craft job postings that will attract candidates who are more likely to continue through the hiring process.
3. Look for ties to the area
When it comes to physician search strategies, "my secret weapon is to identify Kansas people," says Sasha Randolph, recruitment and retention manager for the Kansas Recruitment and Retention Center at the University of Kansas Medical Center. "They've had a spouse in Kansas, family in Kansas, they went to school in Kansas — anything that says 'Kansas' is my secret weapon. If I can find any correlation to them being in or around the Kansas area, it's almost a shoe-in for them to be here."
Those local ties can be especially important in rural settings, where big-city amenities may be lacking. Randolph says pinpointing ties to the area can make all the difference for a successful recruitment and long-term retention.
Olzak agrees. He says people are attracted to Lake Health "90% of the time" due to family ties in the area. "People seek Northeastern Ohio — like the majority of the other healthcare markets — based on personal reasons. It's based on, 'I want to live there for family or for the fact I was born and raised near there.'"
4. Match for culture fit
Screening for cultural compatibility can be difficult. Randolph says to start with the mission and vision of your organization. Then you can "look for identifiers on how to attract the appropriate candidate" to make that cultural fit.
Each practice within your organization can have its own culture that you need to take into consideration as well. For example, says Olzak, one practice may have a young, energetic vibe, while another may feature "a good spread of years of experience." Others may be the kind of practice where "everybody kind of just stays in their office. It's not very collegial and you just get a cold vibe from it."
Regardless, you want to match candidates to the culture they'll be working in and contributing to.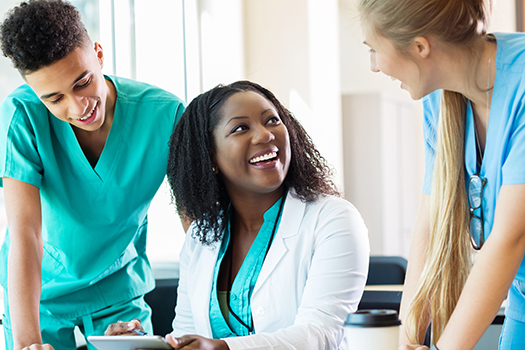 5. Determine if they're interested in the job requirements
How many patients do they expect to see each day? What type of shift do they want to work? What are their expectations for on-call requirements? Asking these questions early on will help you quickly weed out candidates who may seem well qualified but will ultimately balk at the requirements of the job.
6. Be selective in using online tools
Tools like PracticeLink and PracticeMatch can be helpful in compiling a list of potential candidates. However, sometimes the list can be overly long and filled with physicians who aren't truly a match for the position.
Olzak says to make sure you're delving into the candidate profiles and sifting out those who haven't specified your region or practice details. "When we did that using the preferences that are listed in PracticeMatch and PracticeLink, it made our job a lot easier because we knew that candidate pool already was whittled down to those who would be interested in Ohio."
The National Rural Recruitment and Retention Network (3rnet.org) can be especially helpful for rural facilities according to Randolph. "We get a lot from 3rnet.org specifically because it is a rural-focused job board for medical professionals."
7. Work only with trusted strategic partners
Only work with staffing agencies that have a track record of listening to your needs and presenting candidates who have been pre-qualified according to your criteria. "It's important that they're drilling down into the details that really matter in terms of finding a good fit," Olzak says.
Quality is much more important than quantity. "I don't want to have to go through and really vet all the candidates that you're giving me," Collins says. Instead of a stack of CVs, she'd rather see an in-depth report on each highly qualified candidate.
"I do like the agency to be thinking like a strategic partner," says Linda Stevenson, physician and APP recruiter for Baystate Health. "What longer-term relationships bring to the table is a certain structure — a process and a structure." These partnerships ensure that the agency is well attuned to your needs and that problems can be resolved quickly.
8. Let the data do the talking
Stevenson uses a spreadsheet to track candidate qualification points like credentials, availability, and ties to the area. When you have a large candidate pool, "you've got to find some tool that captures all the data that's coming in," she says. "Just rank them and let the data do the walking and the talking."
9. Let failure help refine your search
"Be accepting of failure, because there are going to be times where you think you have a really good candidate in your pool and your medical director will shoot it down," Collins says. "But that is a lesson that's actually helping you narrow the pool further. So, don't take that as a negative. Use that as an additional tool to add into your toolbox."
The ability to narrow in on the candidates who will be the best match will not only save you time but will improve your effectiveness as a recruiter.
RELATED: 6 virtual interviewing tips for physician recruiters
Want another tool in your arsenal? CompHealth specializes in finding the best physicians and advanced practice providers to fill your staffing needs. Give us a call at 800.453.3030 or complete the form below.