The happiness, health and well-being of physicians have long been of critical importance. But in a time that has presented so many challenges to physician happiness — both professionally and personally — these indicators are more crucial than ever as healthcare leaders strive to improve physician wellness and increase retention.
Physician happiness in 2021
Each year, the Medscape Physician Lifestyle and Happiness Report highlights the factors shaping physician happiness and wellness. The 2021 report, which surveyed more than 12,000 physicians in 29 specialties, explores topics ranging from personal wellness to fostering relationships in the time of COVID. In addition, Medscape's 2021 National Physician Burnout and Suicide Report illuminates the pandemic's impact on the well-being of our nation's healthcare workers.
To gain a greater understanding of physician happiness, CompHealth and the American Academy of Family Physicians (AAFP) partnered to conduct the Physician Happiness Survey in 2019 — a survey of more than 5,000 physicians on key indicators of happiness and job satisfaction. While conducted pre-pandemic, the survey results offer additional important and relevant insights into factors impacting physician happiness. The findings include ideas that healthcare leaders should consider when striving to improve physician happiness and fulfillment in the workplace.
The pandemic effect on physician happiness
According to the Medscape report, prior to the pandemic, physicians largely reported being happy outside of work. Eighty-two percent of respondents said they were happy or somewhat happy.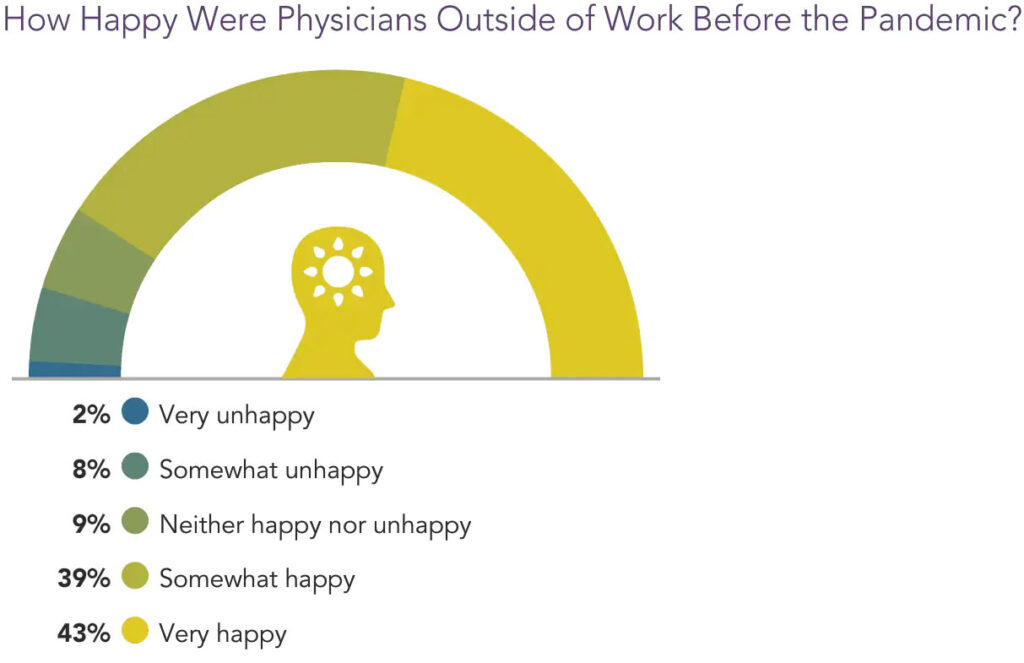 However, the pandemic affected a dramatic shift, with just over half (58%) of respondents in the 2021 survey reporting feeling happy or somewhat happy outside of work.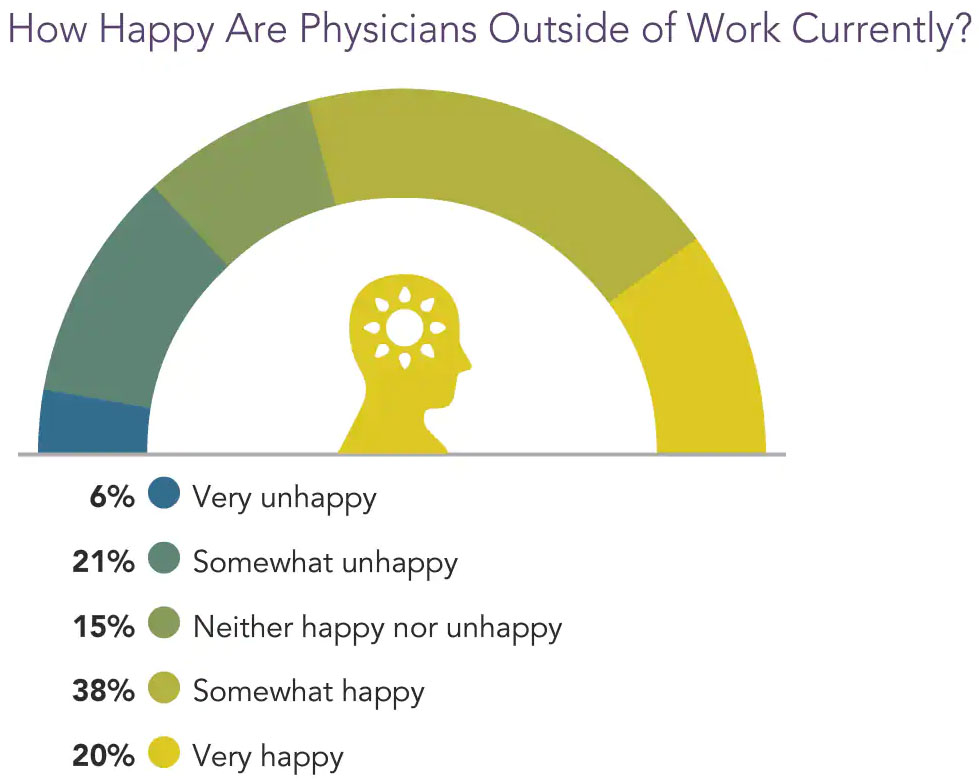 Worklife happiness saw a similar impact, with 69% of respondents reporting they were happy or very happy at work pre-COVID, compared to just 49% in 2021.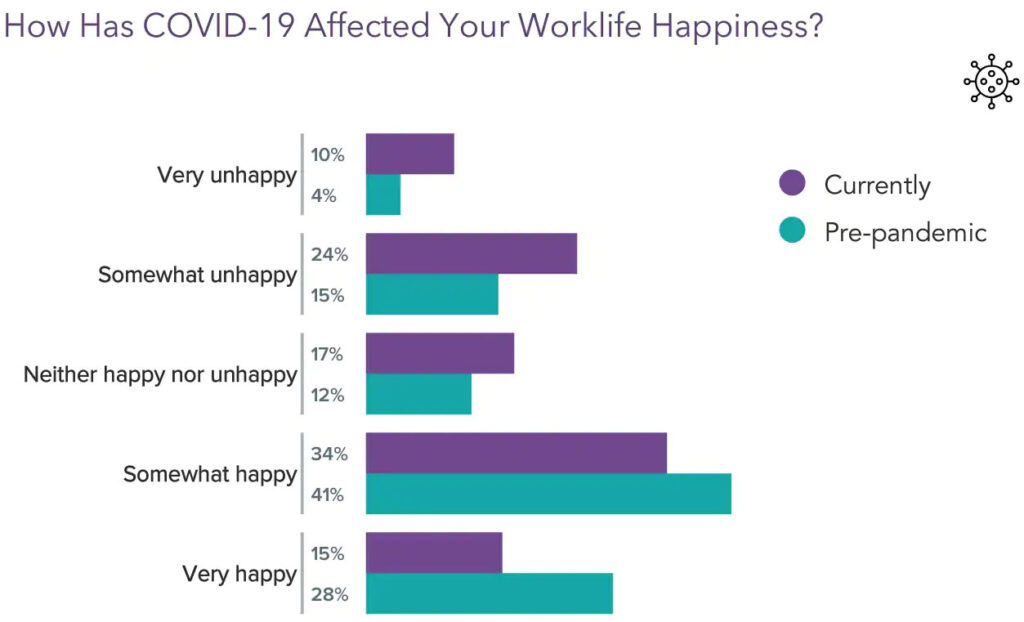 Key contributors to physician burnout
Over 70% of respondents to the Physician Burnout and Suicide Report indicated burnout has a moderate to strong/severe impact on their lives. One tenth of respondents consider the burnout severe enough to consider leaving medicine. A similar study, published on the JAMA Network, found that 1 in 5 clinicians were considering leaving medicine as a result of the pandemic.
Too many bureaucratic tasks (58%), spending too many hours at work (37%), and lack of respect from administrators/employers, colleagues and staff (37%) topped the list of greatest contributors to workplace burnout.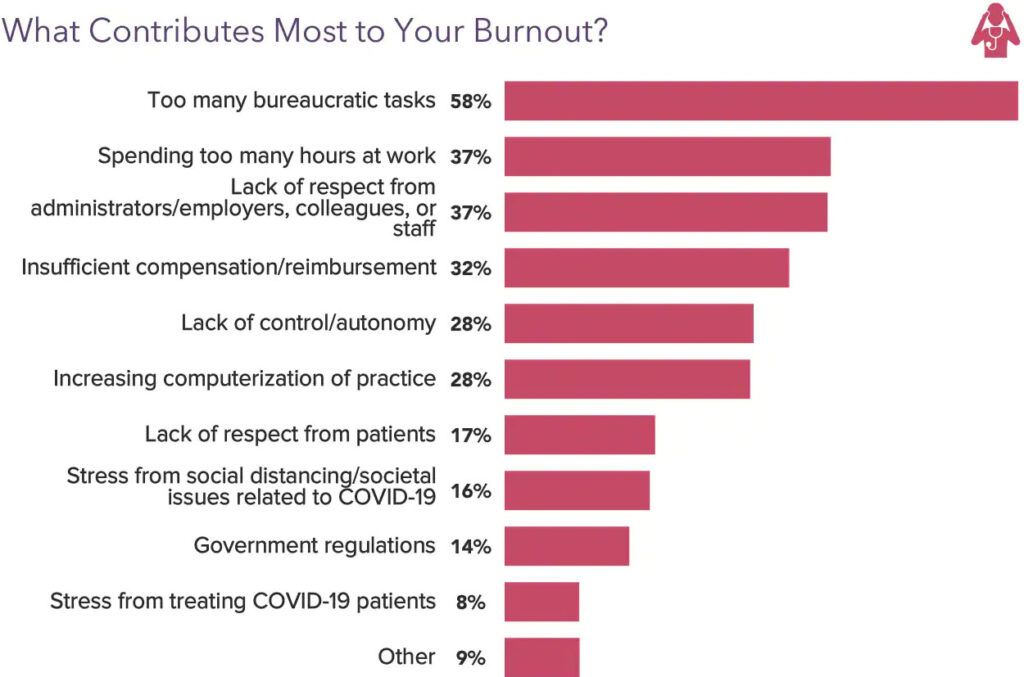 Correspondingly, when asked what workplace factors concerned them most, work/life balance emerged as the chief concern among both female and male physicians (42% and 48%, respectively).
Strategies to improve physician happiness
These factors highlight the following key strategies to consider in order to alleviate physician burnout and promote greater happiness in the workplace.
1. Reduce administrative burden
The administrative burdens facing physicians add to an already substantial workload and affect the time physicians are able to spend with patients. The Physician Happiness Survey found, on average, physicians worked 10 hours per day, with only 68% of that time spent with patients. Relieving administrative tasks, where possible, can help physicians devote more time to patient care and feel more fulfilled in their work. According to insights from the Medscape report, addressing the inefficiencies of the systems in which physicians work — through better tools, processes, workflows and administrative support — will allow physicians to work smarter, not harder.
2. Create conditions for better work/life balance
Perhaps unsurprisingly, the top ways physicians relieve stress, according to the Physician Happiness Survey, were downtime/relaxing activities (76%), spending time with family and friends (73%), and taking time off (62%). It speaks, then, to the critical need for work/life balance to facilitate time for restoration and stress relief.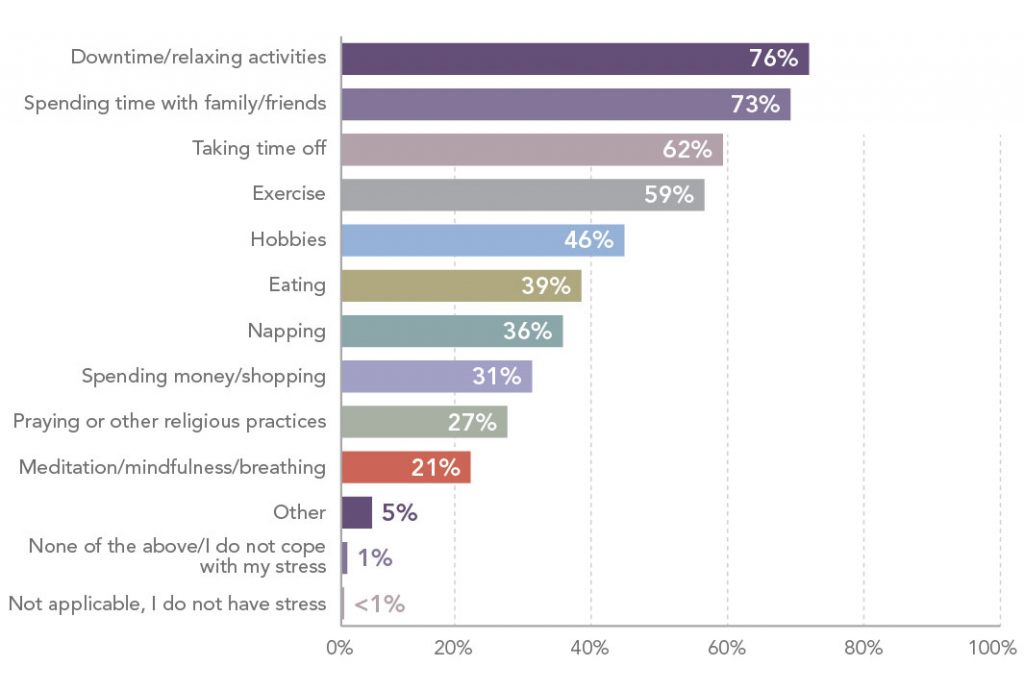 3. Elevate respect and recognition at work
The Physician Happiness Survey found few physicians (34%) feel appreciated for their work. And while some physicians report feeling appreciated and recognized by patients or peers, 29% have never been formally recognized. Formal recognition programs and informal expressions of appreciation can help elevate morale and help physicians feel a deeper sense of appreciation for their contributions.
4. Enhance workplace culture and foster friendships
Fostering meaningful friendships and mentorships in the workplace has the potential to greatly impact physician happiness. In the Physician Happiness Survey, many physicians (48%) reported that interpersonal relationships, more than any other aspect of their job, contributes to their happiness. Among physicians who reported having many friends at work, 70% also reported high life satisfaction. Conversely, among physicians who reported having no friends at work, only 39% reported high life satisfaction.
By understanding the factors influencing physician happiness and well-being and by fostering a workplace environment that addresses these wants and needs, healthcare facilities can improve physician happiness and increase retention.
What is your healthcare facility doing to improve physician happiness? Share in the comments below.