Attending college for advanced healthcare training is a long process with an assumed reward of employment in a valued position at the end of the program. However, soaring unemployment rates have made college students with a range of majors balk at the thought of their looming graduation date. For this post, I want to focus on a group of key healthcare providers that our company works with. Are physicians, therapists and physician assistants just as vulnerable? Does the relative stability in the healthcare job market extend to these advanced specialties?
Job Placement Rates for Physicians
The good news for physicians who have recently graduated from medical school is that their field has one of the lowest unemployment rates in the country. While the national average unemployment rate in the U.S. was 7.9 percent as of the date of the
January 2013 report released by the Bureau of Labor Statistics
, CNN reports the unemployment rate for physicians is 0.8 percent.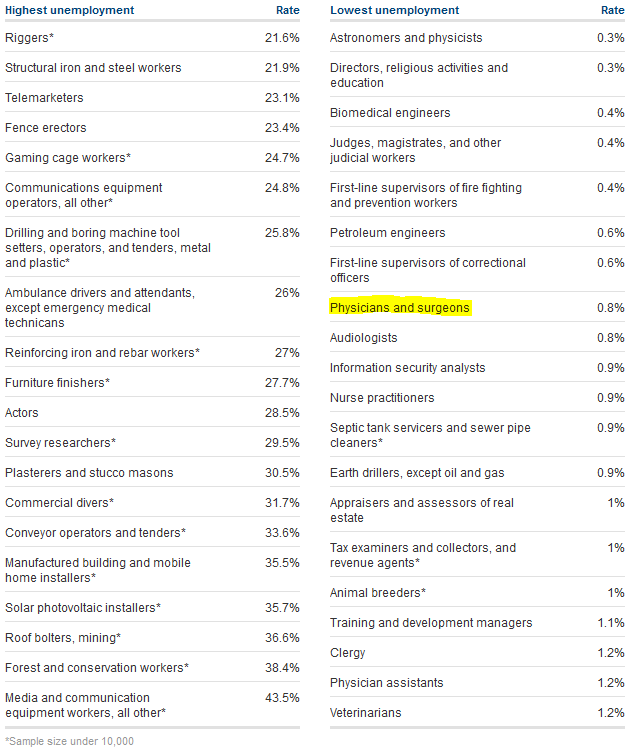 Source: CNN Recent graduates who attended medical school are likely to be placed quickly because of a perceived shortage of physicians in the country. As reported by ABC News, an aging population and an increase in accessibility to health insurance coverage means that the need for physicians will continue to rise throughout the next decade. Shortages are a particular concern in the area of primary care, so graduates who choose to go into this facet of medical practice can feel more secure in their ability to find employment.
Job Placement Rates for Therapists
Therapists with a master's degree or doctorate who have specialties in fields including physical therapy have a lower unemployment rate than physicians. According to the American Physical TherapyAssociation (APTA), the unemployment rate for physical therapists was 0.2 percent as of September 2012. For a better picture of the unemployment rate for a wide variety of specialties in therapy, a statistic provided by CBS News estimates the unemployment rate for treatment therapy specialists at 2.6 percent. Growth of the field of treatment therapy is expected to be rapid in the coming years as the population continues to age. ABC News reports that the elderly population in the U.S. is expected tonearly double between 2000 and 2025, and many of these elderly will be in nursing homes and other healthcare facilities that provide treatment therapy on location.
Job Placement Rates for Advanced Practice Specialties
As with physicians, advanced practice specialties including certified physician assistants enjoy a low unemployment rate due to a demand that outweighs supply. According to CNN, the unemployment rate for those in this field is 1.2 percent. The U.S.Bureau of Labor Statistics estimates that 24,700 new PA-C jobs will be added between 2010 and 2020. This translates to a job growth rate of 30 percent, a high growth rate that is almost unheard of in the job market. The growth rate can partially be attributed to the fact that many physician assistants act as primary care providers for patients. While physicians move into specialties and leave patients who need to find a primary care physician underserved, PA-Cs are able to fill this need. Graduates of programs related to healthcare specialties enjoy some of the lowest unemployment rates in any field in the U.S., and new graduates can feel confident in their ability to find a job. Physicians and PA-Cs can gain the highest chance of finding employment following school by choosing to provide primary care for patients. Treatment therapists with specialties in physical therapy have nearly no unemployment. As demand for medical professionals continues to outweigh supply, using a staffing agency like CompHealth can help employers find top-notch medical providers to fill their needs, as well as,medical professionals find their ideal position.