Whether you're still finishing residency, just completed your training, or even have a few years of practice behind you, it's both exciting and nerve-wracking to accept a new job — and we know how important it is to evaluate a physician practice opportunity carefully. Two of our seasoned permanent placement recruiters shared their tips for comparing your options and choosing the one that fits you best.
Types of physician opportunities
Depending on specialty, there are generally five job types available to physicians:
Hospital positions
Contract groups that directly employ physicians who work at hospitals
Private practices
Private groups that don't have hospital contracts and run like a private practice
Multispecialty groups within hospitals that see only patients within their specialty at the hospital and not unassigned patients
Hospital position pros and cons
Physician recruiter Victoria Fournier says many physicians find working directly for a hospital appealing because they often have more robust signing incentives.
"Hospitals can offer sign-on bonuses, a 401(k) with matching contributions, student loan repayment, a higher salary, and more paid time off. There's also the stability or perceived stability of working for a large entity," she says.
"The negative is that you don't really have a say in policy or how things evolve. You can't get right to the decision-maker and say 'Hey, I think we need to adjust this' or 'Hey, I think our equipment is outdated.' They also may not have the capacity to offer mentorship to new physicians."
Contract group pros and cons
Contract groups run programs for hospitals that don't want to run their own physician group, which means the doctor is employed by the group, not the hospital.
Lisa Goldstein, a physician recruiter who works with many hospitalists and emergency medicine physicians, says, "Some people like it because if they're upwardly mobile in their career and eventually want to move, they can stay with the same employer. However, if your group loses the contract with the hospital, you may have to renegotiate for a new contract with whoever takes over. Sometimes there's also a non-compete, and you're excluded from working for a competitive group and have to move."
Contract groups are typically run as a business, so doctors should consider if the group's expectations still allow them to provide the quality of care they want to provide. And some doctors feel they may not make as much money, because the contract group needs to make a profit.
"But sometimes you're incentivized to see more patients and have the ability to make more money," Goldstein says. "It really depends on the culture of that contract group."
Goldstein points out that large groups can also be more accommodating for physicians who have H-1B visas because they have so many needs across the country.
"These contract groups have internal immigration attorneys and will hire visa candidates who might not have as many options otherwise," she says.
Private practice pros and cons
When you work for a private practice, cons include working more hours and having a greater call burden. However, Fournier says this is often offset by the opportunity for partnership within a few years.
"If you're in a private practice, things are much more fluid. The decision-makers are right there, and you have much more say and autonomy and flexibility as well," she says.
Private group pros and cons
Goldstein explains that some local physicians will create a smaller group and see patients at several different hospitals.
"They don't have a contract with any hospital, they're free entities and market their services to primary care physicians. It's run sort of like a private practice," she says. "Sometimes you can get more flexibility in your schedule when you work for those kinds of groups. Some work Monday through Friday, and some work only days Monday through Friday and turn their practice over to the nocturnist at the hospital."
Fournier says some physicians appreciate working for a smaller group because they have more opportunity for learning from each other.
"There's the 'it takes a village' academia sense when they leave fellowship or training that a smaller group has," she says. "Some providers prefer that sort of hands-on mentorship in a private group if they're joining a robust team."
Multispecialty group pros and cons
A job within a multispecialty group means stable hours and generally clear expectations, and it also gives you the chance to work with other specialists and primary care providers.
However, not all new physicians are familiar with multispecialty groups, Goldstein says, which means this type of position can be a harder sell for those who've just finished residency.
"Residents are typically working with and being mentored by physicians who have made their career in academic medicine and kind of push them toward hospital employment because they don't have the other perspective," she explains. "Physicians have to remember that more risk means more reward and sometimes have to get out of their comfort zone."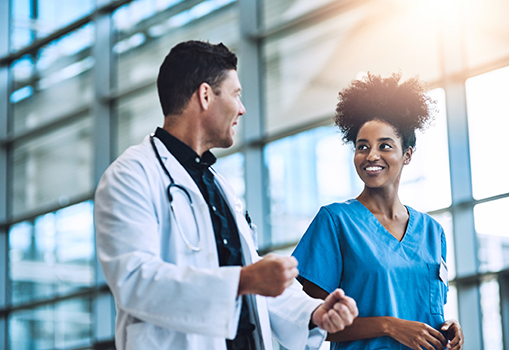 Must-haves and nice-to-haves in evaluating a physician practice opportunity
Once you're ready to evaluate a physician practice opportunity, consider what you absolutely must have in your job and what you can live without. Think about:
Compensation requirements
Location
Mentorship availability
Programs that help you pay down student loan debt or nonprofits that forgive that debt after so many years of tenure
Residency or fellowship stipends (if you've accepted a position while completing your last year of training)
It can be helpful to look at your priorities and rank them by importance, Goldstein says.
"Some physicians will say they'll go anywhere if they have loan repayment because they want to pay off their loans in five years. Then I tell them about jobs in North Dakota, and they say they don't want to go there," she says. "How important is location to you? If someone tells me they only want to be in this location and they're already there, I may not be able to help. We do much better with those who are willing to relocate."
RELATED: Physician contract negotiation
Consider other factors that impact your decision
Other factors besides compensation, mentorship, and financial packages to consider include:
Spouse or family needs
Work/life balance
Regional attractions
Cost of living
State taxes (some states don't have income tax, so take-home pay is higher)
Facility size (a larger team means more flexibility for time off)
Patient census
Call schedule
Compensation model (e.g. productivity-based vs. outcome-based)
Inpatient and outpatient percentages
Facility equipment and physical space
Teaching facilities (if you're interested in fellowships)
Open or closed ICU
Ability to moonlight or work locum tenens jobs
Think about what you like to do when you're not working, Goldstein recommends, but also consider other amenities in the community you and your family might need.
"Does your family have religious needs, special educational needs, or recreational needs? You've got to look at that and figure out where your priorities are," she says. "I was talking to a physician and all she wanted was Michigan because of hiking. There are a million places you can hike. Do you know anyone there? Or is it only about hiking?"
Fournier says considering your spouse's or partner's needs is also important, because they often need to find a job or residency as well.
"I'd say the two driving factors are location and work/life balance," Fournier says. "If you have children, consider the schools. Look at the livability and crime factors. When you're on a site visit, ask where all the doctors live and do a community tour."
Factor in the "intangibles" when deciding on a position
Pay attention to the feelings you get when you have an interview or visit a hospital or practice, Goldstein says, and don't hold onto an offer unless it's better than what you have in your hand.
"No one else can tell you what's important to you. Look at many different practices, be open-minded, and cast your net wide," she says. "You want to feel like you turned over stones and did your due diligence before you ruled things out."
Fournier counsels physicians not to wait too long for better options. "Ask yourself, 'On a scale of one to 10, how would I feel if I lost this opportunity because of hesitation?'" she says. "Newer candidates never want to make a decision. They want to interview everywhere and get 10 offers. By the time they do that and ultimately decide they want to pursue the first one or two, those windows have already closed. They can work against themselves in that way."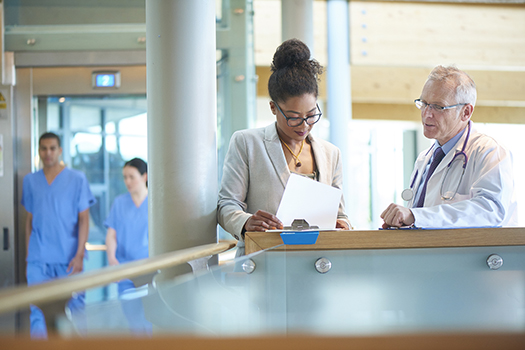 How a staffing agency can help
Working with a staffing agency gives you access to someone who is an expert in helping you find and evaluate physician practice opportunities. Each conversation you have with your recruiter will help you narrow your options quickly so you don't miss out on the best ones.
"Timing is everything, and you can lose an offer by sitting on it. I can help you navigate who you need to have a sense of urgency with and who you don't, who you should do a site visit with and who will wait for you," Goldstein says. "There's a lot of intel you get working with a recruiter that you wouldn't have about the marketplace otherwise."
Your recruiter will also have more information about market rates in areas you're interested in and also knows whether facilities you're interested in have multiple candidates applying.
"Because our recruiters place physicians nationwide, we have our finger on the pulse, so to speak, and can provide a broad perspective," Fournier explains. "For example, we know where there is a shortage of physicians in your specialty and where there are plenty of physicians so the pay is lower."
Fournier says using a practice evaluation worksheet to discuss opportunities with your recruiter can be a valuable tool. "Physicians don't always want to be honest about how a site visit went and are worried they will offend their recruiter," she says. "I find that because most doctors are data-oriented, a worksheet takes down the barriers and they answer questions very honestly. If they rank something a two out of four, they'll tell me why," she says. "It can really help doctors honestly self-assess."
DOWNLOAD: Practice Evaluation Worksheet (fillable PDF)
Find more job opportunities by being willing to try something new
While it's important to stick to your list of priorities, you're also going to find a better range of positions that fit the bill if you're more flexible during your search.
"Be very open-minded, because every practice has ugly pieces and good pieces. No situation is going to be perfect. You have to think of the things you can't deal with," Goldstein says. "The rural opportunities are where you're going to find more bells and whistles, because there's not a lot of people who call up and say, 'I want to go to rural North Dakota.' If you really want the perks other people say they're getting, be open to more rural locations."
Fournier cautions that you may change your mind even if you don't expect to.
"Over 40% of the doctors I place annually are ultimately a result of providers committing to opportunities to which they originally had no desire to go. You may have a perception of a place or opportunity in your head, but it often flips by that actual site visit," Fournier says. "The number-one component you cannot negotiate or change in an opportunity is your gut feeling, your fit with the group."
CompHealth has been helping physicians find the perfect job for more than 40 years — and we're here to help with the whole process! For one-on-one help in your job search, give us a call at 800.453.3030 or view physician practice opportunities.