Colin Zhu, DO, DipABLM, Chef shares his insights on how to plan and get ready for a locum tenens assignment.
Whether you're a first-time locum tenens physician or a seasoned one, preparing for a brand-new assignment can be both exciting and daunting. A new assignment will represent new opportunities — whether it is working at a new facility or city, meeting new people, or potentially even a brand-new permanent job for yourself. Regardless of your goals, when you are getting ready for a new assignment, all the details need to be clear in order to get started off on the right foot.
Before you arrive
In my four years working as a locums tenens physician — in four different states and eight assignments — I have learned to effectively navigate onboarding for these new assignments. This process starts before you ever enter the clinic or office setting by coordinating with your recruiter.
The recruiter's job is to make sure that all the pieces of the puzzle are in place before you onboard in order to reduce as many complications as possible. This includes (but is not limited to) location, parking, and where to go on your first day of the assignment. In addition, it is the recruiter's responsibility is to help you secure your housing, finalize travel plans, and get your rental vehicle. It is best to have at least 48 hours to settle in before your assignment starts, but this may not be the case with every assignment. Sometimes they give you just 24 hours to settle in before you start.
If you are traveling from a different state or city, it is important to make the right level of preparations based on the duration of your assignment. I advocate packing as lightly and as minimally as possible.
It is also very important to coordinate with the office or practice manager. Make sure you have all their contact information before you arrive.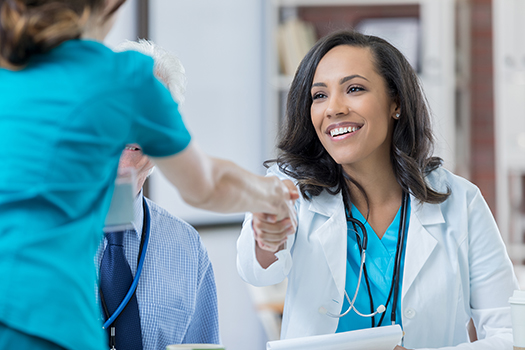 What to do the first week
It is imperative that you receive enough time and training with their electronic medical record or EMR. Your familiarity with the EMR will determine how long your onboarding with the computer system will be. It is essential during this time that you take the time to familiarize yourself — especially if you are new to the EMR — so you can be at your maximum comfort level before seeing patients. Always remember to ask questions, and please do not be shy about it.
After you are done with your computer orientation, then determine where you will be sitting and make sure that everything in your cubicle or desk is exactly how you want it to be. Personally, I like to work with a standup desk; you can ask for something like this ahead of time. If your office is missing certain items, it is important to let them know so you are not scurrying to acquire them while seeing patients.
In addition, it is vital to confirm how patients will come in and out of the office and verify who your medical assistant/nurse will be and how you will work with them during your assignment. It is beneficial to familiarize yourself with all the staff members of the office, because they are integral to how effective and efficient you will be when seeing your patients.
Relax and enjoy what you do
Lastly, remember the best part of being a locum tenens physician is to just see patients and to work to further improve healthcare. This is one of the best opportunities to further your skillset as a physician, to network with other physicians and staff, and to make a difference. After all, this is the reason why we are here.