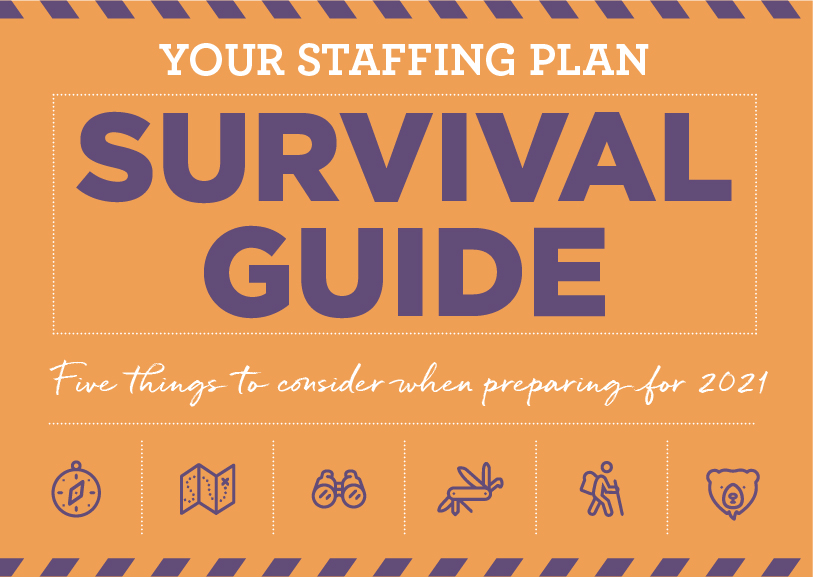 Many healthcare facilities are still reeling from the effects of the COVID-19 pandemic. A reduced patient census, decreased revenue, and continued uncertainty over what will happen with COVID-19 have made it harder than ever to plan for the future. However, a staffing plan that anticipates and accommodates uncertainty can help your facility manage costs, maintain clinician job satisfaction, and produce better patient outcomes even in an unpredictable environment. Here are five things to consider while creating your healthcare facility's 2021 staffing plan.


It's still unclear when patient censuses will return to normal, but planning for 2021's staffing needs can't wait either. With many physicians looking for new employment in the current market, you may be tempted to hire while there is a surplus of available talent. However, being too aggressive in hiring permanent staff could necessitate more furloughs or layoffs if demand doesn't materialize as quickly as anticipated.
The most successful staffing plans in 2021 will be those that build in flexibility as a key component. As 2020 has demonstrated, staffing needs can change quickly. Whether it's staffing up for an influx of COVID patients or scaling back in certain specialty areas with lower demand, it's important that your facility be prepared to adjust to meet changing conditions. Including locums in your staffing plan can provide you with increased flexibility, allowing you to bring on physicians or cut back as needed. Whether you need additional assistance due to a COVID-19 surge or to cover for an expected staff departure, budgeting for locums providers can give you maximum flexibility to meet patient demand.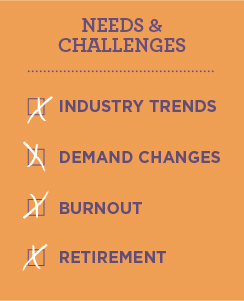 Although the pandemic has made it difficult for facilities to plan for future needs, it's important to engage in dialogue with department heads to understand their experience and the trends they are seeing in their area of responsibility. Are they overstaffed or anticipating more demand than usual? Are physicians feeling stressed or struggling with burnout? It's also useful to identify which specialties are more difficult to staff and learn about any upcoming retirements that might affect your teams.
This information you gather from those on the frontlines, along with what you've learned about crisis staffing in 2020, will enable you to better plan for your staffing needs for the next year.

Once you've evaluated your needs, it's useful to research the market so you can better understand how to meet them. Working with a staffing partner can help you understand what's happening in the broader market right now and provide advice on how it may change in the future.
A good staffing company can help you determine which specialties are in highest demand and which are more available than in the past. Combining these insights with trends in late-career physicians and the resident/fellow outlook by specialty will enable you to better understand the physician employment landscape for the next year.
It's also important to research what a competitive benefits package looks like in 2021. Evaluate your in-house resources and consult with your staffing partners to ensure you're offering an enticing package that's comparable to your competitors'.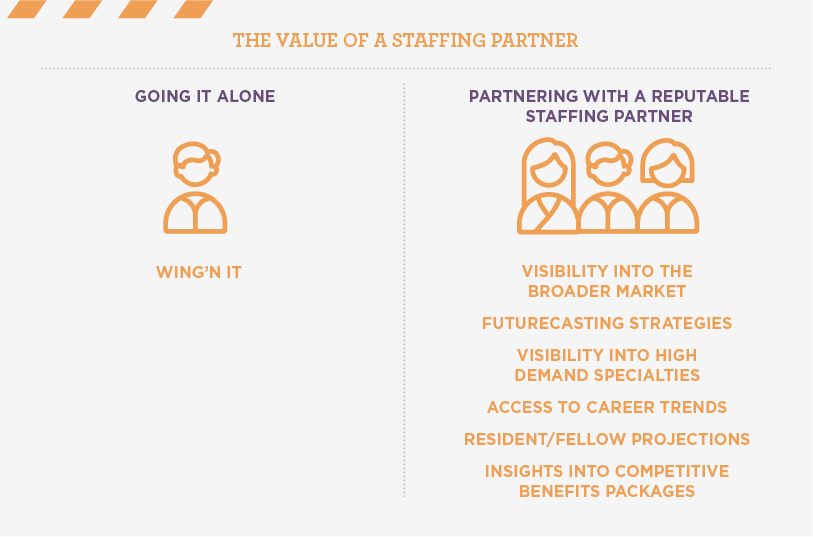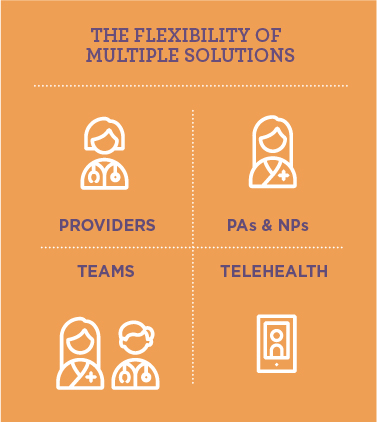 The effects of the pandemic will impact your facility in some areas more than others. Advanced practitioners can offer a solution that may help you fill gaps and meet evolving needs. More and more facilities are turning to PAs and NPs as a cost-effective way to meet demand, and some facilities are finding a team-based approach to be especially helpful right now because of the increased flexibility it offers.
Telehealth is another care delivery option that has surged in popularity and doesn't show any signs of slowing down. Incorporating providers who are comfortable with virtual visits into your staffing plan will give patients the option to be seen from the comfort of their home — especially important for those who are wary of in-person visits — and will provide physicians with more flexibility as well.

Be sure to talk to individual providers throughout the process. Specifically, try to gauge their level of burnout and how it might affect your plan. Specialties like emergency medicine, primary care, and critical care are experiencing high burnout rates, and the pandemic has increased anxiety levels among all providers.
The reasons behind this stress are varied. While some are working more hours than ever — often with insufficient PPE and an increased risk of exposure — others may have been laid off or furloughed and had to rely on savings to cover expenses until they could resume working.
Both outcomes have led to providers to start looking elsewhere for employment, and you'll have a better chance of attracting top talent if your facility makes provider health a priority. Whether it's implementing more team-based care, providing a better work-life balance, or improving workflows, these steps can help you retain providers and reduce turnover.


Just as this year hasn't gone as anyone planned, it's likely next year will bring unexpected challenges as well. Your 2021 healthcare staffing plan should be as flexible as possible to ensure patients receive the care they need and providers feel secure and valued in the workplace.
There are a lot of lessons to be learned from our current situation. Incorporating those changes into your healthcare staffing plans will only make your institution stronger and better able to manage whatever challenge comes next.
Give us a call if you'd like a hand customizing your 2021 staffing plan.