Hiring a locum tenens provider can sometimes feel like a game of chance — do you really know what you're going to get? But the odds don't have to be stacked against you. Here's how to ensure you get a quality locum tenens provider and have a positive experience every time.
1. Make sure the locums agency pre-screens candidates effectively
If you're working with a locum tenens agency for the first time, ask them to explain their vetting process. How much effort they put into screening candidates will directly impact the quality of locum tenens providers they present to you.
Jen Bambrough, a client representative on CompHealth's locum tenens surgery team, says, "Don't be afraid to ask your representative questions. This is a team effort between you and them, a partnership. It's important to know what they are doing up front — before presenting a candidate to you — so you feel comfortable. Are they asking the right questions to find out what the physician's background is, if they have worked in the area before, and what their current hospital was like compared to what you're looking for? You need enough information to be able make the best match."
The candidate's history with the agency can also provide valuable information. "We can tell you if they have they been worked somewhere before for us and whether it was a good outcome," Jeff Rosander, a client representative on the CompHealth OB/GYN team, says. "Have they worked at a few facilities that have asked them to come back? Those are things I can share with clients."
2. Gather clues from the CV
A quick review of a provider's CV can reveal work-history gaps or licensing and credentialling shortcomings. A clear red flag is when a provider has a string of short-term locum tenens positions at different locations. "If a doctor can't stay at a locum position for more than a month or two at a time consistently, there may be something wrong with that physician, because there are going to be clients that will want to keep you coming back if you're good — guaranteed," says CompHealth client representative Ben Gibbons, who works on the locum tenens hospitalist team.
The CV may also offer insight into the provider's comfort with patient load, he adds. "If they've only worked in one small to medium-sized hospital and now we're sending them to a huge program where they're going to be really busy and see a lot more patients, it could be a bad fit if they're not prepared properly."
3. Examine their malpractice history
While a history of malpractice issues is clearly concerning, it's helpful to dig deeper into the situation.
"Is there a recurring theme with this provider that every couple of years they have a case? Or is there just one claim 20 years ago? And can we speak to what happened based on us having a supplemental claim form or description from the provider of what occurred?" Rosander asks. Even multiple cases or high-dollar payouts aren't necessarily deal-breakers for some clients, he says, because some specialties are at higher risk for malpractice.
That's why CompHealth client representative Sharrell Waters always seeks to gather as much information as possible when a provider has malpractice claims. "If we have an explanation on file, I will send it over with the provider presentation and then get with my client and say, 'Let's talk through this,'" she says.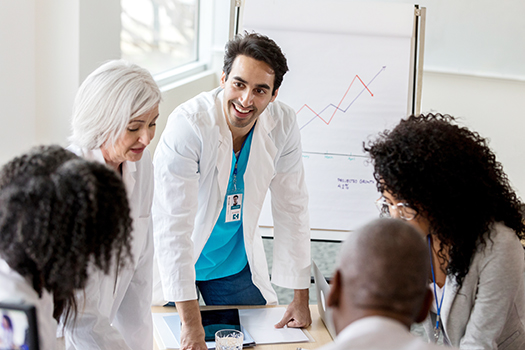 4. Always check the references
"I want to hear from providers and staff that have worked alongside this provider," Rosander says. "Is the provider willing to give us people that we can call right now, or are they wanting us not to call them yet? That's an indicator to me of, 'Okay, they might not be the right candidate because they don't have good references.'"
You may want to do your own behind-the-scenes digging as well. For example, you can reach out directly to staff members at a facility where the provider has previously worked. "If the provider is working in-state, that doctor is going to be known by hospitals that are in your area or a few cities away. Don't be afraid to pick up the phone and call their recruiter or other places they worked," Gibbons says. "Physician recruiters will often tip you off if a provider hasn't left a good impression at a facility, so that's definitely a network that you want to build in your state."
5. Conduct a Google search
If the provider is new to the agency, Rosander always looks up online patient reviews to see what is being said about the provider from people who've been seen by the provider.
You can find a wealth of surprising information with a simple Google search, says Gibbons. "Just look up some quick reviews or news articles. You don't want find out later that this doctor is under investigation for molesting a patient. It happens."
6. Evaluate your interactions
Pay close attention to a provider's attitude and responsiveness in your interactions. "Are they responsive to you? Are they answering multiple times when you call, not just the one time and saying I'm interested? Is this somebody that you can call right now and get ahold of? Can you text them and get an answer?" asks Rosander. "Because that will tell us if they're going to be responsive to credentialing and paperwork requests. Is this somebody that you're going to have to call for a week until they find the answer?"
7. Collaborate with the agency recruiter
If the vetting process can be approached as a team effort between the facility recruiter and the agency representative, "it just makes everything go a lot more smoothly, and it's a more pleasant experience for us, them, and the provider," Bambrough says.
"It just keeps us on the same page with timing," Rosander agrees. Agency representatives are eager and willing to help gather anything that's needed for credentialing, for example. He adds that active involvement "secures that these are dates that we are planning on, the provider is planning on, you the client are planning on, and we are moving forward."
RELATED: Common mistakes recruiters make when hiring locums (and how to avoid them)
CompHealth specializes in finding the best locum tenens physicians, PAs, and NPs to fill your staffing needs. Give us a call at 800.453.30302 or complete the form below to learn more.